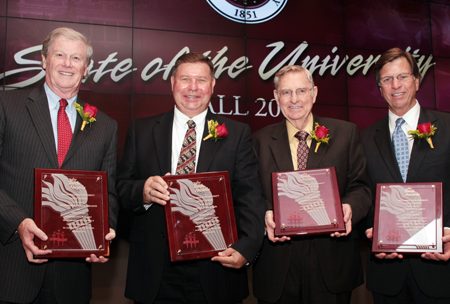 The Florida State University Faculty Senate honored four individuals for their many years of dedicated service to the university during the 2011 Fall Meeting of the General Faculty on Oct. 5.
Faculty Senate President Sandra Lewis presented Torch Awards to Maxwell Carraway Jr., Patrick W. "Pat" Hogan, John M. McKay and John E. Thrasher.
The Torch Awards were established in 1996 as a way for faculty to honor friends of Florida State who have contributed significantly to the university's ability to fulfill its academic mission. The awards are named for the three torches in the university's seal: Vires, symbolizing moral, physical and intellectual strength; Artes, symbolizing appreciation of aesthetics and the beauty of intellectual pursuits; and Mores, symbolizing respect for customs, character and tradition. Receiving Torch Awards in these categories were:
MORES AWARD RECIPIENT: Maxwell Carraway Jr.
Carraway, the university's registrar emeritus, served as university registrar from 1976 until his retirement in 2003. A native of Wakulla County, Fla., he earned a Bachelor of Science degree in business from Florida State in 1970.
His first job as a university administrator was in facilities design and planning at Florida A&M University. He was later hired at Florida State, also in facilities design and planning, where he quickly built a reputation as a problem solver.
Because of periodic overbooking of classrooms on campus, the Faculty Senate specifically requested that he be appointed as assistant registrar with the special assignment of dealing with this problem.
In 1997, Carraway received the Florida State University President's Humanitarian Award. In 2007, the Max Carraway Employee of the Year Award was named in his honor. The latter award is presented each year to the employee who has consistently demonstrated empathetic and caring service excellence to the faculty, staff and students of Florida State.
Today, Carraway continues to serve the university as coordinator of the docent program for the President's House and as a member of the FSU Heritage Committee. He served as president of the FSU Association of Retired Faculty in 2009-2010 and continues as an active member.
MORES AWARD RECIPIENT: Patrick W. "Pat" Hogan
Hogan served as vice president for public affairs from 1979 until his retirement in 1990. In 1951, as a Florida State student, Hogan began working in the Sports Information Office. In 1952 he was promoted to assistant director of sports publicity and, in 1954, to director. He earned a Bachelor of Arts degree in journalism from Florida State in 1955.
In 1957, Hogan returned to Florida State working as director of public relations. From there, he was promoted to director of University Relations, where he was responsible for Alumni Affairs, Governmental Relations, Information Services, Publications, the National Merit Scholarship Program and WFSU-TV and WFSU-FM. Soon after, he became executive assistant to the university president.
In 1974, Hogan became associate vice president for university relations. During his career, Hogan served six university presidents and the student body increased from 5,000 to 28,000.
Hogan is a member of the Alumni Association and the Varsity Club. He is a recipient of the FSU Gold Key Award for Service and Leadership as well as the FSU Alumni Association Distinguished Service Award. He was inducted into the FSU Athletics Hall of Fame in 1990.
ARTES AWARD RECIPIENT: John M. McKay
McKay, a sixth-generation Floridian, is a real estate developer, investor and manager, as well as a former president of the Florida Senate. He earned a Bachelor of Science degree in social work from Florida State in 1971.
McKay's professional career includes extensive experience in real estate appraisal, receivership, syndication, mortgage loan finance and marketing.
He served as a state senator from 1990 to 2002, the final two years of which were as senate president.
During his term in the Senate, McKay formulated a plan to allow management of the John and Mable Ringling Museum of Art in Sarasota, Fla., to be taken over by Florida State.
McKay has helped extend the reputation of Sarasota/Bradenton for excellence in the arts by his leadership in the development of an arts festival, an event for which he engaged the famous dancer Mikhail Baryshnikov.
In addition, McKay's extensive community service has included positions as chairman of the Board of Lakewood Ranch Medical Center; chairman of the Community Coalition on Homelessness; and chairman of the Board of Trustees Goodwill Industries Manasota Inc. He also serves as a member of the Board of Trustees of Manatee Rural Health Foundation and the Board of Directors of the LeRoy Collins Institute.
VIRES AWARD RECIPIENT: Sen. John Thrasher
State Sen. John Thrasher (R-St. Augustine) has been an important figure in the recent history of the university and Florida. He earned a Bachelor of Science degree in business administration in 1965 and a juris doctor degree in 1972, both from Florida State.
Shortly after graduation from law school, Thrasher was selected by Fred Karl, a former state senator and former justice of the Florida Supreme Court, to serve on the staff of the House Impeachment Committee. The committee was investigating the conduct of three members of the Supreme Court.
Thrasher was elected to the Florida House in 1992. In 1998, he was unanimously elected as speaker of the Florida House. During his term, Florida State received approval and funding for the College of Medicine, the nation's first new allopathic medical school in more than 20 years. The medical school building bears his name.
Following his service as a state representative, Thrasher was appointed by Gov. Jeb Bush in 2001 to be the first chairman of the FSU Board of Trustees. As the board's first chairman, he assisted in creating the policies and procedures under which it operates today. During his term as chairman, the College of Medicine also received accreditation.
Thrasher was elected to the state Senate in 2009. In February 2010, he became chairman of the Florida Republican Party.
For more information on the Torch Awards recipients, contact Carol DeLoach in FSU's Office of the Dean of the Faculties at (850) 644-6876 or cdeloach@admin.fsu.edu.