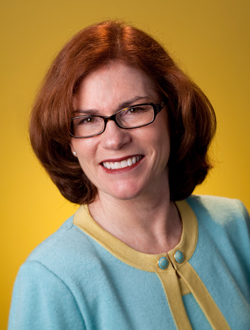 Garnett S. Stokes, dean of the University of Georgia's Franklin College of Arts and Sciences and a widely published scholar in the field of industrial and organizational psychology, has been named provost and executive vice president for Academic Affairs at The Florida State University.
FSU President Eric J. Barron announced the appointment May 25 after a six-month national search. Stokes will assume her new position Aug. 1. The provost is chief academic officer and the second-highest ranking official after the president.
"Dr. Stokes has served the University of Georgia with distinction and is one of the most respected psychologists in her field," Barron said.
"I am delighted to join the leadership team at The Florida State University," Stokes said. "FSU is a wonderful institution with exceptional faculty, outstanding students, dedicated staff, and loyal alumni. The university is a friendly, welcoming place, and I look forward to working together with President Barron and the rest of the campus in the years ahead."
Stokes will hold an appointment as a professor in psychology at FSU. Her research focuses on personnel selection and promotion, and areas of individual differences such as life history, personality and values.
She is a fellow of the Association for Psychological Science, the American Psychological Association and the Society for Industrial and Organizational Psychology. She earned two degrees from the University of Georgia: a doctorate in industrial and organizational psychology in 1982 and a Master of Science in 1980. She earned a Bachelor of Arts degree from Carson-Newman College in 1977.
Stokes succeeds Lawrence G. Abele, who stepped down as provost in December after 16 years to devote his full attention to the Institute for Academic Leadership, a statewide program for new academic administrators. Robert B. Bradley, vice president for Planning and Programssince 2006, has served as interim provost during the search.
As provost, Stokes will oversee the overall academic mission of the university. She will direct the allocation of academic resources; lead the development and enhancement of scholarship and research; evaluate the quality of academic activity; review all faculty appointments; and collaborate with the deans, faculty and officers of the university to promote academic excellence at all levels of the institution.
The deans of Florida State's 16 colleges, along with the Graduate School and the Division of Undergraduate Studies, and the dean of the Faculties will report to Stokes. She also will oversee the offices of Admissions, Records and Financial Aid; International Programs; the Learning Systems Institute; and Information Technology Services.
Witt/Kieffer conducted the search and College of Music Dean Don Gibson chaired the 16-member search committee, which recommended Stokes for the position.
"The committee was greatly impressed by the range of Stokes' experience," Gibson said.