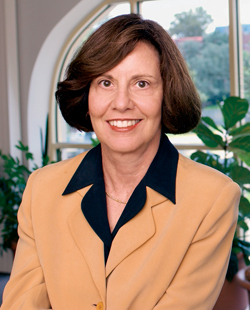 Lauded by her students as a wonderful mentor, an inspiring teacher and a caring adviser, one of The Florida State University's most eminent scholars has been selected to receive the university's top teaching honor.
Jill Quadagno, who holds the Mildred and Claude Pepper Eminent Scholar Chair in Social Gerontology, received the 2011 University Distinguished Teacher Award during the Faculty Awards Ceremony held April 19. She received a $7,500 stipend along with the award.
"It is quite humbling to have been chosen for the University Distinguished Teacher Award, because so many of my colleagues are superb teachers," Quadagno said. "I am truly honored to be this year's recipient. Ultimately, I judge my own success by the success of my students, and I can think of no higher praise than to be considered a good teacher."
College of Social Sciences and Public Policy Dean David Rasmussen said it is fitting that Quadagno is the first from the college to receive the Distinguished Teacher Award.
"Jill has been an outstanding member of the faculty in every way," Rasmussen said. "She has had a long and productive career in research on important issues of health care and aging. This award recognizes her commitment to teaching and mentoring our students who benefit from her being on the forefront of research in the subjects she teaches."
She was nominated for the award because of the excellent student ratings she has received for her graduate courses. A committee comprised of faculty, advisers and students reviewed the nominations and made the final selection.
"She stands out as unequivocally the best teacher I've had, as well as one of the most important mentors in my entire life," wrote one graduate student of Quadagno. "She is also remarkably supportive and astonishingly humble."
A former student praised Quadagno for mentoring her students long after they leave her classroom. "She is unfailingly gracious, generous with her time, and sage in her advice to her former students; her 'teaching' does not end when we receive our FSU degrees."
Another said, "In hindsight, I realize that asking if she would supervise my
research was the single smartest thing I did while in graduate school."
This isn't Quadagno's first student-nominated honor. She also received a University Teaching Award, which recognizes faculty for excellence in undergraduate and graduate teaching in 1992.
An internationally recognized expert, Quadagno is renowned for her work on aging, health and social policy issues. In 2010, she was elected a member of the prestigious Institute of Medicine (IOM) of the National Academies. Election to the IOM is considered one of the highest honors in the fields of health and medicine and recognizes individuals who have demonstrated outstanding professional achievement and commitment to service.
She is past president of the American Sociological Association and the author of more than 75 articles and 12 books on aging and medical sociology. In 1994 she served as senior policy adviser on the President's Bipartisan Commission on Entitlement and Tax Reform.
Quadagno was thrust into the spotlight with the publication of her most recent book, "One Nation, Uninsured: Why the U.S. Has No National Health Insurance" (Oxford 2005), which was a best seller in medicine for 2005-06, according to YBP Library Services and was a finalist for the Distinguished Book Award of the American Sociological Association in 2006. She also received the Eliot Friedson Outstanding Publication Award in 2004 for her article, "Why the U.S. Has No National Health Insurance."
Quadagno began her academic career in 1977 at the University of Kansas, where she rose to the rank of full professor before coming to The Florida State University in 1987. She received her doctorate in sociology from the University of Kansas in 1976 and her master's from the University of California-Berkeley in 1966. She graduated Phi Beta Kappa from Pennsylvania State University in 1964.
Other outstanding FSU faculty members were recognized in the following categories during the Faculty Awards Ceremony:
Distinguished University Scholars
This award is designed to recognize outstanding performance by Florida State employees who are non-tenured or non-tenure-seeking, have longstanding track records of research and/or creative activity at the university, and occupy more senior levels in their respective positions. Examples of such positions include the titles of curator, scholar/scientist or research associate. This year's recipients will receive one-time awards of $10,000 and framed certificates. The Distinguished University Scholars are:
Christopher Hendrickson, National High Magnetic Field Laboratory
Karen Oehme, Social Work
Developing Scholar Awards
Developing Scholars are mid-career associate professors who have been singled out by their peers for recognition. Each receives a $10,000 award to be used in their research program, following specific guidelines, along with a framed certificate. The Developing Scholars are:
Matthew J. Goff, Religion
Mohamed Kabbaj, Biomedical Sciences
Michael P. Kaschak, Psychology
Piyush Kumar, Computer Science
Kathryn Harker Tillman, Sociology
Distinguished Research Professor Awards
The title of Distinguished Research Professor is the third highest faculty award at Florida State, following the Robert O. Lawton and Daisy Parker Flory awards. A select panel of current Distinguished Research Professors vets the nominations, submitted by faculty peers, for presentation to the university president. Each recipient will receive a one-time award of $10,000, along with a framed certificate. The Distinguished Research Professors are:
Christopher J. Lonigan, Psychology
Hsu-Pin 'Ben' Wang, Industrial & Manufacturing Engineering
Kathleen Blake Yancey, English
Huan-Xiang Zhou, Physics
Graduate Faculty Mentor Awards
The Graduate Faculty Mentor Award honors faculty mentors whose dedication to graduate students and mentoring have made a significant contribution to the quality of life and professional development of graduate students. The honor comes with a $3,000 award. The honorees are:
Joseph Beckham, Educational Leadership and Policy Studies
Nina Efimov, Modern Languages and Linguistics
Richard Feiock, Askew School of Public Administration and Policy
Amy Sang, Chemistry and Biochemistry
Phillip Steinberg, Geography
Undergraduate Advising Awards
Recipients of the University Undergraduate Advising Award have been nominated by students who have been beneficiaries of their services. These individuals dedicate their time to ensuring that students receive the best possible advice related to their courses and their career choices. Recipients also receive a $2,000 award. The honorees are:
Tanya Hayes Perry, Undergraduate Studies-Advising First
Jessica Rollins, Business
Honors Thesis Mentor Awards
The Honors Thesis Mentor Award was established to recognize and honor faculty members whose direction and advisement of honors thesis research or creative activity has significantly contributed to the enhancement and quality of education of undergraduate students at The Florida State University. Faculty are nominated by students in the Honors in the Major program for this award. It comes with a $2,000 stipend. The honorees are:
Jesse Cougle, Psychology
Daniel Maier-Katkin, Criminology and Criminal Justice
Undergraduate Teaching Awards
The Undergraduate Teaching Award recognizes faculty for excellence in undergraduate teaching. Recipients must be outstanding in the many aspects of teaching that contribute to successful teaching and learning. This is a student-oriented award with nominations submitted by students and alumni. Each recipient also receives a $2,000 award. The honorees are:
Jon Ahlquist, Earth, Ocean and Atmospheric Science
Margaret Ashmore, Social Work
Deborah Bish, Music
Lora Holcombe, Economics
David F. Johnson, English
Mark Kearley, Chemistry and Biochemistry
Steven Kelly, Music
Toni Kirkwood-Tucker, Teacher Education
Murray Krantz, Family and Child Sciences
Mark Licht, Psychology
Daniel Maier-Katkin, Criminology and Criminal Justice
Rick McCullough, Dance
Brian G. Miller, Chemistry and Biochemistry
Jill Pable, Interior Design
Zeina Schlenoff, Modern Languages and Linguistics
Helge Swanson, Teacher Education
Stephen Tripodi, Social Work
James Tull, Earth, Ocean and Atmospheric Science
Shelbie Witte, Teacher Education
Graduate Teaching Awards
The Graduate Teaching Award recognizes faculty for excellence in graduate teaching. Recipients must make outstanding contributions to successful teaching and learning. This is a student-oriented award with nominations submitted by students and alumni. Each recipient also receives a $2,000 award. The honorees are:
Elizabeth Chamblee Burch, Law
Robin Craig, Law
Ming Cui, Family and Child Sciences
Kristie Fleckenstein, English
Michael Shatruk, Chemistry and Biochemistry