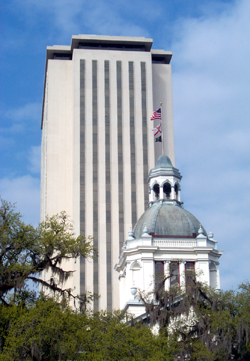 FSU Day at the Capitol is Tuesday, April 12. This event has become a popular tradition during the legislative session and a wonderful opportunity to bring Florida State University to Seminole friends in the Legislature.
Friends and fans are invited to attend the event–a day filled with informative displays in the plaza level, second and third floor rotundas from 10:00 a.m. to 2:00 p.m., as well as appearances by FSU celebrities, performances by the Pep Band, cheerleaders and the Flying High Circus during the lunch hour in the courtyard beginning at 11:30 a.m. Refreshments will be available for all to enjoy.
In addition to festivities on Tuesday, a "Seminole Evening" reception is being held from 5:30 – 7:30 p.m. Monday on the 22nd floor of the Capitol.
For more information and a video invitation from President Eric J. Barron, see govrel.fsu.edu.