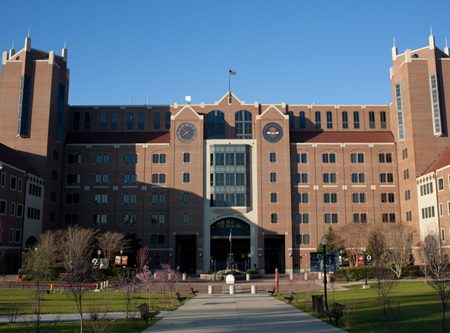 The University Center at Florida State University has been renamed the "DeVoe L. Moore University Center," carrying the name of a Tallahassee businessman who distinguished himself through a lifetime of giving to Florida State.
"DeVoe, along with his wife, Shirley, has been instrumental in so much progress at the university through his exceptionally generous support for students, and we are delighted to be able to recognize his dedication to Florida State by naming this magnificent structure in his honor," President Eric J. Barron said.
"There could not be a more fitting recognition for DeVoe Moore and FSU than to rename the University Center in his honor," said Andrew Haggard, chair of the Florida State Board of Trustees. "DeVoe is truly the essence of Florida State University. What he has done for our university is immeasurable. I don't know of anyone who cares more about FSU and about its students and their future."
"It is most appropriate that the University Center be named in DeVoe's honor," said Andy Miller, president of the Seminole Boosters. "DeVoe and Shirley both care deeply about Florida State, and the Moores' gifts for both the athletic scholarship endowment and the general scholarship fund are making it possible for many students to attend college and get a degree in the field of their choice when they otherwise might not have been able to."
The elegant, red-brick, collegiate Gothic-style University Center encompasses both the stadium and a 780,000-square-foot academic building that wraps around it. That structure includes student services, such as tuition payment, financial aid and parking permits; Human Resources; Seminole Boosters; Athletics; other administrative offices; and entire colleges and schools, such as the College of Social Work, College of Motion Picture Arts, and the Dedman School of Hospitality.
"FSU is where I got my education and my beginning in business," Moore said. "Now that I can give back, I can help students achieve some of the same goals that I achieved."
Moore has served Florida State in numerous ways. He has served on the boards of both the Seminole Boosters and the FSU Foundation, and in 2005 he was presented with an honorary Doctor of Humane Letters degree by FSU.
In 1998, he established an endowment to create the DeVoe Moore Center for the Study of Critical Issues in Government, to educate Florida State students in the area of government regulations, and to analyze how those regulations affect private enterprise.
A true self-made man, Moore put himself through school working as a farrier shoeing horses and working at an auto parts store.
"I learned self-reliance and responsibility, and I want to help young students today learn those same values and give them the tools and knowledge to start their own businesses," said Moore, now a prominent real estate developer in Tallahassee and the owner of the Tallahassee Automobile Museum.