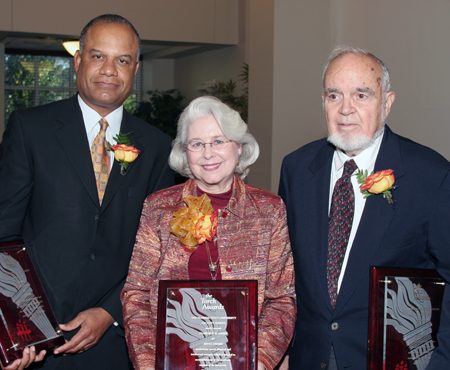 The Florida State University Faculty Senate has honored three individuals for their contributions to the university's academic excellence with awards named for the three torches in the university's seal: Vires, Artes and Mores.
Faculty Senate President Eric Walker presented the Torch Awards to Dr. Joseph L. Camps, Florence H. Ashby and James C. Smith, all Florida State alumni, during the Fall Meeting of the General Faculty on Nov. 12. The Torch Awards were established in 1996 as a way for faculty to honor friends of Florida State who have contributed significantly to the university's ability to fulfill its academic mission.
"Strength, skill, and character are the longtime ideals of Florida State University, and the Faculty Senate is honored to present this year's Torch Awards to three remarkable individuals," Walker said. "All three of these great friends of the university are, in fact, notable examples of this entire set of core values."
Camps, a physician and lab director at Southeastern Urological Center in Tallahassee, received the Vires Award, symbolizing moral, physical and intellectual strength, for his lifetime of strong service to The Florida State University and the Tallahassee community. He earned a bachelor's degree in biology from Florida State in 1978 and led the Seminoles as captain of the football team in 1976. He earned his medical degree from the University of Florida College of Medicine in 1982 and served his residency at the University of North Carolina at Chapel Hill, where he was named chief resident.
Camps has been practicing medicine in Tallahassee since 1990 and has served as chief of staff and chairman of the Department of Surgery at Capital Regional Medical Center, as well as chairman of the Cancer Committee at Tallahassee Memorial Hospital. He also has served as chief of staff at Tallahassee Memorial Hospital and is currently on the Board of Directors. Camps' leadership qualities extend beyond the field of medicine. He is a member of the Board of Directors of Premier Bank of Tallahassee. In addition, he is a member of the Florida State University Athletic Committee and the Seminole Boosters, serving as its chairman of the executive board of directors in 1997-98.
Ashby, a professor emeritus at Montgomery College in Rockville, Md., received the Artes Award, symbolizing appreciation of aesthetics and the beauty of intellectual pursuits, for her skillful service to higher education and to her alma mater. She received her bachelor's degree in music and mathematics from Florida State in 1957. While a student, she was a member of Garnet Key and Mortar Board and was vice president of the School of Music student body. She played clarinet in the Marching Chiefs, as well as in the concert, symphonic, circus and pep bands.
After graduation, she attended graduate school at Columbia University and Purdue University, where she earned a master's degree in mathematics and membership in Pi Mu Epsilon. She worked at IBM as a systems analyst/mathematician before joining Montgomery College where she served as a mathematics professor for more than 40 years before retiring in 2006. She and her husband, Laird Anderson, also a Florida State alumnus, have established a lectureship in public policy journalism and have made planned gifts to both the College of Social Sciences and Public Policy and the College of Music. She is an active member of the Florida State University Foundation Board of Trustees.
Smith, the emeritus Robert O. Lawton Distinguished Professor of Psychology, received the Mores Award, symbolizing respect for customs, character and tradition, for spending his life in the classroom and the lab leading for the greater good. Smith earned his master's degree in psychology from Florida State in 1951. After serving in the U.S. Air Force where he earned the rank of 1st lieutenant, Smith returned to Florida State to earn a doctorate in psychology in 1959 and joined the faculty. He has since won virtually every award the university has to offer, including the Robert O. Lawton Distinguished Professor, the highest award bestowed upon a faculty member, and the University Distinguished Teacher Award. In 2005 the College of Arts and Sciences honored Smith as a Graduate of Distinction.
Smith also has received international recognition for his scientific achievements including the Distinguished Career Award from the Society for the Study of Ingestive Behavior, a National Sigma Xi Lectureship and the Max Mozell Award for Outstanding Achievement in the Chemical Senses from the Association for Chemoreception Sciences. He retired in 2003 but remains active in research at Florida State as a professor emeritus.