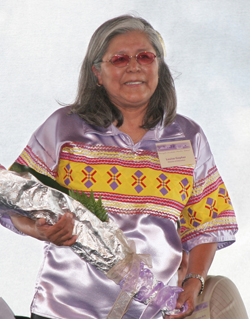 Florida State University has bestowed the Westcott Award on Louise Jones Gopher, recognized by the Palm Beach Post as one of 100 outstanding citizens who have made a difference in people's lives during the 20th century.
Louise Gopher
The distinguished Westcott Award, named after James D. Westcott, Jr., one of FSU's original benefactors, is a rare honor reserved for those whose loyalty, advocacy and support of the university is deemed extraordinary.
Gopher was the first female member of the Seminole Tribe of Florida to earn a college degree, graduating from Florida Atlantic University with a degree in business. As the current director of education for the Seminole Tribe of Florida, she has been a champion of education for all its members. A remarkable 90 percent of tribal members are active participants in the programs administered by the Seminole Tribe's Education Department. Gopher is credited with helping to increase the number of tribal members who have pursued higher education, including 11 with degrees from, or currently enrolled at, FSU."Louise Jones Gopher personifies Florida's native culture, and has dedicated much of her life to preserving it," said FSU President T.K. Wetherell. "She is a champion of education of all members of the Seminole Tribe of Florida, and a true friend and staunch supporter of this university. No one deserves the Westcott Award more than she does."
Born in a chickee in a Fort Pierce Seminole camp, Gopher spoke no English when she entered school. Nonetheless, she became the first Seminole woman to graduate with a four-year college degree.
"Louise Gopher has worked tirelessly to see that all young tribal members have similar opportunities for higher education," said Donna McHugh, FSU Assistant Vice President for University Relations. "In fact, in 1996 her daughter, Carla Gopher, became the second Florida Seminole Indian and the first woman to graduate from FSU." ***
Known for her dedication to the preservation of Seminole Tribe of Florida culture, Gopher was a driving force behind the development of the tribe's first charter school, known as "Pemayetv Emahakv" or "Our Way" School, which opened its doors this year. With a focus on American Indian culture, the school addresses the problem of cultural preservation that all Native Americans face by teaching Seminole Tribe of Florida language and traditions to its young members.
As a recognized authority and author on tribal history and cultural preservation, Gopher also was instrumental in the development of FSU's groundbreaking course, "History of the Seminoles and Southeastern Tribes, Pre-Contact to Present," which was offered to students for the first time in 2006.
Gopher also has been a convincing advocate for FSU's continuing use of the Seminole name and symbols.
"Her dedication to education at all levels, devotion to cultural preservation, and advocacy and ties to Florida State have made Louise Jones Gopher fully deserving of the honor signified by the James D. Westcott Award," McHugh said. "It is an honor rarely bestowed, but she has been a rare friend indeed to this university."
***CORRECTION: Carla Gopher was the first member of the Seminole Tribe of Florida to graduate from FSU.