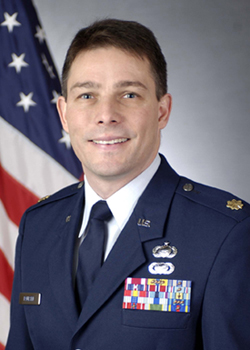 Maj. Karl Paulsen of the Florida State University Air Force Reserve Officer Training Corps (ROTC) has received the 2006-2007 Headquarters ROTC Commandant of Cadets of the Year Award.
This merit is given to only one officer cadre member of 144 AFROTC detachments in the country. To receive this recognition Paulsen, assistant professor of aerospace studies, had to display exemplary leadership skills in the classroom, at physical training, during weekly leadership laboratories and in his personal life. His detachment also performed well over the last year, earning an overall excellent rating during its operational readiness inspection and garnering several individual awards, thus contributing to FSU Detachment 145's overall prowess at the national level.
"We had to work hard and break away from the original regimen of things," Paulsen said. "We had an outstanding rating during the inspection for our training program, great results in our field leadership exercises, and we took our cadet training program to new heights. This award only comes around once a year, and I am proud to say that team effort led to FSU's detachment receiving this honor."
Paulsen has been at FSU for two years and teaches Air Force management and leadership. He has been in the Air Force for more than 23 years and has served in such places as the United Kingdom and Guam as well as several installations in the United States. Paulsen, who is a personnel-manpower officer, will be promoted to lieutenant colonel next year for his accomplishments throughout his military career.