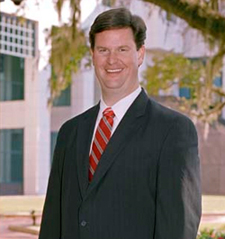 Leon County Commissioner John E. Dailey, a Florida State University alumnus, will be the speaker at FSU's summer graduation ceremony, scheduled for 9 a.m., August 4, at the Tallahassee-Leon County Civic Center.
FSU president T.K. Wetherell will preside. Out of 2,551 summer 2007 graduates, approximately 1,400 will participate in the commencement ceremony. Graduates will represent 14 of the university's 16 colleges.
Dailey began his professional career at the Florida League of Cities where he worked on legislative and regulatory issues involving local governance. In 2001, he went to work for the National League of Cities in Washington, D.C.
During his college years, Dailey was the president of the FSU Student Government Association and worked at the Leon County Office of Management and Budget. After receiving his first master's degree from FSU in 1999, he earned his second master's in Urban and Regional Planning from The London School of Economics, while working as a legislative aide to a member of Parliament.
Currently, he works as the president of JDA Strategies, LLC, a management consulting firm specializing in advocacy management and public opinion research.
In addition to the Aug. 4 commencement ceremony, the Army ROTC will commission two second lieutenants at 2 p.m. on April 4 in the auditorium of the Claude Pepper Building. The guest speaker will be Lt. Col. John J. Devillez, new commander of the Seminole Battalion.
The FSU College of Motion Picture, Television and Recording Arts – best known as The Film School – will have a ceremony for its Master of Fine Arts students at 4 p.m on Aug. 4 in Ruby Diamond Auditorium. At 8 p.m. there will be a ticketed screening of the thesis films. Free tickets are available online at www.film.fsu.edu or by calling (850) 644-6500.