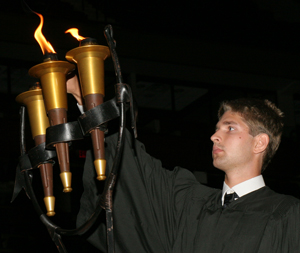 Florida State University has honored its incoming first-year students and helped them mark their official entrance into its community of scholars during New Student Convocation, held Sunday, August 19, 2007, at the Tallahassee-Leon County Civic Center.
Families also attended the one-hour event, which provided the Class of 2011 with a memorable introduction to FSU history and traditions and its first taste of university pomp and circumstance. The ceremony opened with an academic procession led by Provost and Executive Vice President for Academic Affairs Lawrence G. Abele that featured the deans of FSU's 16 colleges in full academic regalia.
"New Student Convocation marks students' formal entrance into Florida State University and helps them learn what we value most in our academic community: scholarship, integrity, responsibility and leadership," Abele said.
Following opening remarks by Abele, Sir Harold Kroto—FSU's Francis Eppes Professor of Chemistry and Biochemistry—delivered the convocation address. Born and educated in England, Kroto was knighted in 1996 for his contributions to science through chemistry, and later that year was one of three scientists awarded the Nobel Prize in Chemistry. Kroto's address will include his insights on the ways in which students can make the most of their academic and extracurricular lives.
During a pinning ceremony led by Vice President for Student Affairs Mary B. Coburn, FSU's newest students recited the Seminole Creed as they donned a special pin created specifically for the event. The torch ceremony that followed, led by Dean of Undergraduate Studies Karen L. Laughlin, emphasized the intellectual traditions of the institution and included a recitation of the Academic Honor Policy Pledge. Between the Alma Mater—sung by first-year music major Tyler Tucker of Moultrie, Ga.—and the recessional—accompanied by the "Hymn to the Garnet and Gold"—Abele presented Class of 2011 members with a charge outlining his high expectations for their performances as scholars and leaders.
New Student Convocation also included FSU's historic Torch Ceremony, during which upper-class students pass the torches representing Vires (strength), Artes (skill) and Mores (customs) to members of the first-year class.
This year's upper-class representatives included sophomore Nicole Trainor of Tallahassee, a double major in Spanish and international affairs; Vires representative Sarah Griffin of Hereford, Texas, an April 2007 graduate with a degree in finance and plans to enter the MBA program next year; Artes representative Joe O'Shea, of Clearwater, a senior double-majoring in philosophy and social science, a Truman Scholar, and currently the student body president; and Mores representative Nydia Simon, born in the Bronx and now of Gainesville, a senior political science and interdisciplinary science major, and the 2008 senior class president.
Freshmen receiving the torches on behalf of the Class of 2011 were Mike McLatchey, a double major in philosophy and political science from Winter Park; Christina Sanchez, a film major from Overland Park, Kan.; and Mickey Shea, of Palm Harbor, a double major in English literature and philosophy.
In addition, freshman Bridgette Davidovici—a Miami resident since age 10 and now pursuing a bachelor of fine arts in acting—read excerpts from a sampling of scholarship-winning Vires, Artes, Mores essays written by Class of 2011 members.
Sunday's Convocation was the first major student activity during FSU's annual Seminole Sensation Week, a jam-packed slate of free and low-cost activities and campus events. Since the 1980s, this annual prelude to the fall semester has enabled students to connect with friends while sampling some of the extracurricular activities that energize campus life. For a schedule of 2007 Seminole Sensation Week activities, visit the Web site at ssweek.fsu.edu.
"Seminole Sensation Week just gets better every year," Coburn said, noting that the revival of New Student Convocation in recent years grew out of student ideas and their renewed interest in FSU traditions.