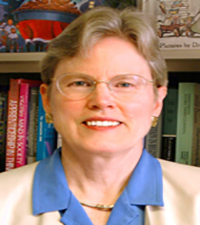 An internationally recognized scholar in the areas of reading and language development will join Florida State University's College of Education, its Learning Systems Institute (LSI) and its Florida Center for Reading Research (FCRR) in the fall as the university's newest Francis Eppes Professor.
Barbara Foorman comes from the University of Texas Health Science Center at Houston, where she was a professor of pediatrics and served as the director of the university's Center for Academic and Reading Skills. She also served as the nation's first commissioner for education research at the U.S. Department of Education's Institute of Education Sciences from 2005 to 2006.
"To have someone on board with the experience, knowledge and leadership vision of Dr. Foorman will only enhance FSU initiatives in the areas of literacy and policy research," said Marcy Driscoll, dean of the College of Education. "We fully expect her presence to help solidify the college, LSI and the FCRR as nationally recognized research institutions in reading education."
"We are extremely pleased that Dr. Foorman will be joining our research efforts," added Laura Hassler Lang, director of LSI (www.lsi.fsu.edu).
"Having someone of her caliber at FSU will prove beneficial not only to the university but to the entire educational community."
Foorman's distinguished background includes cross-linguistic research in Japan, Mexico and England, and research in the areas of reading, language development, spelling, phonemic awareness and vocabulary. She also serves on the editorial board for several journals, is a principal investigator on major federal grants in her areas of expertise, and has led government-sponsored literacy efforts at every level—from city to federal. She was instrumental in the revision and validation of the Texas Primary Reading Inventory, used in 95 percent of the school districts in Texas and in other states.
"Many of the core ideas being implemented in current national initiatives to reform reading instruction are based on the findings from basic studies on reading processes conducted by Dr. Foorman and others during the last 25 years," said Joseph Torgesen, director of the FCRR (www.fcrr.org).
"Barbara's skills and interests will be an invaluable asset to the College of Education and the FCRR as we continue our efforts to support the improvement of educational policy and practice in the broad area of literacy."
Foorman said she was attracted to FSU by the excellent researchers affiliated with the FCRR.
"The College of Education is critically important to the success of the FCRR because its faculty and students provide the real-world credibility of classroom experience," she said. "Together, the College of Education and the FCRR are providing the technical assistance to Florida schools and schools across the nation that will make federal programs such as 'Reading First' successful."
As an Eppes Professor, Foorman joins the ranks of the university's most eminent scholars. The professorships are named for Francis Eppes, the grandson of President Thomas Jefferson and one of the founding fathers of the Seminary West of the Suwannee, FSU's institutional predecessor. (For a complete list of Eppes Professors, please see www.ir.fsu.edu/Factbooks/2005-06/Eppes.pdf.)
"The Eppes Professorship allows FSU to attract internationally known scholars by offering them the resources they need to enhance the research they are accustomed to conducting," Education Dean Driscoll said. "Just having these scholars at FSU improves our academic reputation and capabilities."