When the Student Veterans Center (SVC) opened its doors 12 years ago, Director Billy Francis envisioned Florida State University becoming the most veteran-friendly and empowering campus in the country.
Fast forward to today, and the SVC has established itself and the veteran community as an integral part of FSU, with more than 20,000 military-connected students served and counting.
This past weekend, FSU held its annual Military Appreciation Football Game. Student veterans were recognized on the field, photos of veterans were shared on the video boards during the game and three paratroopers from MacDill Air Force Base in Tampa descended onto the field before the game.
"The special energy the Military Appreciation Game generates really encapsulates the positive vibe Florida State aims for in its support of veterans and military students," Francis said. "FSU Athletics does such a great job making veterans feel connected to and even a special part of the university community."
Florida State's veterans' heritage is a legacy spanning decades.
In 1947, the state legislature converted the Florida State College for Women to the coeducational Florida State University as World War II veterans using the G.I. Bill attended colleges in droves.
In 2011, FSU enhanced its commitment to veteran/military students with the launch of the Student Veterans Center.
The idea for the SVC originated in the late 2000s with student veterans who envisioned an on-campus space that could serve as a "one-stop shop" of resources and support for veterans, active-duty, National Guard and Reserve members and veteran/military dependents.
These students often face challenges when transitioning to a university environment, including older age, different life experiences than most college students, a years-long hiatus from an academic setting and adjustment to different achievement timelines compared to those during their military service.
Francis constantly reminds himself and his team of the "why": ensuring veterans' success at Florida State and beyond.
"Everything that's done is aimed at initiating, cultivating and sustaining relationships between the campus community and our military and veteran students that empower them toward their goals and dreams," Francis said.
Having served 26 years as an Air Force officer and fighter jet pilot — and an FSU alumnus himself — Francis is uniquely positioned to be at the helm of this initiative. He was a member of FSU's Air Force Reserve Officer Training Corps (ROTC) as a student and came full circle to close out his military career as commander of the Air Force ROTC at his alma mater.
Retiring as a colonel, Francis was then tapped to lead the SVC. In 2022, he was inducted into the Florida Veteran's Hall of Fame for his significant contributions to the state of Florida.
Francis and the staff at the Student Veterans Center provide student veterans with the resources and opportunities they need most.
"The best way to empower military-connected students is to walk side-by-side with them through their academic journey and provide them with the resources that help them graduate and launch into rewarding careers or graduate school," Francis said.
Behind the doors of the SVC is an experienced staff ready to guide and assist these students in achieving their academic goals.
The education benefits team at the SVC manages the processing of government funding provided by the departments of Veterans Affairs and Defense. Across campus, there are nearly 40 academic and administrative volunteers who serve as veteran liaisons. These supports have fostered an environment where military-affiliated students can thrive.
"Everything that's done is aimed at initiating, cultivating and sustaining relationships between the campus community and our military and veteran students that empower them toward their goals and dreams."

– Billy Francis, director of the FSU Student Veterans Center
Since the founding of the SVC in 2011, veteran graduation rates have increased from 69% to 87.5%, which is 35% higher than the national average and comparable to that of the general student population at Florida State.
In addition, the SVC hosts dozens of veteran-focused events each year that foster comradery and connectedness to the university. These range from a monthly First Friday Lunch and Third Thursday Breakfast to larger gatherings like the Cord and Coin Ceremony for each semester's graduates and an annual Military Ball.
Veterans bring distinct experiences and perspectives to the university that benefit the campus community as a whole and differ from those of traditional college students. Francis says that distinction and perspective also benefit student veterans in their roles as leaders.
"Through my service, I acquired leadership skills and discipline that prepared me for the demands and stresses of my time in college," said Carl Thompson, a junior majoring in psychology who served in the U.S. Marine Corps.
Since the SVC's inception, Francis has been proactive in his advocacy for a stand-alone building that serves veterans of the past, present and future at Florida State. Those efforts took a big step forward this year when the Florida Legislature approved $10 million in initial funding toward the construction of the Veterans Legacy Complex (VLC) on campus.
The VLC will bring together the Student Veterans Center, the university's Army and Air Force ROTC programs, and the Institute on World War II and the Human Experience, which are currently located in separate places on campus.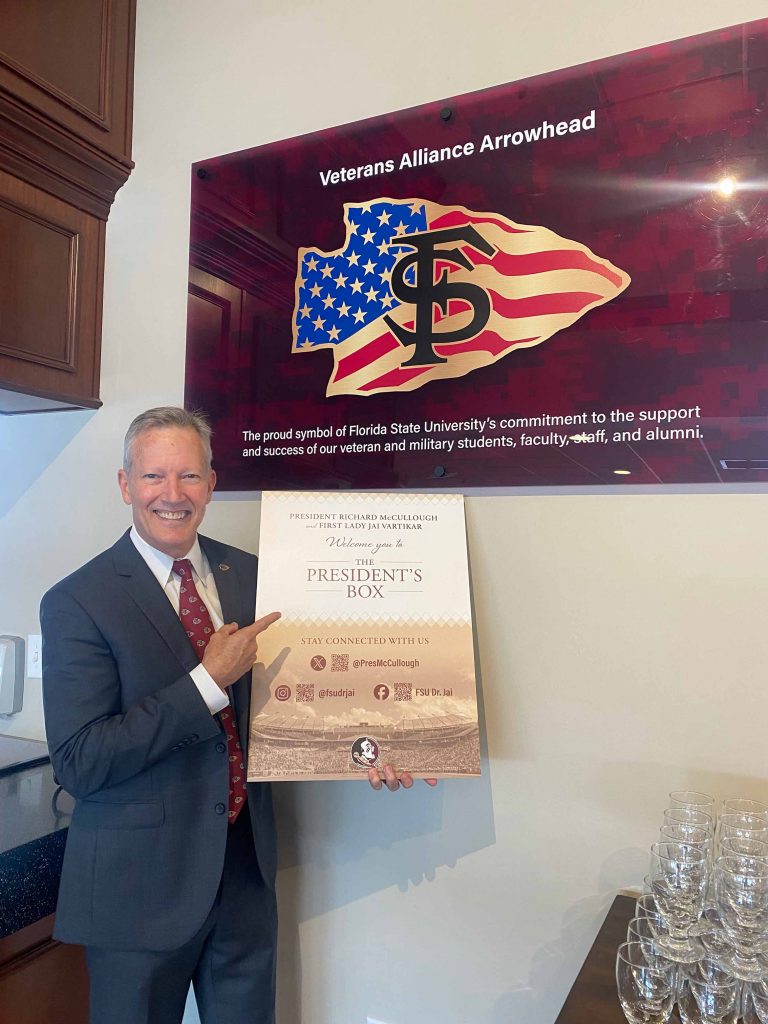 Francis says securing the funding for the VLC affirms Florida's and FSU's commitment to veteran support and success.
The VLC demonstrates a broader approach to student-veteran support known as the Veterans Alliance, which includes veteran-centered student groups like the Collegiate Veterans Association and Veterans Student Union.
The Veterans Alliance arrowhead has become a recognizable symbol for everything FSU stands for in its support of veterans. The iconic arrowhead can be found across campus and around town on banners, clothing and more. During the Military Appreciation Game, the arrowhead symbol was added to the back of each football player's helmet.
"That emblem stands for veteran/military support and success, but if we don't back it up with our actions, then it's just a cool symbol that doesn't mean much," Francis said. "But that's not the case at Florida State. We work hard here to follow through on what we say we're going to do."
Other universities around the country look to Florida State's SVC to guide them in establishing their own centers and foster a proven model of veteran support on their campuses. Francis has mentored and advised more than three dozen other colleges and universities looking to do just that.
"The thing that I'm most proud of has been the consistent follow-through across campus that validates our reputation," Francis said. "What's behind the arrowhead — the people and their can-do attitude and their actions — that is what is most meaningful."
While proud of everything the SVC has empowered veterans to achieve so far at Florida State University and beyond, Francis is always looking to elevate the success rates of FSU veterans and military-connected students.
For more information, visit veterans.fsu.edu.