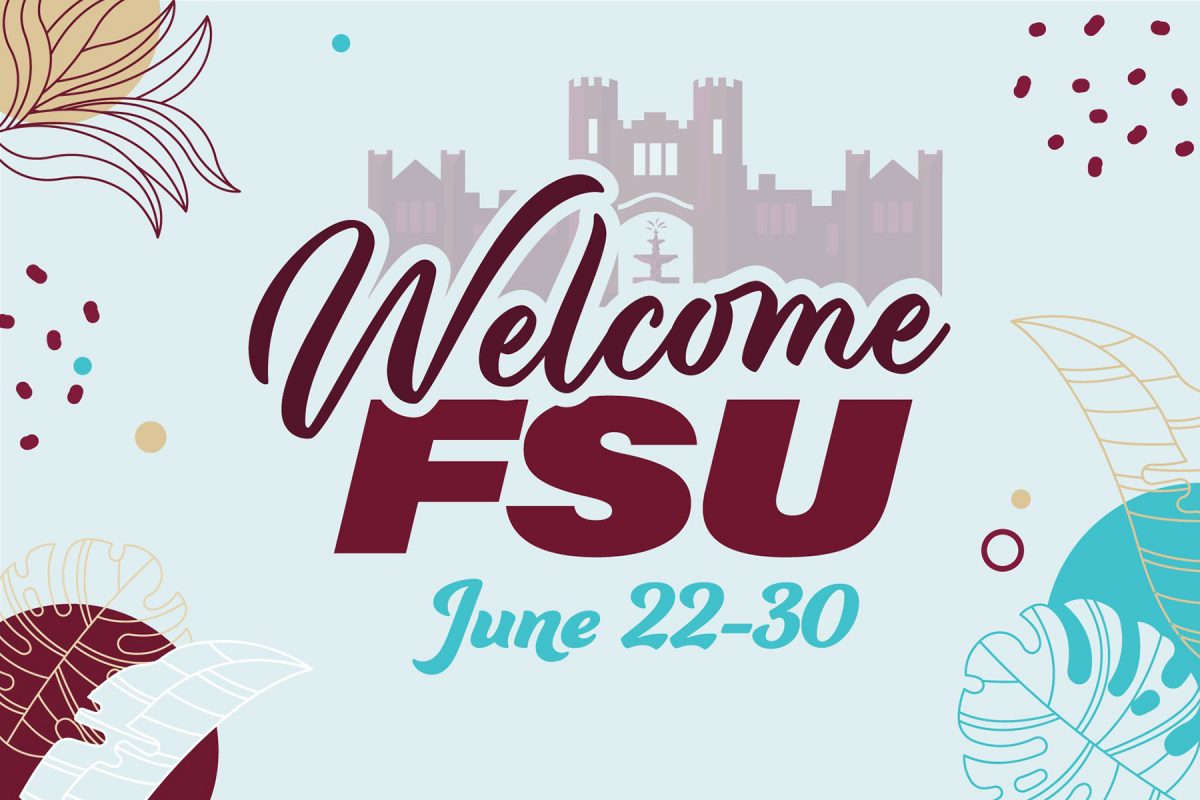 Each semester, Florida State University presents "Welcome FSU," a series of events and programs that serve as the official welcome for all Florida State students.
This summer, "Welcome FSU" will begin Thursday, June 22, and offer an array of activities through Friday, June 30.
"Welcome FSU" helps students learn about campus resources, ways to get involved and connected and how to make FSU and Tallahassee home. The scheduled events and programs focus on social, well-being, cultural and academic activities for students at FSU.
"We are excited to offer a variety of events and on-campus opportunities to welcome our students to Florida State," said Amy Hecht, Vice President for Student Affairs. "We want our new Noles to feel a sense of community and belonging immediately. We know that the FSU experience is one of the reasons why our students are so successful, and we look forward to seeing students at 'Welcome FSU' events at the start of the semester."
With introductions to more than 650 student organizations, seven student government agencies, 54 fraternities and sororities and over 40 intramural sports, "Welcome FSU" offers students a chance to connect with resources and communities across campus to support them throughout their academic experience.
"Welcome FSU" supports the Division of Student Affairs' year-round Hello FSU! campaign that aims to keep students engaged with campus resources and in the know about fun things to discover and do on campus. Hello FSU! works with the Division of Undergraduate Studies and other campus partners to highlight key campus events, programs, activities and services for undergraduate students by offering:
The Weekly Top 5 – A curated collection of the week's biggest events, programs, activities and deadlines. Debuts every Monday throughout the academic year on #HelloFSU social media and at hello.fsu.edu.
How to FSU – Connects students with online guides and how-to resources to navigate various campus processes.
Success Tips – Identifying resources and providing life management tips to help students succeed in and out of the classroom.
Spotlight Stories – Special feature stories on programs, services and people from around campus.
ICYMI – In Case You Missed It provides an extra reminder for key events or important actions.
To stay up to date with the Division of Student Affairs, follow them on Instagram, Facebook, Twitter and the FSU Calendar.
For more "Welcome FSU" information and the full schedule, visit welcome.fsu.edu.
---
Thursday, June 22
5-7 p.m., Leach Center
Explore campus after move-in and join the Leach Center for special games and giveaways.
Friday, June 23 – Sunday, June 25
10 a.m.-12:30 p.m., HCB Atrium
Brief, guided tours around campus can help students find the buildings where their summer classes will be held.
Monday, June 26
9 a.m.-1 p.m., Landis Green
Join New Student & Family Programs on Landis Green and commemorate the first day of classes with a photo.
Tuesday, June 27
4-6 p.m., Union Ballrooms
Meet student organization leaders and members at a tabling fair to learn how to get involved at FSU.
Wednesday, June 28
5-7 p.m., Union Green
Students can enjoy carnival games, inflatables and food while interacting with the FSU community.
Thursday, June 29
4-6 p.m., Main Campus Fields
Stop by the Main Campus Fields for pick-up games and learn more about FSU's summer intramural leagues.
Friday, June 30
Union Fridays: Local Artist Concert
6-8 p.m., Club Downunder
Stop by Club Downunder for performances by local bands.