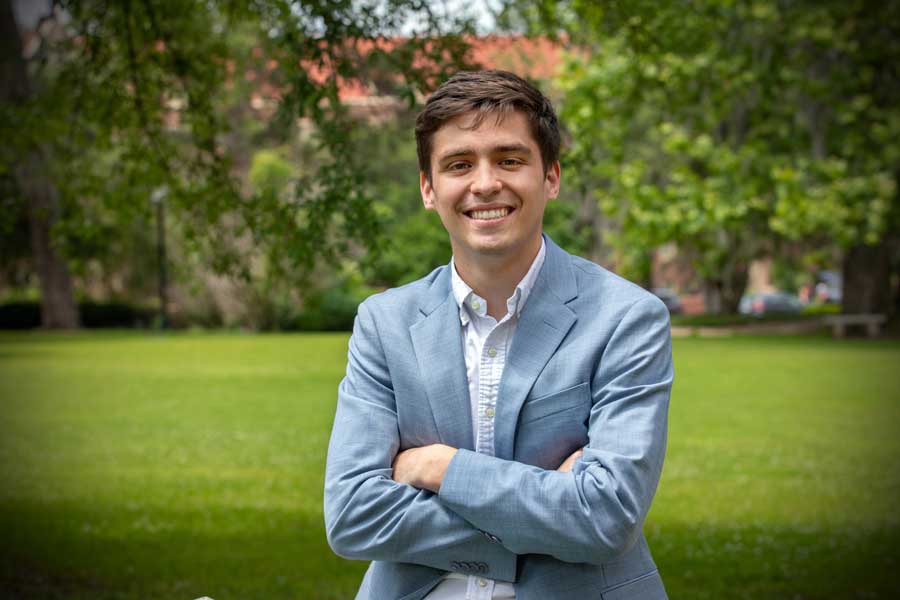 For the third consecutive year, the president of Florida State University's Student Government Association was elected to serve as chair of the Florida Student Association (FSA).  
Jack Hitchcock, a native of Gulf Breeze, Florida, took his post as SGA president in April and was elected chair of the FSA this month.  
The post gives Hitchcock a seat and a vote on the Board of Governors, which oversees the State University System of Florida. As FSA chair, he represents the student bodies of Florida's 12 public universities and more than 400,000 students.
Hitchcock follows former FSU SGA presidents Nimna Gabadage and Nastassia "Tazzy" Janvier in assuming the dual roles.  
Hitchcock said he is looking forward to the challenge of bringing the perspective and priorities of students to the Board of Governors.  
"To be the only student voice representing 400,000 students is a job to be taken very seriously," Hitchcock said. "Each decision that is made, each vote that goes up, each conversation that happens needs to be undertaken with the best information available to ensure we are reading the temperature of what the students of Florida want." 
"To be the only student voice representing 400,000 students is a job to be taken very seriously,"

— Jack Hitchcock, FSU's Student Government Association president
The FSA president is elected by the student body presidents of the state's other public universities. It is a group Hitchcock said he will be relying upon.  
"No one knows better what's happening with the student bodies of each of the state's 12 public colleges and universities than they do," he said. "Each university has their own issues they're facing so it's FSA's job to wrap those together and start working toward solutions."   
Hitchcock is a double major in international affairs and interdisciplinary social sciences. He is set to graduate next May and plans to pursue a law degree afterward.  
As president of FSU's SGA, he oversees a budget of $14.6 million and has a voting seat on FSU's 13-member Board of Trustees.
While his role with the FSA will be his first statewide position, this is not Hitchcock's first role in student government — at FSU or dating back to his time at Gulf Breeze High School, where he also served as student body president. At FSU, he served in the student senate and the SGA's executive branch as secretary of external affairs.  
Hitchcock said he hopes the policies his administration executes at FSU all build toward ensuring Florida State students get a full college experience.  
"I think we are already having a great experience, but we want to build on that and make sure we are keeping it that way — and that's a big challenge," he said.