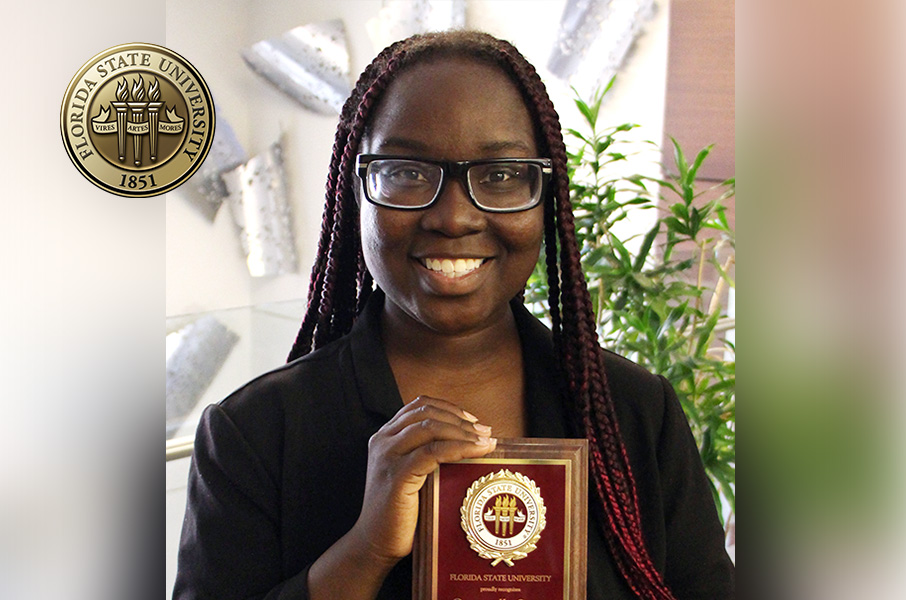 Conqualla Scott has been named Florida State University's 2023 Humanitarian of the Year for her work to help vulnerable populations. She was among 12 students nominated by their colleges, all of whom were honored during the annual celebration April 7.
Scott was singled out for her passion for helping others, her courage in sharing her story with other first generation students trying to navigate college, and her commitment to a career in continuing to support others as a social worker.
During the ceremony, Center for Leadership & Social Change Director Joi Phillips said that Scott "is committed to helping make the world a better place by helping vulnerable populations with Habitat for Humanity, helping to fight food insecurity in Tallahassee and using her voice to advocate for others."
Phillips shared a highlight from Scott's essay in which Scott wrote "one of the most important things you can do on this earth is to let people know that they are not alone."
The FSU Humanitarian of the Year award has been an important element of Florida State University's commitment to service on campus and in the community since 1988. The award promotes the development of a sense of civic responsibility and public service among the student body. One student nominee from every academic college who has made a significant contribution or impact in their community is recognized for their contributions, and the Center for Leadership & Social Change selects an overall winner each year.
2023 Humanitarian of the Year
Conqualla Scott
College of Social Work
Scott is a social work major who also serves as president of the Unconquered Scholars Program Student Advisory Board and second vice president for the campus chapter of the National Council of Negro Women. Scott's most meaningful act of service has been fighting for minoritized individuals and underrepresented groups and giving back to meet the critical needs of those experiencing food insecurity and homelessness in her home community of Tallahassee. After graduation, she plans to attend graduate school to pursue a master's degree in social work.
---
2023 Nominees
Tara Clark
College of Human Sciences
Clark is an athletic training major. Her most meaningful act of service has been with FSU Athletics, where her work with student athletes affected by injury or illness strengthened her love for athletics and her connection to others. After graduation, Clark plans to attend graduate school for physical therapy.
Nicolas Finol
College of Education
Finol is a sport management major with a minor in general business. Finol has been previously selected for the Guidon Award and is involved in Sigma Phi Epsilon fraternity and the Sport Management Student Association. Finol's most meaningful act of service has been serving under-supported local communities through efforts such as Fraternity and Sorority Life's FSU Line Dance, a philanthropic event supporting beneficiaries such the Unconquered Scholars program and the Collegiate Veterans Association, where he served as co-executive director. After graduation, Finol will intern with the Washington Nationals over the summer, then return to FSU for graduate school.
Stephanie Flegal
College of Business
Flegal is a management major with a minor in psychology. Flegal is a member of Torchbearer 100, FSU Honors Program, Alpha Chi Omega, Phi Eta Sigma, Dance Marathon, Best Buddies and GIVE FSU. Flegal's most meaningful service area has been serving as the president of GIVE FSU, a chapter she founded in fall 2022. After graduation, Flegal is moving to Nashville to work for Cigna's Provider Engagement Development Program.
Janeen Green
College of Arts and Sciences
Green is a religion and humanities double major with a certificate in global citizenship. Green has been awarded the College of Arts and Sciences Leadership Award. Green's most meaningful area of service has been volunteering with the Boys and Girls Club of Broward County. After graduation, Green plans to attend law school.
Madison Kirkpatrick
FAMU-FSU College of Engineering
Kirkpatrick is a civil engineering major. She has been previously recognized for the Torchbearer 100 award. Kirkpatrick's most meaningful service area has been her involvement in promoting space for women in STEM through working with STEMS4Girls Inc, which creates opportunities for girls in underserved communities to learn more about science, technology, engineering and math topics. She also leads the Society for Women Engineers at the College of Engineering. After graduation, Kirkpatrick plans to work as a Project Engineer for Whiting-Turner Contracting Company.
Reagan Land
College of Applied Studies (Panama City campus)
Land is a professional communications major with a minor in psychology. Land has been recognized as the overall winner for the 2022 Undergraduate Research Symposium. Land's most meaningful act of service has been planning events to spread awareness of on-campus and national issues, including a Ukrainian educational panel and working through Student Government Council to pass a menstrual equality bill to provide free menstrual products to students on campus.
---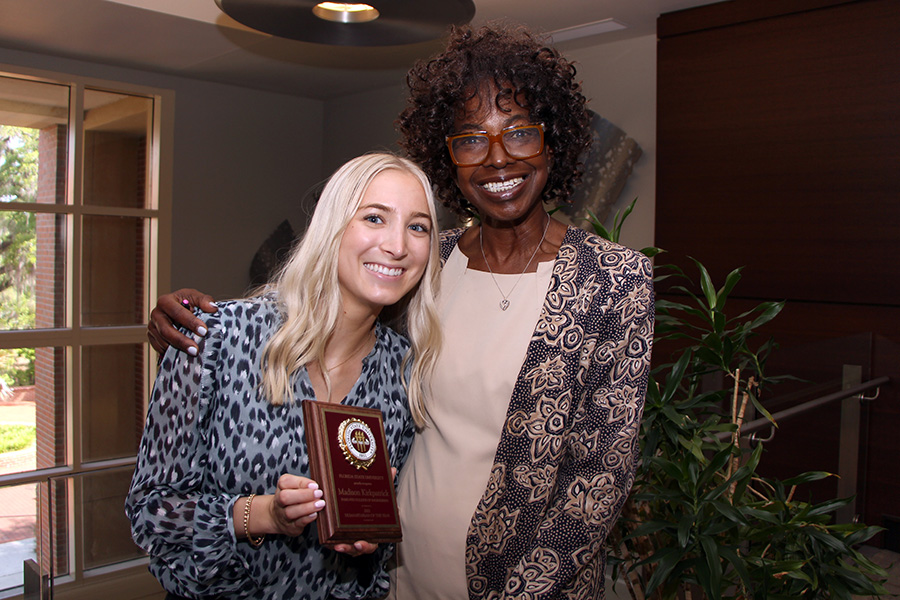 ---
Morgan Ling
College of Medicine
Ling is an interdisciplinary medical sciences major with a focus in clinical professions. Ling is involved in Garnet and Gold Key Honor Society and serves as an Undergraduate Research Opportunity Program Leader and IMS Ambassador. Ling also served as Alpha Delta Pi sorority's 2022 director of philanthropy. Ling's most meaningful service area has been teaching English and Female Hygiene in India. After graduation, Ling plans on taking a gap year and applying to medical school while working in Tallahassee Memorial Hospital's Emergency Room. Ling also will travel to Africa in July to summit Mt. Kilimanjaro.
Jayne Margason
College of Music
Margason is a music therapy major with minors in child development and psychology. Margason is president of Alpha Mu Alpha music therapy club, treasurer of the Southeastern Region of the American Music Therapy Association, a member of the College of Music Board of Advisors and member of Tau Beta Sigma music sorority. Margason's most meaningful act of service has been providing music for older adults at assisted living facilities. After graduation, Margason plans on working as a music therapist for children.
Jasmeen Noel
College of Nursing
Noel is a nursing major with a minor in child development. Noel is the vice president of Sisters2Service FSU and community service chair for the Alliance for Black Women. Noel's most meaningful act of service is mentoring younger students at Walker-Ford Community Center. After graduation, Noel plans to work as a pediatric nurse.
Blake Novack
College of Communication and Information
Novack is a media and communication studies major with a minor in commercial entrepreneurship. Novack is a member of Alpha Chi Omega sorority and has been involved in Dance Marathon at FSU. Novack's most meaningful act of service has been serving as the 2021 dancer relations director of Dance Marathon to help raise funds and awareness for the Children's Miracle Network. After graduation, Novack plans on moving to New York City to pursue a career in public relations or advertising.
Chloe Wain
College of Social Sciences and Public Policy
Wain is a political science, economics, and editing, writing and media triple-major with a minor in Spanish. Wain has been selected to be an investigator for Washington D.C.'s Public Defender's Office for the summer. Wain is currently an investigative intern for the Leon County Public Defender's Office. Wain has been previously nominated for the Harry S. Truman Scholarship and is a part of the FSU Honors Program, Honors Legal Scholars Program and Global Scholars Program. Wain is also an Undergraduate Research Opportunity Program Leader and involved with the Institute of Politics, DeVoe L. Moore Center, Academic Honor Policy Appellate Committee, Garnet & Gold Key Leadership Honorary and Garnet & Gold Scholar Society. Wain's most meaningful service area has been pro bono public service in the legal field. After graduation, Wain plans on taking a gap year and then applying for law school.
---
The mission of the Center for Leadership & Social Change is to transform lives through identity development, leadership education and community engagement. The center runs more than 30 programs for students, faculty and staff to develop skills to create positive, sustainable change in their communities.