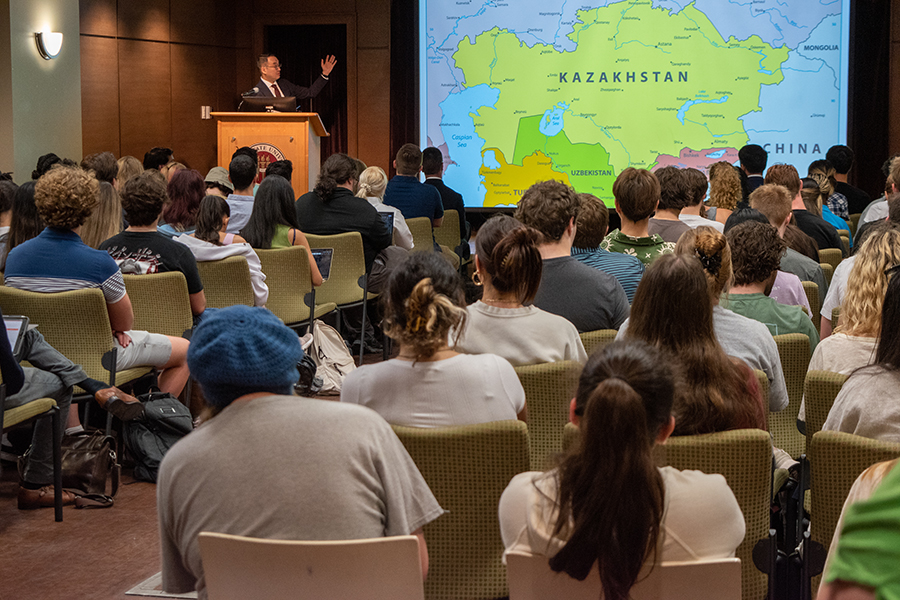 As the Republic of Kazakhstan's ambassador to the United States, Yerzhan Ashikbayev is adept at answering questions about his country, a skill that served him well during his recent visit to Florida State University. 
After Ashikbayev's April 5 lecture at The Globe Auditorium, students had plenty of questions about his home, a country more than 6,000 miles away:  
"Does Kazakhstan have any position in support or opposition of Iran having nuclear weapons?" 
"Why did Kazakhstan switch from a Cyrillic-based alphabet to a Latin-based alphabet?" 
"How do you see the relationship with Russia developing during the Ukraine war and is Kazakhstan distancing itself from Russia in the future?" 
Ashikbayev visited FSU's campus as part of a five-day tour throughout the state of Florida. This event was open to all FSU students, faculty and staff members and was heavily attended by students from IDS 2531: Global Perspectives and INS 3003: Introduction to International Affairs courses.  
Four international students from Kazakhstan are currently enrolled at FSU, and another two international students from Kazakhstan are currently enrolled at the Center for Intensive English Studies. All six students attended the lecture, which focused on the history and geopolitics of Kazakhstan and its relationship with the U.S.  
The lecture was followed by a question-and-answer session with students.  
"It is important for students to take advantage of such learning opportunities," said Tanu Kohli Bagwe, director of the Center for Gobal Engagement's Global Citizenship Certificate Program and instructor of IDS 2531. "They can learn more about international trade and commerce, and why international diplomacy is good business." 
Ashikbayev was appointed as the Ambassador of the Republic of Kazakhstan to the United States in 2021. In this role, he serves as the lead communicator on the Enhanced Strategic Partnership Dialogue with the United States, which is an annual platform for the nations to discuss bilateral and regional issues and advance shared priorities. 
He previously served as Deputy Foreign Minister of the Republic of Kazakhstan, serving as the diplomatic point person for matters involving the United Nations and the Americas. 
Kazakhstan is an eligible country for the Eastern Europe Linkage Institute (EELI), which is one of 11 International Linkage Institutes established by the Florida Legislature to develop stronger economic, cultural, educational and social ties between Florida and countries considered strategically important to the state.  
Kazakhstan Fast Facts: