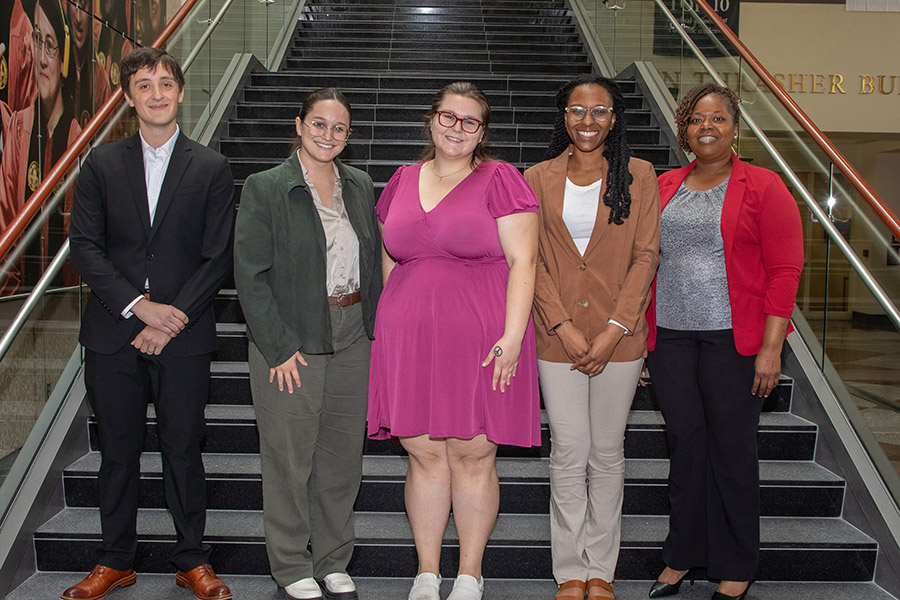 The challenge is as straightforward as it is difficult: make intricate ideas accessible and interesting and do it in less than four minutes.   
Nine Florida State University master's students from across academic disciplines accepted the challenge Wednesday and showcased their research at The FSU Graduate School's Master's in Four competition.  
Topics included an exploration of postpartum depression in fathers, a submerged archeological site on the Aucilla River and enhancing reading comprehension in children with signs of an emotional behavioral disorder.  
Ultimately it was Madison McCraney, a master's student in public health, who took home the $1,000 first prize for her research on access to primary medical care in Florida. McCraney's research demonstrated that access to primary health care is not distributed equitably in Florida. 
There's more to it than that, which is exactly what makes Master's in Four such a challenge. Speaking after her win, McCraney called the challenge of communicating intricate ideas in just four minutes like "walking on a tightrope."  
"But it's just so important to get in front of people and get the comfort level up," she said, noting that her career in public health will require these skills. "I'll need to be comfortable speaking to a large group of people, so this was awesome exposure to that." 
Adrienne Stephenson, assistant dean in The Graduate School and director of the Office of Graduate Fellowships and Awards, called Master's in Four an opportunity for professional development.  
"They only have four minutes and up to four slides — that's a lot of pressure," she said. "It's a great opportunity for them to engage broadly with people outside of their disciplines to make sure they are sharing their research in such a way that a broad audience can understand it."  
A panel of five judges, including FSU faculty members, administrators and a reporter from the Tallahassee Democrat, determined the top three winners, while a People's Choice Award was selected by audience members.  
The other Masters in Four prize winners are:
Brytannie Underwood, a master's student in the department of special education, earned second prize and $750 for her presentation, "The Effects of Self-Monitoring on the Reading Comprehension of a Third-Grader Exhibiting Challenging Behavior."
Joseph Masotti, a master's student in the department of philosophy won third prize and $500 for his presentation, "Navigating the Moral Maze: Acting Ethically When We Don't Know."
TaNica Holmes, master's student in the department of art education claimed the People's Choice Award for $250 for her presentation titled Daddies Cry too: A cumulative collage process to explore fathers' lived experiences of paternal postpartum depression: phenomenological arts-informed study."
The finalists are: 
Chansong Woo, studio art 
Tara Lesick, psychology 
Xinyi Yang, sport management 
Amy Socha, anthropology, 
Yeeun Jeong, sport management