The spotlight shined upon Florida State University's Graduate School and its former dean, the late Nancy Marcus, Thursday afternoon during a dedication of a stained-glass window in the Heritage Museum at Dodd Hall.
Commissioned by Marcus' partner Cecile Reynaud and designed by the Master Craftsman Studio, the window depicts Marcus overseeing a hooding, one of the most significant occasions in a graduate student's life — the moment they complete their program and receive their degree.
The event emphasized the importance of graduate education and celebrated Marcus as a champion for graduate student success. 
"I think all of you know that advancing the academic and research excellence at Florida State University is not possible without our amazing graduate students," said Mark Riley, dean of The Graduate School. "And, you know, this is a celebration of that. And it's a celebration of the pathway that Nancy set us on."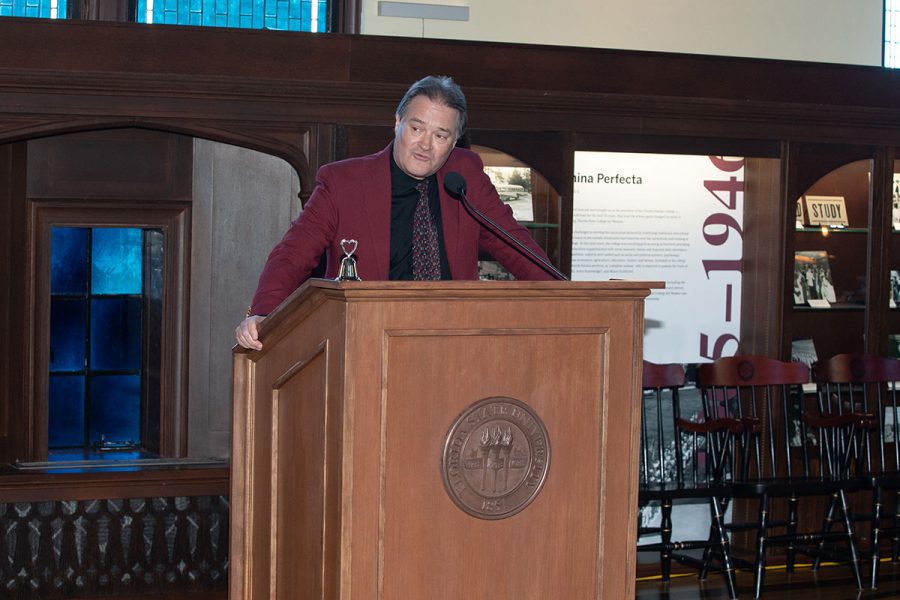 Among Marcus' many accomplishments as dean were the creation of the Office of Graduate Fellowships and Awards and the Fellows Society, which will continue to support and recognize FSU's outstanding graduate students for generations to come. She also created the Office of Postdoctoral Affairs devoted to the needs of postdocs.
Adrienne Stephenson, assistant dean of The Graduate School and director of the Office of Graduate Fellowships and Awards, said that because of Marcus' vision graduate students are engaged in grant writing, international research, study and cultural experiences and preparation for their careers beyond the graduate degree that they are seeking. 
Stephenson said that graduate students secured a record $5.2 million in external fellowships and awards last year.
"Nancy's vision lives on through this work," Stephenson said. "It makes my heart smile to know that Nancy's hard work and her memory will live on at FSU."
Brian Barton, senior associate dean for enrollment and finance, said he appreciated Marcus' drive to expand graduate education.
"There's literally not a day or week that goes by when there is not something we are working on that Nancy had the original idea for and are still in development," he said. "We are still looking at her emails that I'll pull up from 2012 because I'm trying to find a very specific point, and Nancy left no stone unturned."