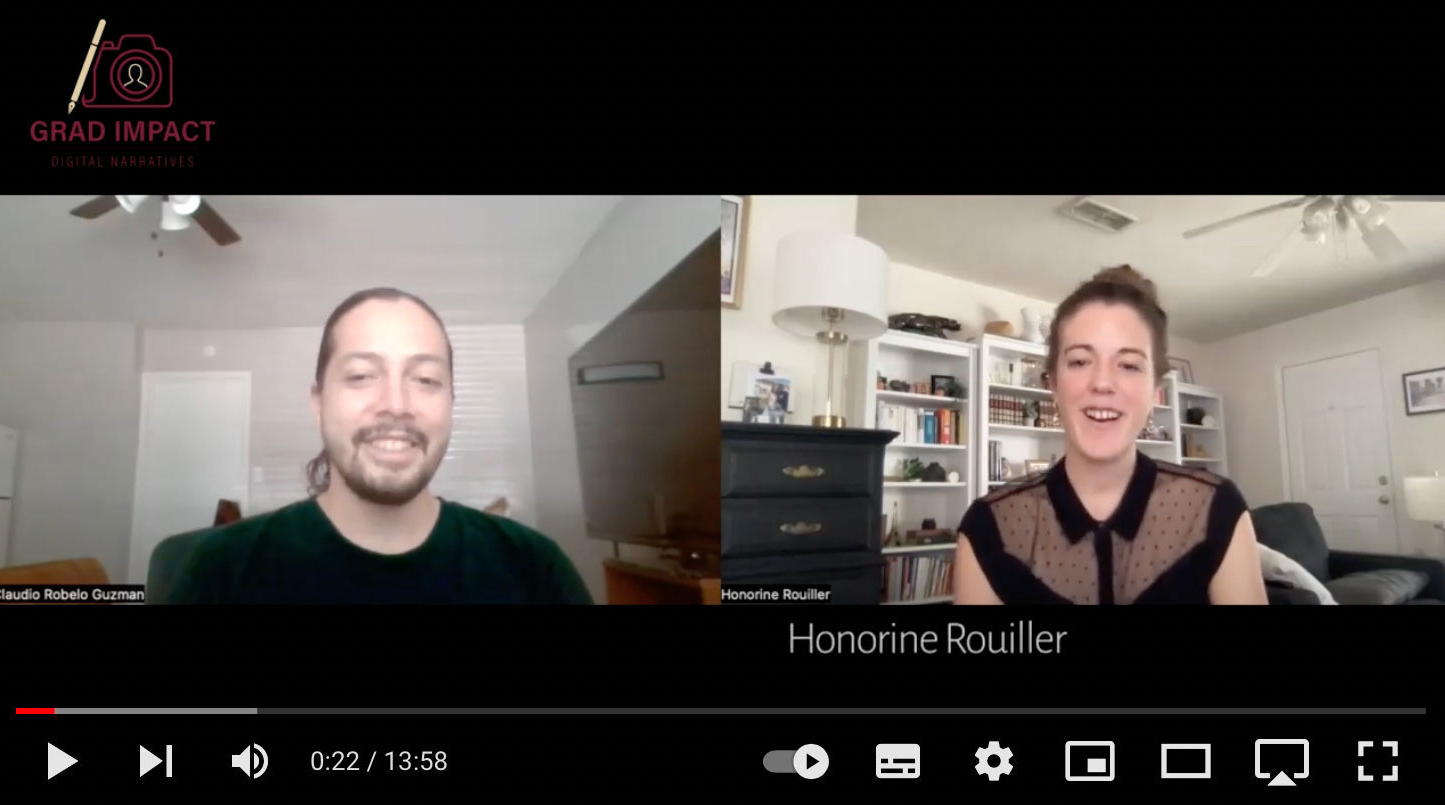 With a smile as wide as Florida State University's global reach, Honorine Rouiller welcomes her guest to The Graduate School's YouTube channel.
"Today, I'm with Claudio Robelo Guzman, who is pursuing a Ph.D. in political science," she says. "He is also the president of HiGSA and grew up in Argentina."
"That's right," says Guzman, who heads the Hispanic Graduate Students Association.
Welcome to the Coffee and Conversations video series, part of FSU's GradImpact Digital Narratives Project. When it was founded in 2017 by Adrienne Stephenson, director of the Office of Graduate Fellowships and Awards, the project aimed to help graduate students share their stories through video, written narratives and podcasts.
The COVID-19 shutdown sparked new demands on graduate students and their prospects. Job fairs and in-person interviews were now out of the question. That's when Rouiller, a native of France and GradImpact's project manager, saw an opportunity.
Enter Coffee and Conversations.
"We thought it would be helpful for graduate students to take these videos with them on the job market, to help them appear on Google searches and share them on LinkedIn and their social media," Rouiller said.
From conducting the interviews to video editing and production, Rouiller is involved in every aspect of the video series. The videos are about 15 minutes long and feature students from the U.S. and around the world.
Within the first year, Rouiller saw a trend.
"Based on the views from YouTube and people reached on Facebook, we noticed that the videos and posts about international students are more popular and shared more widely than those about domestic students," she said.
After just a couple of years, more than 100 Coffee and Conversation interviews have been uploaded, and while restrictions from the pandemic have been lifted, Rouiller said the series has been too valuable to discontinue. That's in part because it's proving so useful in attracting international talent.
Consider Bodunrin Akinrinmade, a native of Nigeria working on his doctoral degree in education policy and evaluation at FSU. In a Coffee and Conversations segment with Rouiller, he spoke about his desire to improve the academic opportunities for children in developing nations.
His message resonated. People in Nigeria and other nations have contacted him about studying in the U.S. and FSU.
"I have had calls from people who have watched my video clip and asked me to mentor them," he said. "I tell them that I have been given the ability at Florida State to learn not just how to improve things in Nigeria but how to adapt policies, programs and ideas for the world."
Rouiller said the overarching message of the videos is: If I can do this, you can, too.
"I'm this little girl from this small town in France making it in the U.S.," she said. "But I am just one of many. That's the perspective each international student shares."
Stephenson, the Coffee and Conversations founder, emphasized the opportunities for graduate students to connect through their experiences, including academics, research and teaching.
"Their stories serve as reputation-builders for graduate education at FSU, and they allow students from around the world to get a personalized feel for international education at FSU," Stephenson said.
That spirit helped lure Amber Noor Mustafa from her home in Lahore, Pakistan, to pursue her doctoral degree in international and multicultural education. Noor reminds others that they can follow a similar path.
"I have a lot of people reach out to me for support in thinking about pursuing their education in the United States, and there are people I've referred to Florida State," she said. "One of my supervisors gave a letter of recommendation to a friend in Pakistan who is coming to study at FSU."
To view the Coffee and Conversation series, visit the FSU GradSchool YouTube channel.