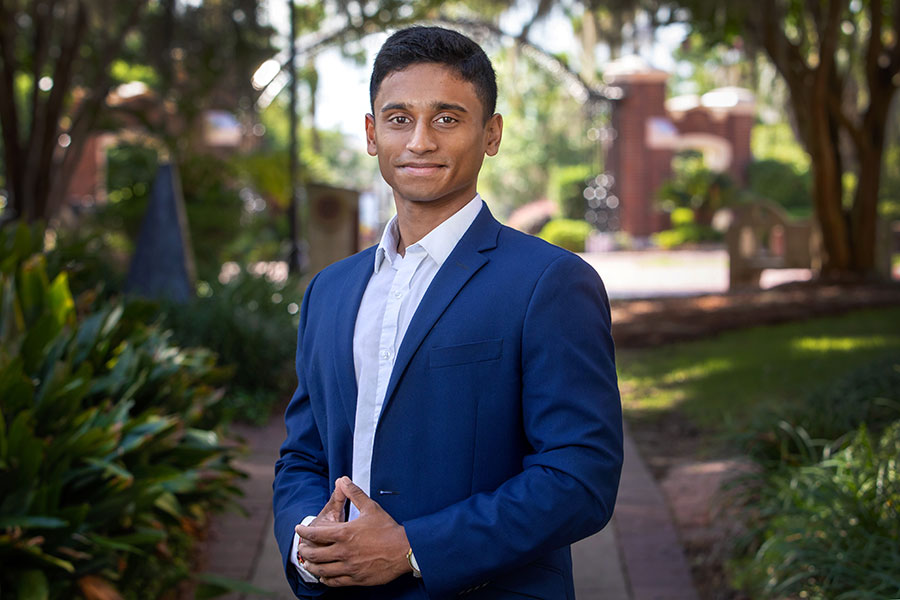 For the second straight year, Florida State University's student body president has been elected to serve as chair of the Florida Student Association (FSA).
Nimna Gabadage, FSU's student body president and a member of the FSU Board of Trustees, will represent the students of Florida's 12 public universities in his role as FSA chair. That also will give him a seat and a vote on the State University System of Florida's Board of Governors.
Gabadage follows the path of Florida State graduate Nastassia "Tazzy" Janvier, who served as FSA chair last year after becoming president of FSU's student body.
"Students are the main stakeholders in our State University System," Gabadage said. "Therefore, it only makes sense for a student to have a voice on that board and give that first-person experience of what's relevant, what's necessary and what's a priority."
Comprised of the student body presidents from Florida's 12 public universities, the FSA represents students at the university, local, state and federal level.
As FSU student body president, Gabadage represents and addresses the needs of more than 45,000 students. As FSA chair, he will represent more than 400,000 students across the state.
"The priorities of students at Florida State translate to students across the state as well," Gabadage said. "There are unilateral issues that every single student in this state faces regardless of which institution they attend. It is a good balance, because I can make sure that the work I am doing for this university coincides with what we are doing in the State University System."
A senior majoring in finance and political science, Gabadage said he plans to build upon the foundation that Janvier and the FSA board of directors established over the past year.
"Students can oftentimes be underrepresented when it comes to higher-level education, so we want to make sure that we're giving them an equitable environment to succeed in and that their success on campus can translate to postgraduate success once they leave," he said.
As a Sri Lankan-American, Gabadage said the appointment marks an opportunity to serve students from disadvantaged and underrepresented backgrounds.
"So many students come from disadvantaged backgrounds and have challenging stories and obstacles, and I want to make sure that their stories are heard and that their experiences are supported," Gabadage said.
Gabadage's election keeps FSU student leaders at the forefront of student advocacy statewide.
"FSU is an extremely diverse population of students from all walks of life, and I think this proves that we are committed to making sure all those diverse voices are heard," Gabadage said.
For more information about FSU SGA, visit sga.fsu.edu. To learn more about the FSA, visit flstudentassociation.com.