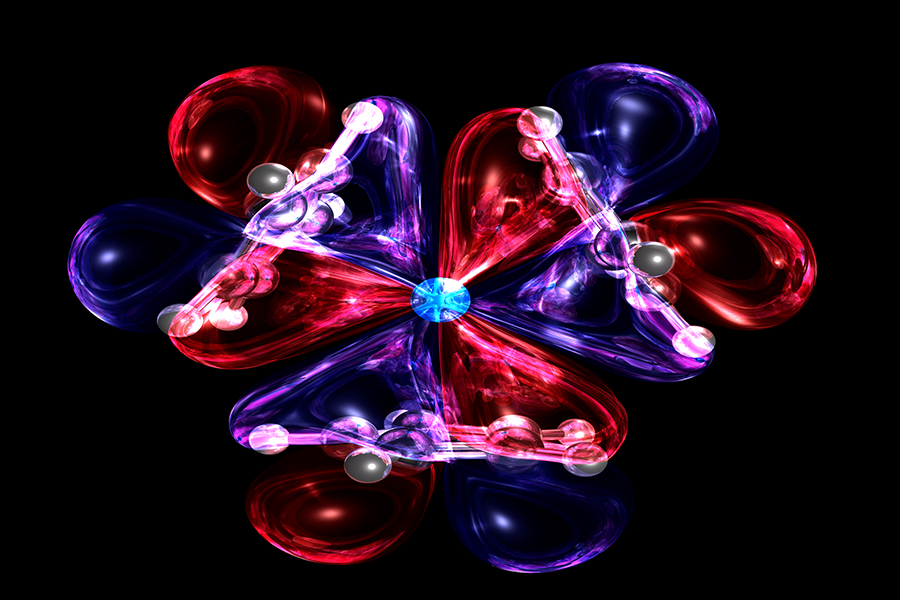 Florida State University's annual "Art in STEM" exhibition returns for its eighth year April 23, inviting a global audience to experience stunning visuals created by researchers in science, technology, engineering and math disciplines.
The event is hosted by FSU's Graduate Women in STEM (GWIS), in collaboration with the FSU College of Arts and Sciences and the FSU Libraries Office of Digital Research and Scholarship. It will take place in a virtual format, as it has done since 2020.
The photography and artwork exhibit will showcase work by 19 students representing the FSU departments of biological science, biomedical sciences, chemistry and biochemistry, mathematics, molecular biophysics and scientific computing. This year's art pieces, which will also be on display at FSU's Dirac Science Library, cover a range of topics, including crystal growth, cancer research and flight data visualizations.
Marcus Liebenthal, a chemistry doctoral candidate whose research focuses on quantum chemistry, is among the students with artwork featured in this year's exhibition, "Orbital Visualization of Thorium Complex," a simulation showing how power plants and factories bind chemicals to radioactive elements, making it easier to remove toxic solutions.
"I simulate such a reaction, where thorium — a radioactive element — is bound to three cyclopentadiene anions," Liebenthal said. "During the simulation, I visualize an orbit of one of the electrons that help bind these molecules together, giving deeper insight into the underlying quantum mechanics."
He added that he makes ray-traced images of molecules as a hobby.
"I like the idea of simulating billions of photo rays and the realistic effects they can make," he said. "I wanted to share my art piece with people, and 'Art in STEM' seemed like a wonderful place to do so."
Liebenthal said the exhibition "showcases the amount of creativity that goes into research and how often it goes unnoticed."
"Art in STEM" has continued to grow in popularity since its 2015 inception. The success of its 2020 transition to a virtual platform inspired event organizers to provide the online format for 2021 and 2022.
Azza Ben Akacha, a doctoral candidate in the Department of Chemistry and Biochemistry and the co-vice president of GWIS, touted "Art in STEM" as the organization's biggest and most anticipated event of the year.
"'Art in STEM' is a great opportunity to showcase the diversity of the research work done at FSU by undergraduate, graduate students and post-doctoral researchers," Ben Akacha said. "Art pieces are typically displayed at the Dirac Science Library throughout the year, so the FSU community gets the chance to know about the research work at the different departments."
Ashley Arcidiacono, a chemistry doctoral candidate, added: "FSU has a proud legacy of outstanding research in STEM, and I think the community is always excited to learn about the excellent work being done on their campus. From record-breaking solar cell devices to novel, sustainable plastics, there's a lot of discovery to celebrate at FSU."
Arcidiacono serves as the event coordinator for GWIS and has participated in the annual event for the past few years. She considers the exhibition a great way to demonstrate the creativity and intriguing nature of STEM research for the entire campus community.
"Historically, science has been presented in ways that are not always accessible to those who are not in a scientific field," Arcidiacono said. "This event is a way to share the groundbreaking research being conducted by undergraduates, graduates and postdocs in an exciting way to bridge that gap. Science is for everyone, and 'Art in STEM' celebrates that idea."
Members of the FSU community and the public are also invited to vote for their favorite artwork in the "Art in STEM" People's Choice Award. The winning artist will receive a prize basket courtesy of participating exhibition sponsors. Voting closes April 24, and the winner will be announced April 25.
The 2022 "Art in STEM" exhibition is now online at fsudrs.github.io/artinSTEM/. Viewers who missed the 2021 exhibition can browse artwork at fsudrs.github.io/artinSTEM/past-exhibits/.