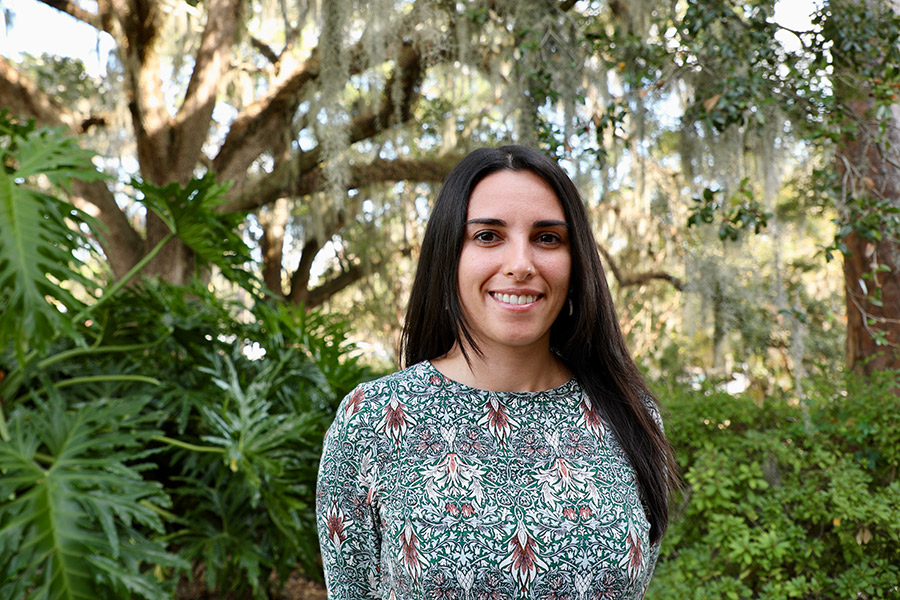 A Florida State University doctoral student has received a prestigious international fellowship to study in Europe this spring.
Modern Languages and Linguistics doctoral student Nerea Delgado Fernández will use the Chateaubriand Fellowship to study the intonation, or the rise and fall of the voice when speaking, of bilinguals in Basque-speaking regions in France and Spain. She will also collaborate with Aritz Irurtzun, tenured research associate in linguistics for the French National Centre for Scientific Research, at the Centre de Recherche sur la Langue et les Textes Basques in Bayonne, France.
"Doing what I enjoy most about being a doctoral candidate — fieldwork — in an immersive setting will enable me to obtain a deeper understanding of the role bilingualism plays in the region today," Delgado Fernández said. "It will be an invaluable experience."
The fellowship, established in 1981, is awarded by the Embassy of France to outstanding doctoral students from American universities and supports them in conducting research in France and working with French scientists. Chateaubriand fellows are selected through a merit-based competition, a collaborative process involving expert evaluators in both countries. Since 2014, eight FSU graduate students have earned the Chateaubriand Fellowship.
The Basque language is severely endangered in France, and Delgado Fernández was motivated to submit a proposal that would contribute to the preservation of the linguistic heritage of Le Pays Basque Français, or French Basque Country.
Delgado Fernández specializes in phonetics and phonology, or the study of sounds and sound patterns. Her focus on intonation, which can be described as the overall melody of sentences, is an area of study currently undergoing significant growth. She is also interested in sociolinguistics and bilingualism, and she has a strong background in syntax.
"I see the Chateaubriand Fellowship as an opportunity to establish connections with important scholars in the field as well as learn analysis techniques that are specific to French and Basque," Delgado Fernández said. "These insights will strengthen my research project and help me to interpret my results in a more holistic manner."
Carolina González, an associate professor in FSU's Department of Modern Languages and Linguistics, first met Delgado Fernández in 2016 at a graduate open house hosted by the Spanish and Portuguese program. Now, González is Delgado Fernández's adviser and directs her doctoral dissertation.
"Nerea's work is very exciting for several reasons," González said. "When comparing intonation, most scholars usually focus on two languages or two language varieties. But Nerea is comparing the intonation of Spanish, French and Basque, as well as two varieties of Basque, spoken in different countries. This is quite unusual, especially since intonational analysis is incredibly time consuming."
In 2014, Delgado Fernández earned her bachelor's degree in English studies from the University of Salamanca, located in Salamanca, Spain. She earned her Master of Education degree from Carthage College in 2016, and she earned her Master of Arts degree in Hispanic Linguistics from FSU in 2018.
During her time at FSU, Delgado Fernández has received numerous awards. She used a Sigma Delta Pi Graduate Research grant to conduct research in Spain last summer, which allowed her to complete the first phase of her dissertation project.
Delgado Fernández also received an Outstanding Graduate Student recognition from the FSU Spanish program and has received the Ada Belle Winthrop-King Scholarship annually since the beginning of her graduate studies here.
Delgado Fernández plans to graduate with her doctorate in Hispanic linguistics in 2023. After completing her doctorate, she hopes to continue her research and teach linguistics at the university level.
To learn more about ways for graduate students to fund their academic interests, visit FSU's Office of Graduate Fellowships and Awards at ogfa.fsu.edu. For more information about the Department of Modern Languages and Linguistics, visit modlang.fsu.edu.