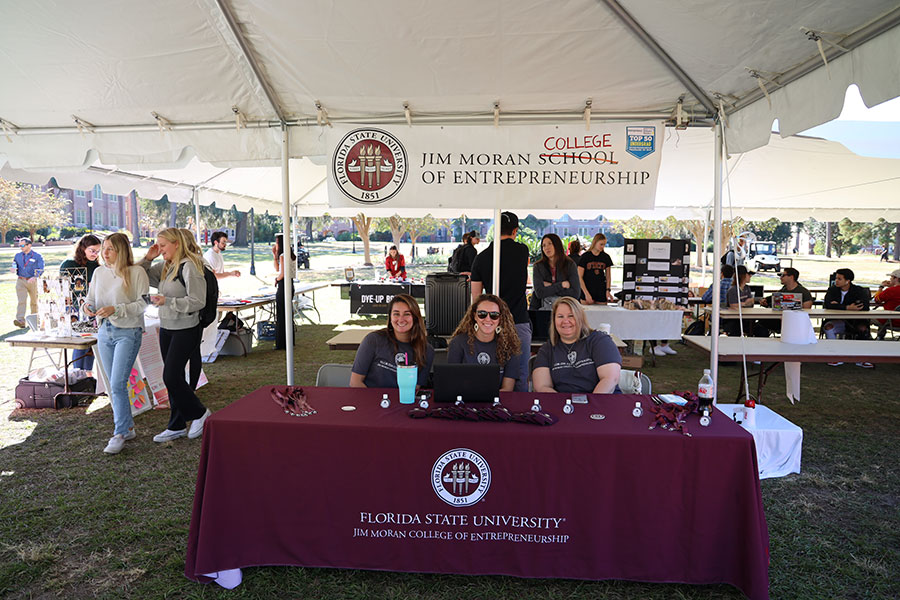 Big ideas and dreams of big business converged at the Fall 2021 Entrepreneurship Expo Wednesday as students from Florida State University's Jim Moran College of Entrepreneurship showcased their companies, products and services. 
The group of entrepreneurs gathered under tents on Landis Green included about 30 recent Jim Moran College graduates and current students, offering up a potpourri of products that ran from lawn-care services to handbags made from reclaimed boat sails.
Jim Moran College STEM Entrepreneur in Residence Jeff Whalen said the event is the culmination of hard work by the students enrolled in the college's Experiences in Entrepreneurship courses, and it's also an example of the college delivering on its mission to inspire innovation and an entrepreneurial mindset in its students.
"We are an entrepreneurship program so it seems intuitive that our students should graduate having started and run a business," he said. "During these courses, which span two consecutive semesters, they all start businesses and this expo is their opportunity to sell what they've created through the curriculum."
Whalen said he expects about 60% of the current cohort of undergraduate students to graduate with a business that is revenue producing.
"Whether students want to continue with their business after graduation is solely up to them," he added.
One student who opted to continue is Jon Virga, who graduated in May with his degree in commercial entrepreneurship. Along with his partner, current Jim Moran College master of science in entrepreneurship for product development student Will McCarthy, Virga formed Dunsel's Sail bags. 
Mutual interests in surfing and sailing led them toward their idea of manufacturing durable duffel, beach and toiletry bags made from used boat sails.
"The sails are a polyester-based textile so they're plastic, same as the plastic water bottles that are thrown away that break down into microplastics ending up in our water supply and in our food," Virga said. "This idea actually started as a fundraising idea for the FSU Sailing Club. This sort of happened over the pandemic, and we were just looking for interaction. Will picked up sewing, that was his COVID thing. And the business became our COVID thing."
A few steps away from Virga, undergraduate commercial entrepreneurship major Olivia Floyd stood behind a display of her custom, handmade jewelry line, for her company "Sunny Girl Brand." 
Floyd, who is from Chipley, Florida, said the idea for her company also sparked during the pandemic shutdown.
"It started then, and now I'm selling all over the country," she said.
At the entrance into the expo, 2019 Jim Moran College graduate Michael Benarde stood outside his own tent where he was presenting his product Night Cap, a flexible cover that fits over glasses to prevent cocktails from being spiked. 
Benarde developed Night Cap with his sister, Shirah. The product gained national attention when it was featured on the ABC show Shark Tank and earned a $60,000 bid from "shark" Lori Greiner in exchange for a 25% stake in the company.
A native of West Palm Beach, Benarde said the Jim Moran College offered the resources he needed to successfully launch his product. 
"The Jim Moran College was huge in getting us started with all the resources they made available to us," he said. "We won four pitch competitions, which helped funding to start the business. We also were able to use the FSU Business Law Clinic, which was extremely important for trademark registration."
Benarde said Night Cap continues to grow. The product is also now available with customizable logos and can be purchased online on Amazon and in stores, including Urban Outfitters. 
Whalen said that if there is a theme at this year's expo it's the increased number of students embracing innovative approaches and technologies to launch their businesses toward profitability. 
"A lot of these students here have been very, very creative in how they've used some algorithm, some new equipment, a cutting-edge technology or an innovative approach," he said. 
Whalen said science, technology, engineering and mathematics programs, like the new STEM Entrepreneurship bachelor of science major, which the Jim Moran College launched this fall, will ensure that these approaches continue to take root.
"It's a theme here today, and it's one that we can see continuing to grow on this campus," he said.