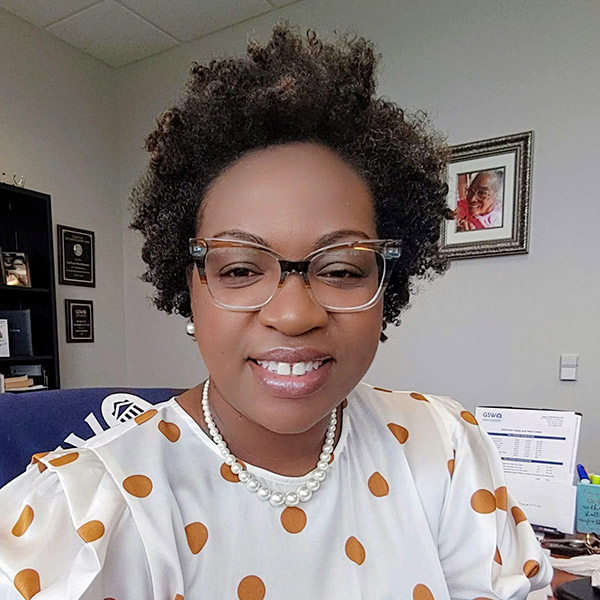 Florida State University has announced LaToya Stackhouse as the new director of Student Affairs for FSU Panama City (FSU PC). She will begin her role as director on Jan. 3, 2022.
"I am excited to welcome LaToya to the Student Affairs team. Her energy, experience and ability to connect with students will be such an asset to Panama City and the Tallahassee campus," said Vice President for Student Affairs Amy Hecht. "As the director for Student Affairs at FSU PC, LaToya will enhance the student life experience and build stronger connections between Tallahassee and Panama City."
Stackhouse is well-rounded in leadership, administration and management from her years working at Georgia Southwestern State University (GSW) in the Department of Residential and Campus Life and the Division of Student Engagement and Success. Experienced in Student Life, she has provided administrative supervision for Student Engagement and Success departments, including Student Activities, Greek Life and Leadership, Residential Living and Recreation and Wellness Programs.
"We have record numbers of first-year students this year with our new on-campus housing, and Ms. Stackhouse will bring a fresh perspective to the Leadership Team to enhance what we are doing at FSU PC," said Dean of FSU Panama City Randy Hanna. "Our students at FSU PC share in our excitement and are thrilled she will be joining us."
An advocate for diversity with experience in promoting, teaching and including diverse ethnic and socioeconomic populations, Stackhouse served as the chairwoman for the President's Council on Diversity during her time at GSW. She also enacted a Multicultural and Diversity Committee within the division and coordinated various cultural excursions for students. Stackhouse also has extensive experience with the Federal TRIO program, Upward Bound.
"We're excited to welcome Ms. Stackhouse to the FSU Panama City family," said Irvin Clark, associate dean of Student & Strategic Initiatives. "FSU PC is committed to the success and well-being of our students, and she shares our vision. She has a proven track record and will be a great asset to our growing campus."
Experienced in working with first-year students at GSW, Stackhouse also helped with retention efforts at GSW through programming and student leadership development. She is completing a Doctor of Education in Curriculum Studies in spring 2022 from Georgia Southern University in Statesboro, Georgia.
For more information about FSU PC and the Department of Student Affairs, visit pc.fsu.edu.