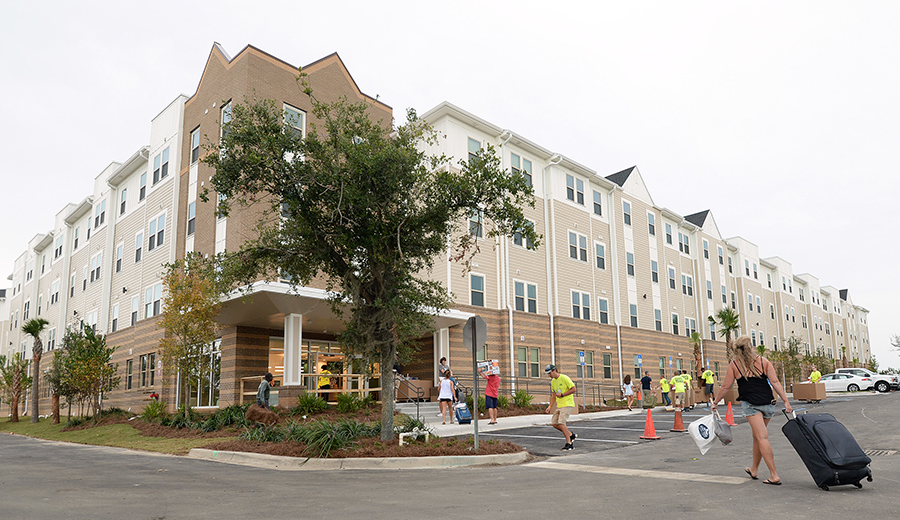 Students moved into Seminole Landing at Florida State University Panama City on Friday and Saturday, Aug. 20-21, in advance of Sunday's Welcome Convocation.
"This is a big year for FSU Panama City," said Randy Hanna, dean of FSU Panama City. "We just opened our first on-campus residential housing and welcomed the largest first-year student class to the Florida State family and the university experience."
The formal First-Year Student Convocation marks the entrance into the life and traditions of Florida State University and extends the support of the university community to its newest members. FSU Panama City admitted more than 140 first-time-in-college students this academic year.
The on-campus housing along St. Andrew Bay was a draw for many FSU Panama City students, such as political science major Jade Chambers of Broward County.
"I got in the Seminole Pathways Program," said Chambers, who chose to start at FSU Panama City and then transfer to FSU's Tallahassee campus after her freshman year. "It's really nice here."
Seminole Landing also is home to FSU Panama City students from the surrounding Bay County area looking for a residential college experience, as well as students who moved to the area from out of state and as far away as the Bahamas. To be a resident at Seminole Landing, students must be enrolled in at least six credit hours at FSU Panama City or the neighboring Gulf Coast State College.
The upscale fully furnished apartments feature a TV, in-unit washer/dryer, kitchen and utilities included. One, two and four-bedroom floor plans are available. Recreational amenities include a 24-hour fitness facility, bayside infinity pool, gazebo, fire pit and gas barbecue grill. Residents also have access to private study and community rooms, lounge spaces and an academic success center.
Seminole Landing is a public, private partnership with Florida State University and Zimmer Development Co., and Asset Living manages the property and leasing to students.
For more information about Seminole Landing, visit pc.fsu.edu/Seminole-Landing.