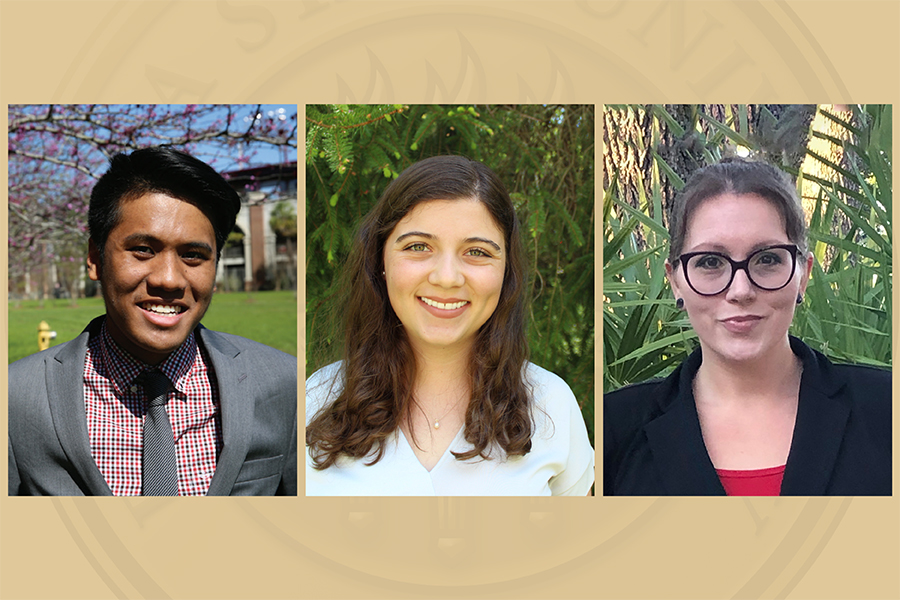 A Florida State University graduate student and two recent graduates are recipients of research scholarships through the Fulbright U.S. Student Program. 
The Fulbright awards will provide funding for each recipient to conduct research projects abroad this upcoming year. This year's winners will take their work and research to Northern Ireland, India and Cote d'Ivoire. 
Associate Director of FSU's Office of National Fellowships Josh Stanek said he was thrilled for each of the recipients, especially given the challenges posed by the pandemic. 
"I think the pandemic has made everyone reconsider funding and travel abroad," he said. 
Stanek praised the members of the FSU faculty committee who support students through the Fulbright process. 
"There are 40 professors who are all so enthusiastic about Fulbright and its mission and many are Fulbright fellows themselves, either as students or professionals," he said. "They review applications, interview students and give feedback to help them improve their applications. Then, a lot of them will continue to meet with students before the national deadline to help them improve them even further."
FSU's Fulbright winners are:
Beatrice Dain
Dain will be working toward her master's in global security and borders at Queens University in Belfast, Northern Ireland. 
Dain, from Gainesville, Florida, graduated in May from FSU with a double-major in anthropology and international affairs. She's scheduled to be in Belfast for a year beginning in September.
Dain said that borders have become the stress points globally for a broad range of issues, including terrorism and climate change, and that she'll be studying that trend and alternative ways to consider those issues. Belfast, the site of a decades-long border conflict, is an ideal place to do that work, Dain said.
"It was only about 22 years ago that the conflict in Northern Ireland ended," she said. "So many of the people in this area experienced the conflict firsthand. They are living testimony to the pain, violence and reconciliation that has come with this border."
"To be able to talk with them will be fascinating and it couldn't happen anywhere else. I am grateful to the Fulbright for that."
Michael Rivera
A two-degree graduate of FSU, Rivera earned his undergraduate degrees in biology and music and graduated in 2017. 
Rivera has been teaching English in his home state of Illinois. He intends to continue on that path by teaching English in Abidjan, a city of 4.2 million people in the west African nation Cote d'Ivoire, beginning in September.
To prepare for the journey, Rivera has been studying two of the primary languages used in the region, Dyula and French. In addition to improving his teaching and facilitation skills, Rivera said, as a musician he's able to explore some of the musical instruments and cultures in the region. 
"Ultimately, what I'd like to do is pursue graduate studies in applied linguistics and the way language is used in our society," he said. "To be able to go to such a super multilingual country will give me great experience in that field.
Marah Litchford
A native of Cullowhee, North Carolina, Litchford is pursuing a doctoral degree in history and ethnography of religion at FSU. Specifically, she studies the role of Buddhism in Tibetan political protest, including self-immolation, the act of lighting oneself on fire.
Her work will go toward her dissertation, and she'll be conducting it in Dharamsala, India, on the edge of the Himalayas. The city is famous for being where the Dalai Lama went into exile from his native Tibet.
Litchford has had an interest in religion and human rights since she was a teenager. She is scheduled to leave for India in March, and she'll have company on the trip as her nine-year-old daughter will accompany her for the nine-month stay.
"Fulbright gives a stipend to bring one dependent, so without that I could not have done this," she said. "I am just a super grateful person right now."
Litchford said her daughter is happy to be going, too.
"We lived in Nepal for a couple months when she was five and her blonde hair was a huge hit," she said. "So she is looking forward to being the most famous person in town again."
For more information on national scholarships, contact the Office of National Fellowships or the Office of Graduate Fellowships and Awards.