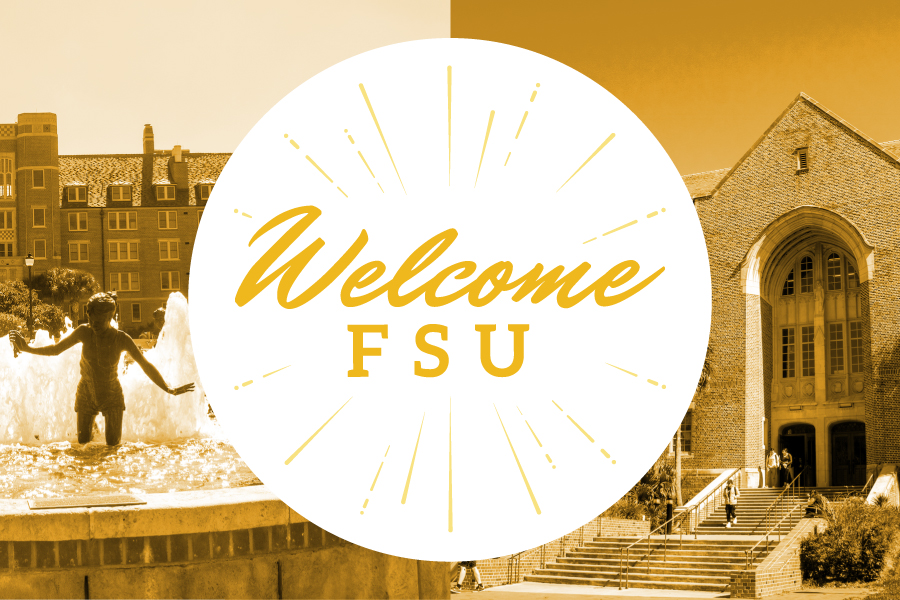 Each semester, Florida State University presents "Welcome FSU," a series of events and programs that serve as the official welcome for all Florida State students.
This summer, Florida State will have a robust offering of in-person classes as well as hybrid, flex, and online classes. Similarly, Welcome FSU will return to in-person events while also offering some remote options.
Welcome FSU will begin Thursday, June 17, and offer an array of in-person and remote activities through Friday, June 25.
"We hope that all of our students feel connected to and supported by Florida State University," said Amy Hecht, vice president for Student Affairs. "The FSU experience is one of the reasons why our students are so successful. After the past year, all of us are looking forward to being in the community together again and Welcome Week will be the beginning of a much more 'normal' on-campus experience. While we return to our robust campus life, we strongly recommend all students get vaccinated to help keep themselves and others safe."
With more than 700 student organizations, six student government agencies, 54 fraternities and sororities and more than 20 fitness classes, Welcome FSU is the perfect opportunity for students to find community and complement their academic experience at Florida State.
Student Body President Nastassia "Tazzy" Janvier said that Welcome Week is one of FSU's greatest traditions.
"Welcome Week is vital to not only new students but also returning students as it showcases the rich and diverse aspects of student life that we as an FSU family get to engage in every single day," Janvier said. "Welcome FSU is cultivated by various members of the FSU community, including students, who bring together creative ideas to help students feel connected as soon as they step foot on campus. Being able to celebrate each student and allow ourselves to enjoy FSU and our love for an amazing institution that has brought us all together is priceless."
For more information and a full list of events, visit welcome.fsu.edu.
---
Thursday, June 17 – Sunday, June 20
Before reporting to the residence hall, students must start check-in at the Donald L. Tucker Civic Center to complete one of the COVID-19 clearance activities. Summer C classes begin on Monday, June 21.
12 p.m. Wednesday, June 16, 23 and 30, at Landis Green
Join Askew Student Life Cinema (ASLC) for free food from local Tallahassee restaurants. Vendors will include Cottontail Cookies (June 16), Smoothie King (June 23) and Sneauxballs (June 30).
9 a.m. – 2 p.m. Monday, June 21
Current students and staff will be available across campus to answer questions, give directions, provide insight and help students have a successful first day of classes at FSU.
Monday, June 21
Celebrate your first day (or last first day) of classes at FSU with a First Day Photo. Take a picture using one of Student Affairs' signature signs and share your photo on social media using the hashtags #WelcomeFSU and #FSUFirstDayPhoto. Students can also tag @FSUNSFP for a chance to win an "I bleed garnet and gold" t-shirt.
6 – 9 p.m. Wednesday, June 23, at Landis Green
Get to know Fraternity and Sorority Life, Club DownUnder & Union Productions, University Housing and other campus partners while enjoying free food, music and amusement rides on Landis.
4 – 6 p.m. Monday, June 21, and Tuesday, June 22, at Landis Green
Students can participate in the Summer Involvement Fair either in-person at a tabling fair on Landis Green or by watching introduction videos from student organizations on Flipgrid.
12 – 3 p.m. Friday, June 25, at Landis Green
Join the Center for Health Advocacy & Wellness (CHAW) and FSUPD for freebies, refreshments, information and a chance to see the FSUPD pedal car and drunk goggles.
5 – 8 p.m. Wednesday, June 23, at Suwannee Dining Hall
Join Seminole Dining in Suwannee Room for favorites like honey fried chicken, the taco bar, wings, mac and cheese, grilled cheese and more. Use your meal swipe or pay the discounted door rate of $6.50 plus tax, if applicable.
4 – 9 p.m. Thursday, June 24, at Landis Green
Grab a friend and indulge yourself in an easy on-the-go s'mores treat without the heat, courtesy of Seminole Dining.
6 – 8 p.m. Friday, June 25, at Landis Green
Join Club DownUnder (CDU) for a fun filled afternoon of tie-dye and crafts. Pick from t-shirts, socks, masks, bandanas or bring your own item to tie-dye.