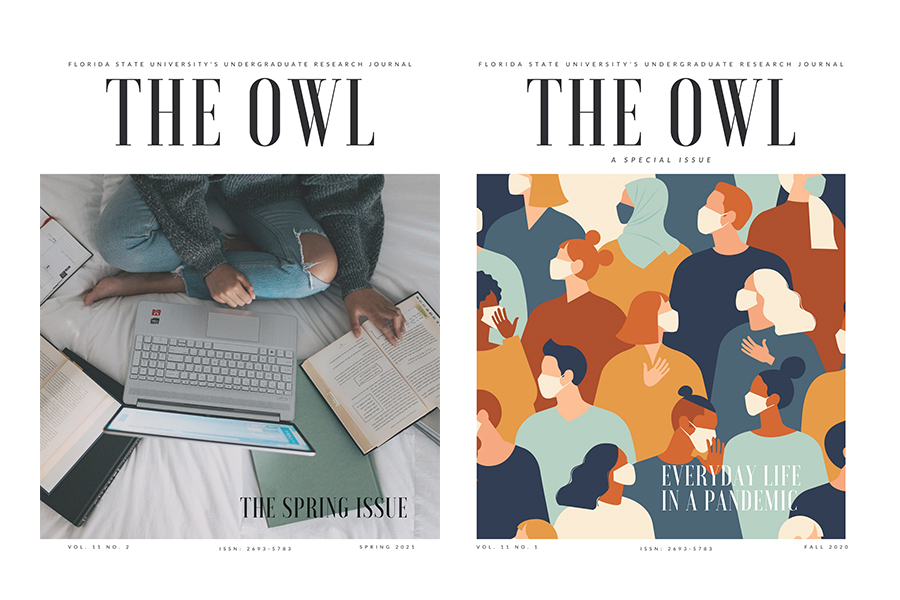 The Florida State University peer-reviewed undergraduate student research journal, The Owl, was recently accepted into the Directory of Open Access Journals (DOAJ), a collection of open access, high-quality professional scientific and scholarly journals.
"This is a huge achievement for any student publication, making our published articles accessible on many professional databases, including Google Scholar," said Trystan Loustau, editor-in-chief.
The Owl is produced by the Student Council for Undergraduate Research and Creativity (SCURC), a student group that aims to support undergraduate researchers at FSU. The Owl promotes an interdisciplinary exchange of ideas through the publication of research conducted by outstanding undergraduates at Florida State University. In doing so, it showcases the diverse interests of the university's emerging scholars and establishes undergraduate research as a focus of Florida State's academic community.
The addition to DOAJ enhances the journal's reputation, prominence and visibility, furthering the credibility of its published students as budding researchers. This is the journal's first national recognition.
"Clearly, the team is setting up The Owl to not only be a leader in undergraduate research publication at FSU, but a national leader, as well," said David Advent, staff adviser for SCURC and assistant director of the Center for Undergraduate Research and Academic Engagement.
The Owl's publications include term papers, faculty-sponsored Directed Independent Study (DIS) projects, Honors in the Major work and IDEA Grant projects, as well as research-based creative works. The latter include artwork, photography, creative writing and other creative projects whose development was informed by research.
"Our mission is to showcase original undergraduate student research through the annual publication of our journal and to prepare students for future submission to professional journals by familiarizing them with the peer-review process," Loustau said.
Since its founding in 2009, The Owl has published 11 volumes featuring a wide variety of disciplines.
Recently, The Owl team collaborated with Azat Gündogan, a member of the Honors Experience Program faculty, to create a special issue discussing "Everyday Life in a Pandemic."
"Built on the principle of interdisciplinary research, The Owl has continued that mission throughout its existence, especially now with its current issue, but also by instituting new practices this year that hadn't previously been seen in The Owl," Advent said.
The Owl's achievements this year helped contribute to SCURC's recognition of the 2021 Mary B. Coburn Organization of the Year at FSU. SCURC is advised by the FSU Center for Undergraduate Research and Academic Engagement (CRE).
Submission to The Owl is open to undergraduate students from all majors and disciplines.
For more information, visit https://journals.flvc.org/owl.