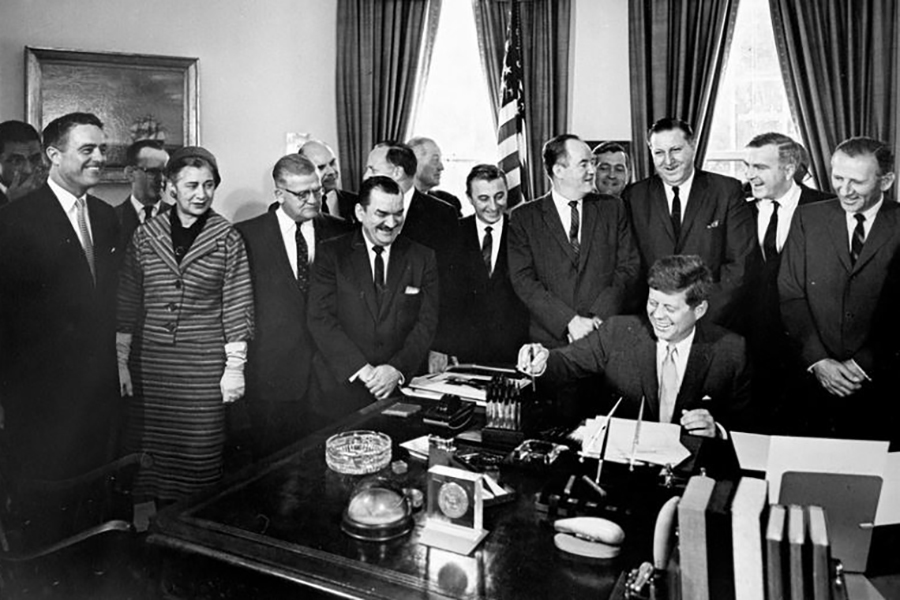 The Peace Corps is celebrating 60 years since President John F. Kennedy established the agency on March 1, 1961, and Florida State University alumni are proud to continue being a vital part of this historic organization.
The anniversary of the Peace Corps commemorates international peace and friendship, volunteerism and service. In that time, Florida State University has supported projects around the world through its alumni who have chosen to serve.
"During a pandemic that has touched every corner of the globe, it's clear that we are all in this together," said Carol Spahn, acting Peace Corps director. "As we look to the next 60 years, I know the Peace Corps will continue to be a community of people — all over the world — willing to do the hard work of promoting peace and friendship."
Overall, more than 900 FSU alumni have volunteered with the Peace Corps, serving within a wide variety of specialties. Most recently in 2020, 26 FSU alumni helped develop sustainable solutions to the challenges communities face globally regarding health, food security, education and economic development that support more than 60 host country partners.
Florida State University also has a partnership with the agency, centered on an undergraduate certificate program called Peace Corps Prep. The Prep program combines targeted coursework with hands-on experience, building the competencies needed for students to be strong Peace Corps Volunteers or other intercultural fieldworkers.
"Having our Peace Corps Prep program and Coverdell fellowship at FSU makes this a great partner institution for us," said Christopher Lins, Peace Corps' Florida-based regional recruiter. "After their service abroad, many volunteers return to work and study at FSU to continue in building strong and more equitable communities in Florida."
The FSU Peace Corps Prep Program is offered by the Learning Systems Institute and is an academic-partnered certificate program that assists in building the skills students need to have a positive impact as a Peace Corps Volunteer.
While the agency evacuated its global posts in March 2020 due to the COVID-19 pandemic and paused operations and brought home more than 6,000 Americans who were serving in more than 60 countries, the agency is now recruiting and planning for a return to service.
For more information on current openings and to learn more about how COVID-19 may impact service departure, please visit https://peacecorps.gov/.