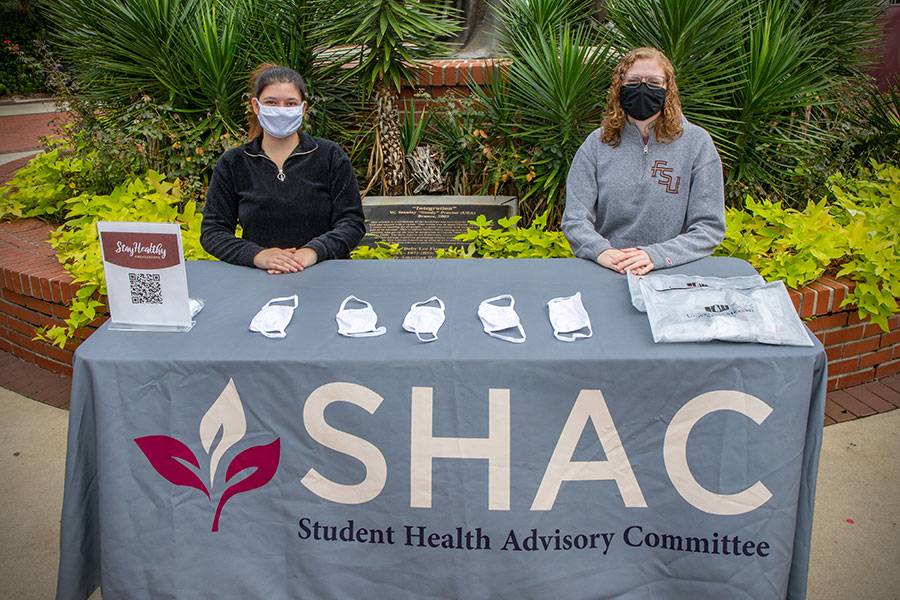 Students at Florida State University are setting a positive example for their peers to encourage compliance with the university's COVID-19 health and safety guidelines as members of University Health Services' Stay Healthy Ambassador Program.
Established this fall, the Stay Healthy Ambassador Program (SHAP) trains student and staff volunteers to promote healthy behaviors in the campus community, such as the wearing of face coverings and social distancing.
SHAP was born out of the Student Health Advisory Committee, which acts as a liaison between UHS administrators and the FSU student body.
"The students are volunteers and serve as an online and on-campus resource trained to know the Stay Healthy FSU public health campaign and serve as an in-person version of that," said Morgan Barnes, SHAP's lead ambassador who is double majoring in nursing and public health.
SHAP's main goal is to reduce the spread of COVID-19, while also creating a culture of accountability, health and safety at FSU. Ambassadors provide increased accessibility to information and resources, as well as a quick and effective response to COVID-related concerns or issues.
"We want to act as a full resource guide for students and parents," said Jordyn Kohn, a public health major who serves as SHAP's social media ambassador. "We want to make sure that they don't have to go searching for answers to whatever questions or concerns they have, and they can just come to us and we can provide them with anything they want to know."
Serving as the voices of the Stay Healthy FSU initiative, students will be promoting best public health practices on campus throughout the week. There is also a virtual component of the program for those with questions and concerns who are not on campus.
For two hours each day, Monday through Friday, students and families can join virtual sessions with SHAP ambassadors via Zoom. Links for these sessions are posted on SHAP's social media accounts every Monday. Kohn said that helping worried parents on these calls has been one of the most rewarding parts of the program so far.
"I would say we provide a bit of comfort for parents, especially for the parents who are sending their kids to college for the first time; it can definitely be scary, so we act as that tap on the shoulder that says 'It's OK, we're going to try as best as we can to make sure that we stop the spread,'" said Kohn.
As part of the on-campus component of SHAP, ambassadors are stationed around campus throughout the day to pass out face masks, answer questions and set an example for best behaviors.
"If you see someone like you doing something that's important or required of them, you're more likely to get other people in the same age group to do it," Barnes said. "For us, it's about setting an example and then hopefully people will follow that example."
All SHAP volunteers are required to complete a training session and quiz through Canvas. Currently, there are more than 90 ambassadors, and University Health Services is encouraging all students to join the campaign. Students and staff can complete the interest form at uhs.fsu.edu/stay-healthy-ambassadors-program.