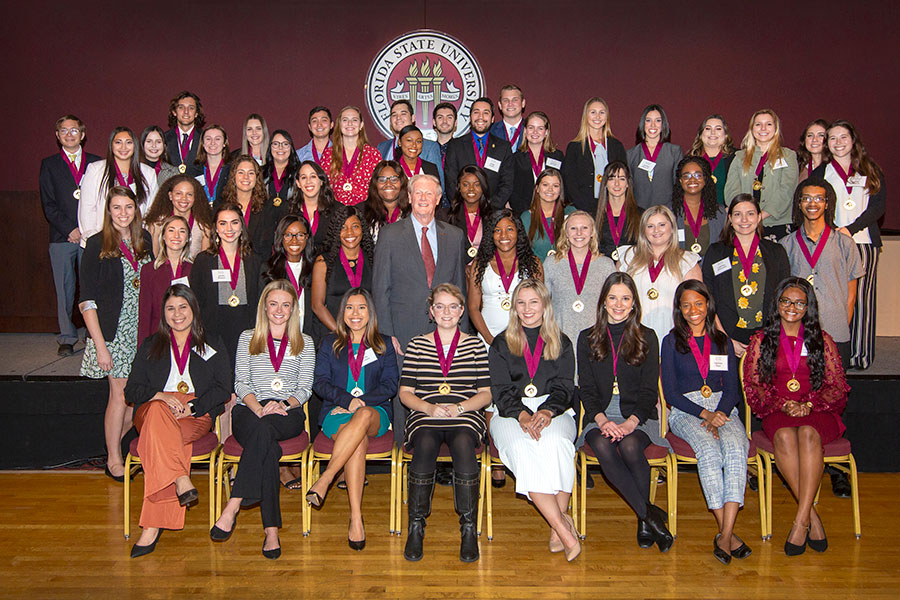 Florida State University welcomed 58 new inductees into its prestigious Garnet & Gold Scholar Society this fall.
Established in 2010, the Garnet & Gold Scholar Society facilitates student involvement and recognizes undergraduate students who excel within and beyond the classroom in at least three of five areas: international experience, internship, leadership, research and service.
"It is an honor to welcome this new group of inductees to the Garnet & Gold Scholar Society," said Amy Hecht, vice president of Student Affairs. "These students have been eager to excel inside and outside of the classroom, and they deserve our recognition for their involvement in bettering the campus and community."
To become an inductee of the Garnet & Gold Scholar Society, students must meet the engagement criteria and submit a synthesis reflection project in their final semester before graduation. Participants are recognized during graduation and receive a designation on their official university transcript, both of which make the students more marketable to potential employers or graduate programs.
The students were inducted into the Garnet & Gold Scholar Society during a special ceremony Wednesday, Dec. 4. The inductees, along with their hometowns and academic majors, are:
Asheville, North Carolina
Anna Grace Lewis, Political Science
Boca Raton, Florida
Bibencia Bertrand, Family and Child Sciences
Bivencia Bertrand, Family and Child Sciences
Broward County, Florida
Francesca St Hilaire, Family and Child Sciences
Cape Coral, Florida
Brandon Budzisch, Psychology
Colchester, Connecticut
Jillian LeVasseur, Biological Science
Collegeville, Pennsylvania
Taylor Hainley, International Affairs
Coral Springs, Florida     
Trissanne Keen, Finance
Fairfax, Virginia     
Abbie Grant, Marketing
Fort Lauderdale, Florida
Carolina Baquerizo, Biological Science
Holmdel, New Jersey
Jenny Charalambous, Psychology
Jacksonville, Florida        
Sarah DeBellis, Global Club Management & Leadership
Katie Hecht, International Affairs
Aubrey Mount, Music/Liberal Arts
Jundiai, Sao Paulo, Brazil          
Sofia Camara, International Affairs
Jupiter, Florida
Brooke Fishman, Psychology
Lake Worth, Florida
Ayanna Camara, Political Science and History
Land O' Lakes, Florida
Emily Goodman, International Affairs
Lithonia, Georgia
Jasmine Ryans, Family and Child Sciences
Melbourne, Florida
Baylee Whitley, Information Communication Technology
Merritt Island, Florida       
Caroline Dumoulin, International Affairs and History
Miami
Sephora Jolicoeur, Social Science, Economics and Sociology
Mark Estrada, Philosophy and History
Yatil Etherly, Anthropology and Information Technology
Samantha Sanchez, Political Science and Psychology
Olivia Treptow, Chinese/Business and Religion
Daniela Villasmil, Social Science
Monroe, North Carolina   
Amy Boyland, Anthropology
North Brookfield, Massachusetts        
Christy Dever, Exercise Physiology
Nyack, New York   
Faith Ciavarella, Choral Music Education
Orlando, Florida    
Leona Hodges, Clinical Professions
Anchana Rattanasena, Communication Science & Disorders
Palm Bay, Florida  
Rebecca Needham, Instrumental Music Education and Music Theory
Pensacola, Florida
Karoline Barkley, International Affairs
Plant City, Florida 
Rhianna Vaughn, International Affairs
Plantation, Florida            
Diego Dextre, Criminology
Ponte Vedra, Florida        
Ethan Halbach, Accounting
 San Juan, Puerto Rico    
Nicolette Bauermeister, Psychology
Sarasota, Florida   
Isabelle Ball, International Affairs
St. Pete Beach, Florida    
Jamie Karr, Music Therapy
St. Petersburg, Florida    
Alexis Hagman, Clinical Professions
Margaux Stickney, Marketing
Tallahassee, Florida         
Savannah Calleson, Community Patient Care
Nia Harmon, Chemistry
Hannah Kinnon, Social Work
Christina Mulato, Accounting
Maquicha Norvil, Criminology and Sociology
Alan Williams, Biological Science
Tyson Murray, Biochemistry and Biomathematics
Tampa, Florida       
Nick Franco, Psychology
Samantha Motyl, Social Science and Psychology
Taylor Sheridan, Clinical Professions
Valdosta, Georgia 
Darcy Farwell, International Affairs
West Palm Beach, Florida          
Vanessa Oduro, Psychology
Weston, Florida     
Crisol Ortiz-Socas, Civil Engineering
Blair Yant, Psychology and Criminology
Winter Park, Florida         
Amelia Blanton, Psychology and English Literature
Jacob Freid, Marketing