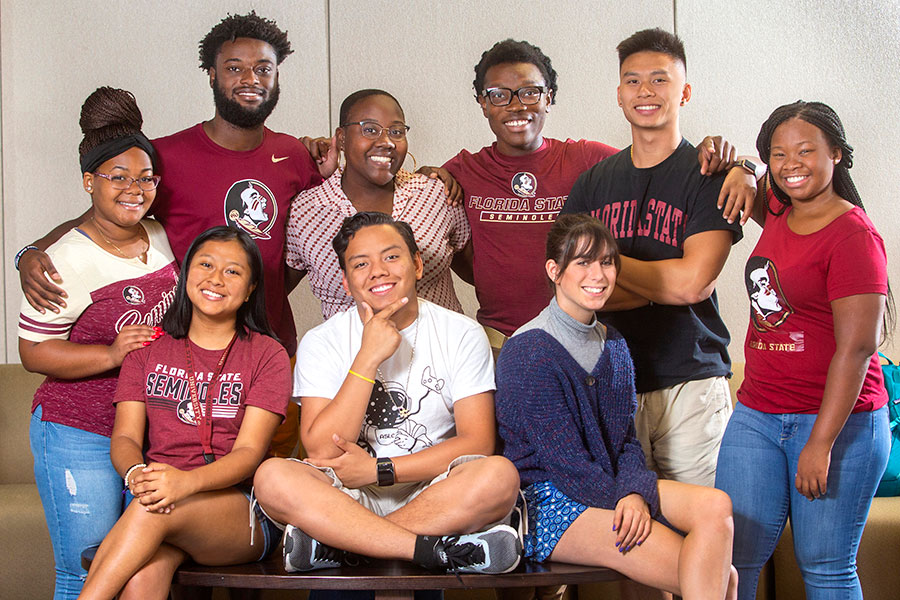 Starting college can be an overwhelming experience for any student, especially for those who are the first in their families to do so.
That's why Florida State University's Center for Academic Retention and Enhancement's (CARE) Summer Bridge Program focuses on providing first-generation students with a strong network of support and campus engagement opportunities.
Last week, CARE's newest cohort of more than 400 students finished their first semester at Florida State with a solid foundation of tools that will help them on their college journeys.
Sheila Gomez, a freshman from Palm Beach, said the support she's received from CARE during the bridge program has eased her apprehension about attending college.
"What mostly stands out to me in the CARE program is the amount of resources that they give us to transition into college," Gomez said. "I didn't have the amount of resources they offer in high school, and since I'm the first in my family to go to college, it helps me to not be so nervous when I'm so far away from my family."
CARE aims to provide these students, who are underserved by educational and socioeconomic reasons, with the preparation and academic support necessary to trailblaze a successful college career, despite the odds.
The odds weren't in Michaela Hejduk's favor until an adviser from the nonprofit Take Stock in Children told her about CARE. No one in Hejduk's family had ever finished high school, much less attended college.
"I probably wouldn't be going to college at all if I didn't hear about the CARE program," said Hejduk, a freshman from Jacksonville.
An earlier version of CARE — Horizons Unlimited — began providing services to 25 underrepresented students in 1968. Now, CARE's Summer Bridge Program provides transition services to more than 400 students during the summer, and almost 1,700 students during the academic year.
Since 2011, Director Tadarrayl Starke has overseen the program's exponential growth and expansion.
"I've seen CARE grow in the number of students, number of programs and scope of our services," he said. "We've increased the size of our Summer Bridge Program to become one of the largest in the country."
The number of academic year programs offered by CARE has almost tripled since its inception. In addition to broadening the Summer Bridge Program, CARE has established other programs that aim to further enhance students' ability to be successful at FSU, such as Unconquered Scholars, CARE Financial Aid, CARE Leadership Council, Student Support Services-STEM, and Student Support Services-SCOPE (Scholarship, Community, Opportunity, Programming and Engagement).
"Our focus is to help FSU meet its goal of equity in education and engagement, and our growth shows that commitment from our department," Starke said.
First-generation students tend to graduate at lower rates than their peers with parents who earned a four-year college degree, according to data from the National Center for Education Statistics.
But Florida State has shown that regardless of background, students can thrive in higher education. In fact, FSU has virtually erased graduation rate gaps between all categories of underrepresented and traditional student populations.
CARE plays a key part in that success by familiarizing students with the campus and helping them develop academic habits vital for their success at FSU.
Freshman Geneve Pierre, a family and child sciences major from Hollywood, Florida, praised the opportunities the summer bridge program provided.
"The transition has been really cool because you get to meet a lot of new people and get to network with people whom you never really thought you would meet with," Pierre said. "The people here really care for you and make you feel part of the family and push you to be the best that you can be. They want to see your potential and your growth, and they just really push you to be a better person. They make sure that you're going to be straight financially, personally and academically."
That's the goal, according to Starke.
"We operate in a family environment, and we want to make this campus feel as small as possible," Starke said. "Even though there are nearly 42,000 students at FSU, we want our students to feel like it's about them personally. We keep growing but never lose the focus of one-on-one, and we ensure every single student has a connection point."
While each student has their own reason for applying to CARE, it's that close-knit, family atmosphere that attracts students to the program and instills a sense of pride and belonging on campus.
With two sisters already part of the CARE program, Ocala native Daniel Le knew Florida State would be a great fit.
"I felt like college was always a path that I was supposed to take," Le said. "I have a sister who just graduated from FSU, and I have another one going into her junior year at FSU, and they're both in CARE, so I've felt like I always had to follow their path."
Jha'Lia Wray's older sister went to college too, but didn't finish. That's one reason why the interdisciplinary health studies major from Miami is so determined to graduate.
"My older sister went to college, but she didn't finish," Wray said. "She would take me to events and showed me around her college. She told me I have to go, because mommy and dad didn't go. So, not only am I going for her, but I'm also going for my little sisters, my niece and my parents. They're very proud."
Charles Williams, a computer science major from Marathon, wasn't initially sure if he wanted to go to college after high school, but once he was accepted into the CARE program, he said it was a chance he couldn't pass up.
"I didn't want to go to college," Williams said. "I thought, 'forget it, I'll just graduate high school and get a job and be done with it.' …  But, now, since I have this opportunity, I'm taking advantage of it."
This year's CARE cohort includes students from throughout the state with the majority hailing from Broward, Miami-Dade, Palm Beach, Orange and Duval counties. They boast an average GPA range of 3.5 to 4.2 and an average ACT score of 21 to 24 and SAT score of 1070 to 1190.
For more information about the CARE program, visit care.fsu.edu.