More than 1,800 spirited students cheered with joy as Dance Marathon at FSU revealed a record-breaking total of $2.21 million raised this year to support pediatric medicine following a weekend of dancing at the Donald L. Tucker Civic Center.
Dance Marathon at FSU is an annual fundraiser that culminates with a 40-hour event where students stay on their feet to fundraise for UF Health Shands Children's Hospital, which is Tallahassee's local Children's Miracle Network Hospital, and the FSU College of Medicine's Pediatric Outreach Programs.
FSU President John Thrasher stopped by Sunday's closing ceremony and reiterated his support for the dancers.
"This is my fifth time that I've participated in Dance Marathon as president of Florida State University," said President John Thrasher. "And every time I do it, I get prouder of all of you and what you're giving back to people who need so much in the way of healthcare."
At the event, dancers are split up into two 20-hour shifts — the "garnet" shift and the "gold" shift. There's a strong symbolic message behind the 20 hours of dancing, according to Rachel Hernandez, a senior at FSU studying psychology, who served as the marketing and publicity chair to Dance Marathon at FSU this year.
"The reason why we stand for 20 hours is we are honoring those who can't," Hernandez said. "Our miracle children are the reason why we do this. They're unable to battle the day-to-day challenges that we do because of their pediatric injury or illness that they're fighting against and through our efforts by standing we're honoring that."
While dancing was the theme of the weekend, participants kept busy with a multitude of entertainment, such as the hourly line dance, iconic rave hour, food trucks, a live band, hypnotists and comedy groups. The event also featured touching testimonies from miracle families who are direct beneficiaries of Dance Marathon at FSU.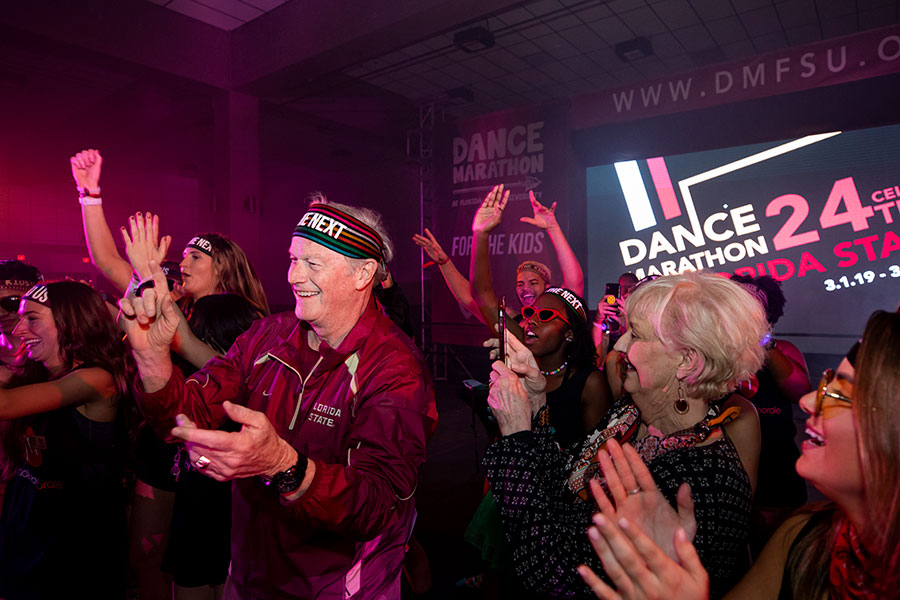 Becoming involved within such a large university can be difficult, but according to Hernandez, Dance Marathon at FSU has provided her with the support she needs to make a difference.
"I came to Florida State thinking, 'I'm one of 50,000 students, how am I going to make an impact on this organization or on this campus?'" Hernandez said. "Dance Marathon at FSU has provided me that outlet and to have President Thrasher's involvement and his support means the world, because you don't have that on every campus. Knowing that he's able to come to our closing ceremonies and to provide us with anything means a lot."
Jonathon Delva, a junior majoring in political science, served as a morale captain this year. He is also thankful for the university's unwavering support and believes that continued encouragement is what separates Dance Marathon at FSU from other Dance Marathons across the country.
"I remember last year during the final rave hour, I looked up and saw President Thrasher (dancing) on stage," he said. "And it reminded me that FSU is here supporting us. It shows not just how important this cause is, but also how tied together everyone is; everyone has had to find help somehow."
For Delva, Dance Marathon has been one of the most integral components of his time at FSU.
"This event has changed my life," Delva said. "It's been one of the biggest parts of my college experience. It's shaped who I am today and I would not change that for the world."
Dance Marathon at FSU is more than a weekend of dancing; it's a yearlong effort. To become a dancer, volunteers must raise at least $300 prior to signing up, meaning that fundraising efforts begin as early as summer. Donating is made easy through Dance Marathon's website, where donors can give money to specific volunteers or teams.
The organization also hosts a myriad of events throughout the year to encourage fundraising efforts, such as the FTKolor Run, Rally Week and Miracle Week.
One of the five-founding Children's Miracle Network Dance Marathons in the nation, Dance Marathon at FSU began as a small fundraiser in Tully Gymnasium in 1995, raising slightly more than $19,000. Twenty-four years later, Dance Marathon at FSU has raised more than $12 million for their beneficiaries.
Dance Marathon at FSU strives to fulfill Florida's need for better medical care for all of its residents. Dance Marathon at FSU's successful fundraising this year provides more research, more equipment, more birthdays and more hope for the kids.
For more information, visit dmfsu.org.