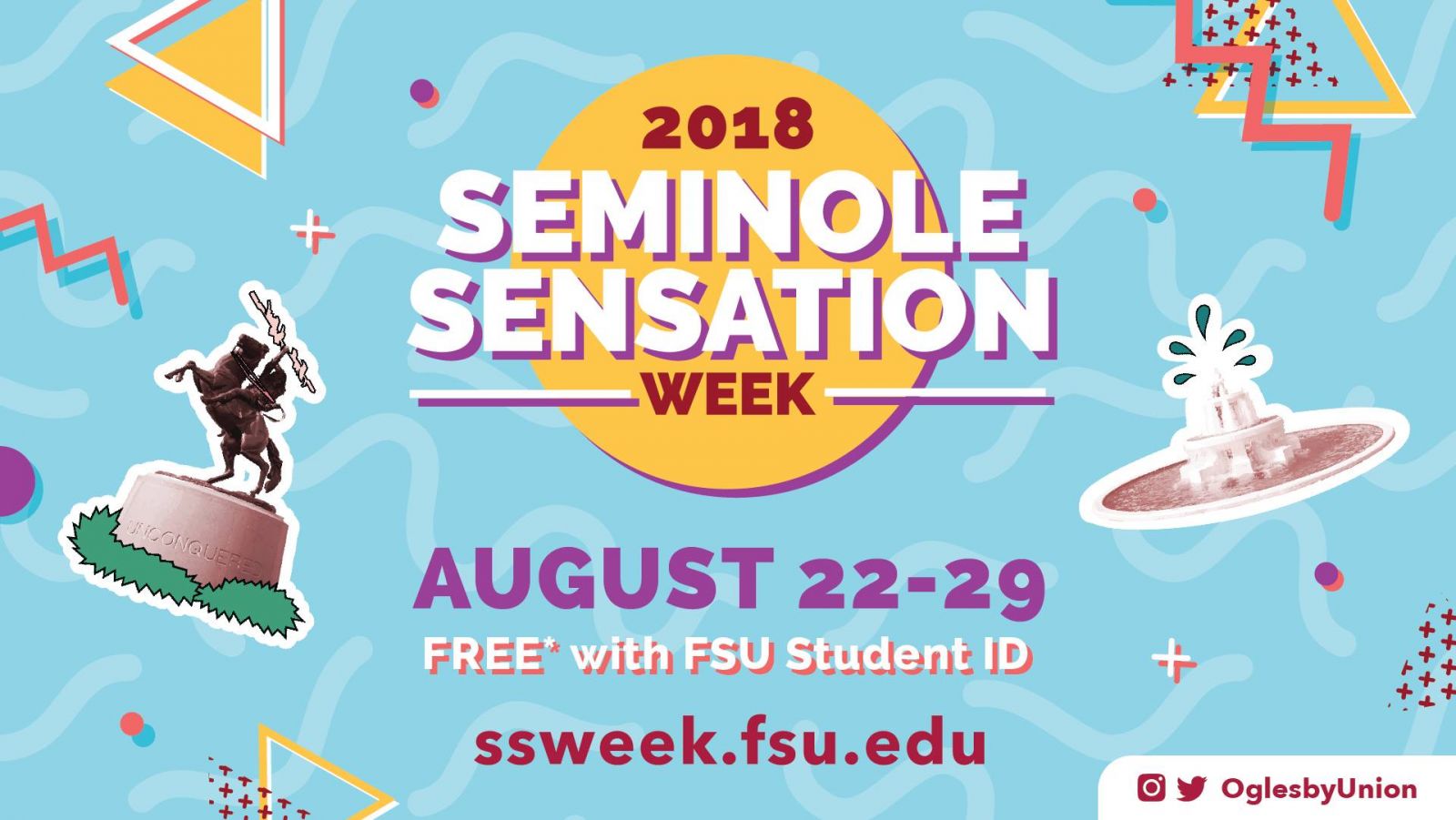 As Florida State University welcomes students back to campus for the fall semester, the university will host Seminole Sensation Week, an annual weeklong tradition, full of engaging events that promote student involvement on campus.
Seminole Sensation Week offers students a wide array of campus activities from Wednesday, Aug. 22, through Wednesday, Aug. 29, that help introduce them to a variety of campus organizations and opportunities to connect with other students who share common interests.
"Seminole Sensation Week is a campus tradition that creates moments for students to make connections and get involved at FSU," said Lori Vaughn, interim director for Student Activities. "Becoming part of our campus community helps students succeed in their classes and beyond."
The highlight of the week is New Student Convocation, which takes place at 1:30 p.m. Sunday, Aug. 26. Mark Riley, world-renowned nuclear physicist, longtime Florida State faculty member and dean of the Graduate School, will deliver the convocation address.
The President's Welcome — a reception for students to meet with their academic dean, faculty, staff and other current students — will take place immediately following Convocation. Both events will be held at the Donald L. Tucker Civic Center, 505 W. Pensacola St.
Some highlights of this year's Seminole Sensation Week include:
Wednesday, Aug. 22
Seminole Sensation Week Kickoff, 7 p.m., Landis Green
The Feud Game Show, 8:30 p.m., Moore Auditorium
Thursday, Aug. 23
Pups & Popsicles, 5 p.m., Askew Student Life Building
Taste of Seminole Dining Snack Tour, 5 p.m., participating dining locations
Escape Rooms & Beyond, 7 p.m., Landis Green
Performance by Hypnotist Doug Thompson, 10 p.m., doors open 9:30 p.m., Oglesby Union Ballrooms
Friday, Aug. 24
Campus Adventure treasure hunt and campus tour, 10 a.m., Leach Recreation Center
FSU Luau, 8 p.m., Landis Green
Fortune Comedy Troupe Workshop, 5 p.m., and Shows, 8 p.m., 10 p.m., Oglesby Union Ballrooms
Saturday, Aug. 25
Last Call Before Fall featuring Alvvays, annual Seminole Sensation Week concert, 7 p.m., Langford Green
Monday, Aug. 27
First Day Photos, 10 a.m.-2 p.m., Landis Green
Tuesday, Aug. 28
Involvement Fair, 6-9 p.m., Leach Center and Tully Gymnasium
Wednesday, Aug. 29
SGA Welcome Back BBQ, 1 p.m., Oglesby Union Ballrooms
Other activities offered during the week include movie screenings, comedy shows, trivia contests, video game tournaments and karaoke.
All events are free for FSU students with a valid, gold FSU ID. For a complete schedule and event descriptions, visit http://ssweek.fsu.edu/.