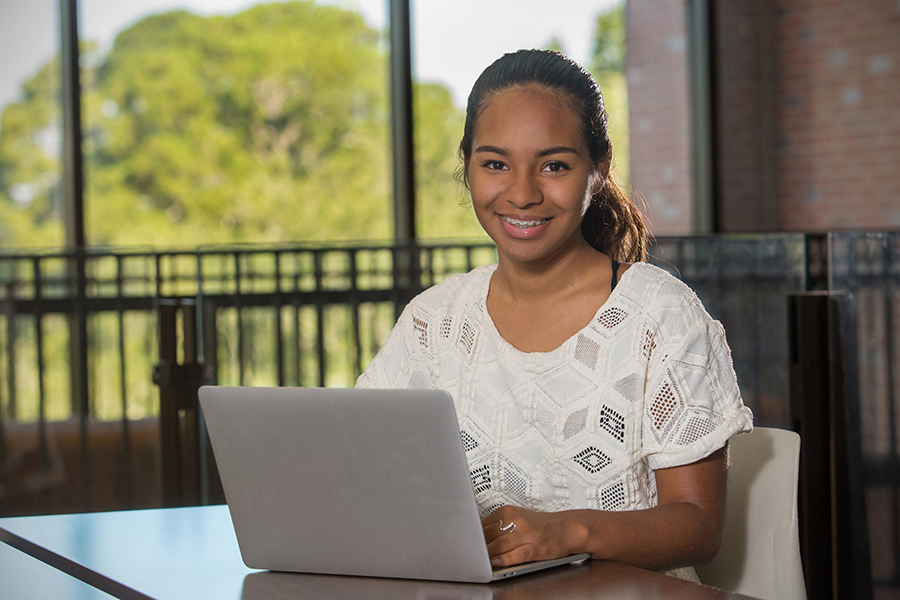 A rising senior at Florida State University has been invited to participate in the Rewriting the Code Fellowship Program, a national program for undergraduate college women interested in careers in technology.
Angela Don, a computer science major from Miami, was selected to be a part of the program's Class of 2019 following a competitive application process.
Don became interested in coding during high school when she attended a seven-week summer camp, Girls Who Code.
"They taught us everything about coding and robotics — I thought it was so cool," Don said.
When she arrived at Florida State three years ago, Don knew computer science was the career she wanted to pursue. But she felt there was something missing.
"Being a woman in computer science gets kind of lonely sometimes," Don said. "Classes are mostly guys. I had one girl friend in my class. It's definitely tough, so this community was really what I've been looking for."
Through the Rewriting the Code Fellowship Program, Don will develop her skills and receive career path guidance through various webinars and virtual talks, mentoring, and leadership opportunities within the organization. In addition, her resumé will be included in the RTC Fellow Database, which companies use to recruit interns and employees.
Last summer, Don got a taste of working in the technology industry through the Tech Fellows program, coordinated by the FSU Center for Undergraduate Research and Academic Engagement (CRE). The program is open to FSU students in the Center for Academic Retention and Enhancement (CARE) program, which serves first-generation college students and is part of an effort to promote diversity in the technology sector.
As a Tech Fellow, Don interned with Tampa Bay Wave, an entrepreneurial hub for tech companies, where she developed an app the company used to find influencers on its Twitter feed.
"Angela is an inspiration for all young women studying computer science who want to break through in the tech world," said David Montez, associate director of FSU's Center for Undergraduate Research and Academic Engagement. "She has excelled by working hard, taking advantage of opportunities like Tech Fellows and by being active in student organizations, such as TechNole. Through this fellowship, I know Angela will become a stronger leader here on campus and grow more confident as she pursues her goals after graduation."
Don, who is interning as a systems administrator and web developer at the Children's Campaign this summer, is set to graduate in August 2019. She plans to enlist in U.S. Marine Corps Officer Candidates School and pursue a career in cybersecurity.