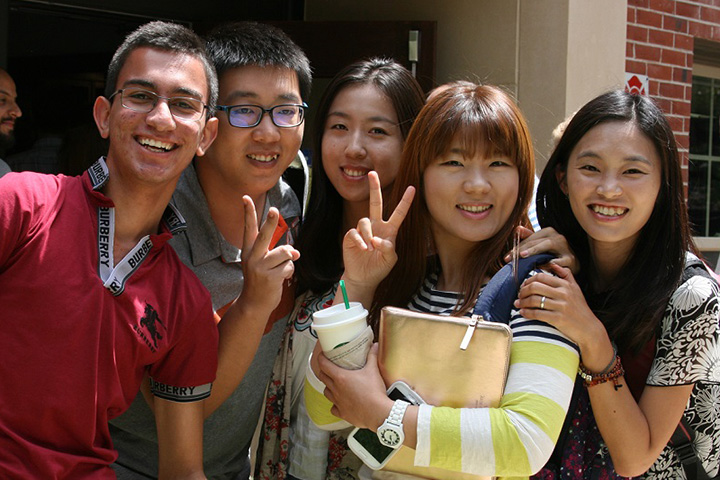 Have you ever had the desire to connect with new friends around the world and experience a new culture, while staying in the comfort of your own home?
Florida State University's Center for Intensive English Studies can help make that happen. The center recently partnered with the American Homestay Network, an organization that provides homestay programs for international students in the United States.
Homestay programs are a cultural exchange between a local individual or family and a visiting student from a different country. The goal of the program is to provide international students an authentic American experience and bridge the cultural divide that may come from language or cultural barriers.
FSU admits more than 1,700 international students a year from more than 130 different countries, and the Center for Intensive English Studies is reaching out to FSU faculty, staff and their families in Tallahassee in search of potential hosts for these students.
"Our international students have been asking about a homestay possibility for as long as I can remember," said Patrick Kennell, director of FSU's Center for Intensive English Studies. "This partnership will greatly benefit both our international students and those who choose to host them."
The American Homestay Network is searching for hosts who can provide a clean, comfortable and private bedroom for their student and are willing to engage in conversation, support and family inclusion to make the student feel at home.
The opportunity provides host families long-lasting relationships with their new family members as well as exposure to new cultural experiences.
"There is no better way to really learn about someone from another culture than to actually live together," Kennell said.
Hosting through American Homestay Network has some beneficial features, such as online host orientation and training and a 24/7 critical-incident support line in case of emergencies. Compensation for hosting a student is arranged in the homestay hosting agreement, depending upon the location, age of student and amenities offered.
The process to become a host is quick and straightforward beginning with the completion of an online application. Following the application process, hosts are cleared through a criminal background check and contacted for an in-home interview with American Homestay Network staff.
Each host-guest pairing is chosen with care to ensure the safety and betterment of the student and host. The initial stay is a four-week period with the option to extend if the family and student are happy together.
For more information on American Homestay Network and becoming a host family, visit http://cies.fsu.edu/housing.