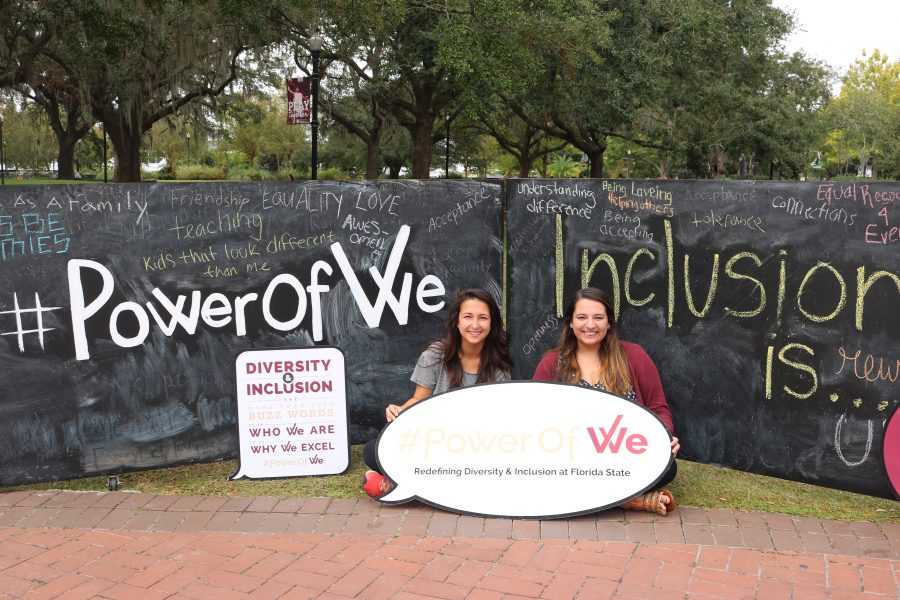 Florida State University Athletics and #PowerofWE, a campaign recently launched by students under the auspices of the Office of the President, have joined forces to continue redefining diversity and inclusion at FSU.
A special public service announcement video designed by #PowerofWE, in collaboration with FSU Athletics, will debut Saturday, Oct. 29, during halftime of the FSU-Clemson football game to celebrate the start of this historic partnership.
The PSA will feature star football player, Demarcus Walker, FSU President John Thrasher and members of the student body calling on campus to celebrate and catalyze its rich diversity.
"FSU Athletics views this PSA and partnership as opportunities to reaffirm our long-standing commitment to acceptance and inclusion," said Stan Wilcox, vice president and director of Intercollegiate Athletics. "Our diversity is our greatest strength, and we believe it is more important than ever to remind our campus community of that."
While the PSA itself represents a landmark collaboration, FSU Athletics and the #PowerofWE campaign will continue to work together to create spaces and initiatives for student-athletes and students to connect and collaborate across different identities and perspectives. Future plans include student-led roundtable dialogues and partnered service projects.
"Partnerships are key to the success of this campaign," said Inam Sakinah, a junior Presidential Scholar majoring in biology and social sciences, who is the chair of the Student Diversity and Inclusion Council. "#PowerofWE could not be more thrilled to ally with Athletics and harness our mutual platforms to foster a culture of embracing and engaging across our differences."
This joint effort by FSU Athletics and the #PowerofWE campaign reveals how fostering a relationship between students, faculty and staff creates a unified campus platform for creating meaningful change. As universities across the nation grapple with issues related to diversity and inclusion, the collaborative approach being pioneered at FSU serves as an important model for others to follow.
The #PowerofWE campaign is getting the word out about its new partnership in many different ways this week leading up to the PSA debut at Saturday's game.
A billboard was unveiled on Tennessee St. and a banner was unfurled at the heart of campus to enable members of the campus community and visitors to interface with the message of the campaign. In addition, the campaign held an engagement event, "No 'I' in Team – #Power of WE," Wednesday at the Union Green featuring a meet and greet with student-athletes, interactive activities and free #PowerofWE merchandise.
Along with the debut of the PSA, wristbands with the #PowerofWE logo will be distributed to students at the FSU-Clemson football game Saturday, Oct. 29.
For more information regarding the #PowerofWE Campaign, visit powerofwe.fsu.edu.