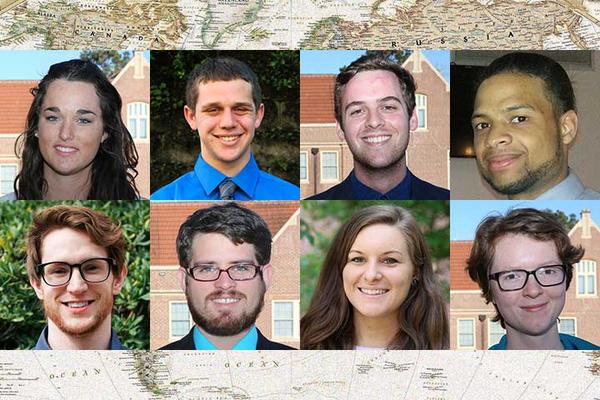 One student has received the Boren Scholarship, a program of the National Security Education Program, and seven have received the Critical Language Scholarship, a program of the U.S. Department of State's Bureau of Educational and Cultural Affairs.
The scholarships are an effort by the federal government to increase the understanding of and continue to forge partnerships with the global community, according to Josh Stanek, associate director of Florida State's Office of National Fellowships.
"I am proud FSU students are stepping up to create more language and cultural understanding in critical regions by applying for these intensive, immersion scholarships," Stanek said. "The success of their applications is a testament to Florida State's focus on developing well-rounded, global citizens."
BOREN SCHOLARSHIP
Matthew Hebron, an 18-year-old sophomore majoring in political science, has received a Boren Scholarship. It will allow him to travel to Azerbaijan to study Azerbaijani. Hebron hopes to be able to use his language skills to build deeper ties between the United States and other nations, as well as promote a positive image of the United States abroad.
"I very much look forward to combining my passions for public service and foreign languages/cultures as a Boren Scholar," Hebron said. "I am confident that I want to work for the U.S. government in a foreign policy role one day, and this is a great way to further my opportunities to do so. I received the Boren scholarship in large part thanks to the guidance and help of the Office of National Fellowships."
Boren Scholarships provide up to $20,000 to U.S. undergraduate students to study less commonly taught languages in Africa, Asia, Central and Eastern Europe, Eurasia, Latin America and the Middle East. The students gain valuable foreign language and cultural skills during their year abroad.
CRITICAL LANGUAGE SCHOLARSHIP
Seven students each have received a Critical Language Scholarship, a program of the U.S. Department of State to expand dramatically the number of Americans studying and mastering critical foreign languages.
While they are abroad, students are expected to speak only in the language they are studying to experience total immersion. The program runs from mid-June to mid-August.
Florida State's seven Critical Language Scholarship recipients are:
•Paige Dabney, 23, who earned degrees in international affairs and geography from FSU in spring 2016, will study Turkish in Baku, Azerbaijan.
"I am so grateful for the coordinated classes, living arrangements and excursions that this scholarship program is providing for me to really advance my Turkish language skills," Dabney said. "This will not only be an investment in preparation for my year living in Turkey, but also for my professional specialization in Eurasia."
•Sarah Dodamead, 20, a junior majoring in physics, will study Bangla at the American Institute of Indian Studies in Kolkata, India.
"I am so excited for the opportunity to live as a local in Kolkata, come to understand the motives behind these people's actions and make my world a smaller place," Dodamead said. "My ultimate goal to come out of receiving this scholarship is to better understand how these people are making sense of and adapting to the changing climate. I am honored with the chance to experience the day-to-day reality of people half way around the world from here."
•Andre Fludd, 24, who earned a master's degree in ethnomusicology in spring 2016, will study Urdu in Lucknow, India.
"My interest in India started when I was a freshman in high school in 2006 after I randomly listened to a friend's iPod and heard a Bollywood song," Fludd said. "Since that time, my life and career have been shaped by Indian culture. Though my passion has been all encompassing as I continue to study language and music, I never had the finances to travel to India. As such, being awarded a Critical Language Scholarship is a dream come true that is a full decade in the making. I couldn't be more excited to take advantage of this rare opportunity."
•Nat Jones, 19, a sophomore triple-majoring in biological science, art history and Japanese, will study Japanese in Hikone, Japan.
"I was in line waiting to see 'Hamilton' in New York City when I received my email of acceptance for the Critical Language Scholarship," Jones said. "All thoughts of the magnificent show I was about to see left my mind as I reread the email and was overcome with excitement. Even now, just weeks from departure, it still seems pretty unreal. I am both humbled and thrilled to have been given this opportunity."
•Darrell "Joey" Kilpatrick, 21, who earned a bachelor's in economics from Florida State in spring 2016, will study Chinese at the Dalian University of Technology in Dalian, China.
"It really is a great honor to receive this scholarship," Kilpatrick said. "Only about 10 percent of those who apply receive it. I hope to make use of Mandarin throughout my career working alongside Chinese financing efforts to further develop low- and middle-income countries."
•Daren McCurdy, 26, who earned a master's degree in international affairs in spring 2016, will study Korean at Chonnam National University in Gwangju, South Korea.
"I am grateful and excited to be one of the select few individuals to receive the Critical Language Scholarship this year," McCurdy said. "Since Korean is not offered at FSU, receiving the scholarship gives me the opportunity to study Korean in an intensive classroom setting. I am hoping the knowledge and experiences forged during the program will be beneficial both personally and professionally for years to come."
•Remi Wyszynski, 21, a junior majoring in international affairs and Japanese, will study Japanese in Hikone, Japan.
"When I found out that I was a finalist for the Critical Language Scholarship, I was speechless," Wyszynski said. "This scholarship has given me an opportunity to immerse myself in Japanese culture and language. For me — someone who is learning how to speak Japanese — that is truly invaluable, and I can not express how meaningful it is."