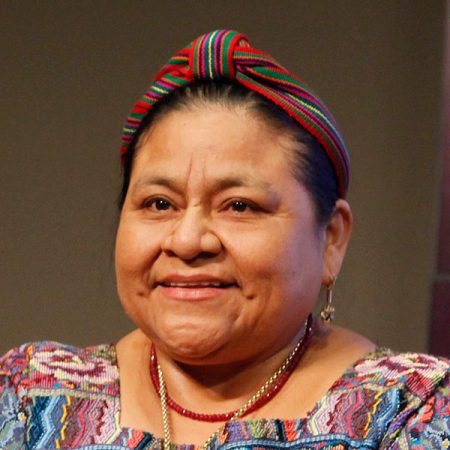 Rigoberta Menchú Tum suffered severe loss at an early age.
Growing up in Guatemala during a 30-year civil war, the government persecuted Menchú and her Mayan family, and she lost her entire family. Her nonviolent work toward peace and justice led to a 1992 Nobel Peace Prize, the first for an indigenous woman.
Menchú spent the weekend at Florida State University, sharing her wisdom and philosophy with the community and students from across the region as part of the international PeaceJam program.
Now in its eighth year, PeaceJam Southeast, which covers Florida, Georgia, North Carolina and South Carolina, is housed at FSU's Center for Leadership & Social Change. About 600 people attended the conference, including 400 student participants, their advisors, 90 FSU student mentors and other staff.
Menchú kicked off the PeaceJam weekend with a public talk where she emphasized the importance of seeking truth.
The Nobel laureate said through a translator that young people must be encouraged to take action, and in action, seek the truth.
"What we have to do is constantly advance in a population's consciousness," Menchú said of the fight against racism and hate. "So that's why we've also worked not only to denounce the human rights [abuses], but also to penalize the crimes."
During the lecture a member of the audience, PeaceJam mentor Rafael Della Sera, asked how Menchú, also a former Guatemalan presidential candidate, deals with failure.
Everyone has life tests, she told them, and she sees that her pain is much smaller than others.
"For example, I was never raped," Menchú said. "I was never murdered; I also was never tortured. And therefore, my pain is more spiritual. It is more inside."
"Those who have suffered, they want to seek counsel, and I must be a light for them," she added. "And I don't have to be just a story of sadness for them. And so I learn to bring out the best in me and the best in what I do."
Throughout the weekend conference, the students interacted with Menchú, presented service projects they've implemented during the year and engaged in community service projects on campus and in Tallahassee. They also attended workshops on leadership and social issues such as nonviolence, understanding identity and using social media for social change.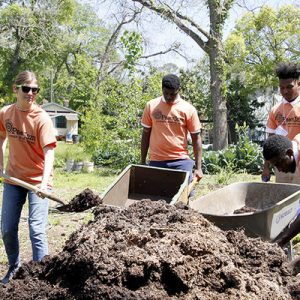 The students were then able to process what they were learning and feeling with their family groups, small groups of students paired with mentors from Florida State.
At the beginning of the conference, Menchú told the students that she wanted to see their "hidden smiles" so their happiness will bring more energy to their groups.
"I would like to see you all walking with your heads held high," she told them, "looking each other in the eyes, and in that way, you will learn from each other more."
The two-day conference was full of energy: dancing, team-building games and open mic opportunities punctuated the work the students put into the conference.
Ronnie Fields Jr., a sophomore at East Gadsden High School, said his experience with PeaceJam for the past two years has been simultaneously magical and comfortable — a home away from home.
"I feel as if I can be myself with PeaceJam," he said. "I don't have to hide anything. It's such a loving and caring environment."
That, he said, is what makes him want to keep coming back.
Fields' classmate Malina Murray was at the conference for the first time. The freshman said on Sunday that her experience was eye opening.
"You get to see what some people really go through," Murray said. "Everyone goes through something, but coming to PeaceJam, I've learned that people go through things that are worse than I've ever experienced, things worse than I've ever thought about happening to me."
In addition to Rigoberta's story of loss and struggle, many students shared painful experiences during Sunday's Ceremony of Inspiration.
Menchú told the students she was inspired by the talents of others, including their own.
"I recognize that my talents are not the same as others because to live in diversity is not just a theory. But it's a way of living and appreciating there are so many things that people don't see.
Menchú also said she was inspired by, rather than fearful of, death.
"We take it with us every day of our lives, and there is always an end to our cycle on this Earth," she said. "And if you understand that, you will want to live the best life while you are in your cycle — what Mayans call the plentitude of life."
Menchú then lit a candle — a sacred fire — she explained and one by one students filed across stage explaining what inspires them, then walked to light another candle with Menchú. Some talked about personal tragedies such as the loss of parents or mentors. Others spoke of overcoming bullying, cutting and self-image issues, with one proclaiming "different is beautiful" to affirmation from the crowd.
Menchú said that something unusual happened during the ceremony. The candle split down the side with wax spilling onto the tray. The fire burned itself out as the ceremony ended.
"The fire has cried," Menchú said. "There's been a lot, a lot of pain today in this room. There's been tears; there's been uncertainty … The sacred fire absorbs that."
Parmie Dean, a sophomore who attended PeaceJam with the Miami-Dade Youth Commission, spoke during the ceremony about how she's felt her life has been limited and what it took to overcome that. She said she loves the energy of PeaceJam and the family groups, safe spaces where the students can just be themselves.
"How we get to talk about how we live, what we do in our everyday lives and how it has to do with peace — what peace is going to do to influence our lives," she said.
Parmie explained the evolution of her inspiration from a limited life.
"It's been limited to how I can do things because of my size, the way I look, how I can become," Parmie said.
But with hard work, she's realized, she can do things on her own.
"I don't need people to approve of me," she said. I know I'm good. I can do it."