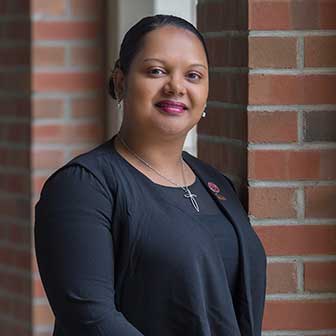 Florida State University already strives to be one of the most veteran-friendly universities in the nation. Now, one student-veteran is making sure one segment of the student-veteran population feels even more welcome on campus.
Zaymeen Deen, a senior in information technology, is launching Women Veterans in STEM — a registered student organization for military women who are interested in technology.
The organization will serve as a support group for all military women at FSU —veterans, active duty, reservists and National Guard — while also addressing the gender gap in STEM fields through outreach and mentoring.
Deen, 32, enlisted in the U.S. Army after high school graduation and was one of the first troops to cross the border into Iraq during Operation Iraqi Freedom. During her third tour in Iraq, her eight-year military career was cut short due to injury.
"I had planned all along to spend 30 years in the military, so when they told me I would have to get out I thought, 'what do I do now?'" Deen said
While in the military, Deen earned a bachelor's degree in criminology from the University of Maryland and was a few credits shy of a master's degree. When she returned to civilian life, Deen pursued a career in the field as a corrections officer in Panama City Beach and then a police officer in Tampa, but had to stop because of the nagging injuries.
She decided to follow a different career path — information technology and computer science — and that took her to Florida State.
"There's nothing but technology around you and it's continuing to grow," Deen said. "A few years ago everyone had an iPod Nano … now look where we are. I just kept thinking how much technology can change in a short time and I wanted to be a part of that and be able to build things and try new things."
What Deen found was that the male-dominated STEM fields were very similar to her days in an all-male battalion in Iraq.
"I wanted to provide a support group for the women in the military and in the STEM fields," Deen said. "In my computer science class there's about 100 guys compared to four women — only the four of us knows how that feels. Likewise in the military."
The discussion of forming such a group started in Ebe Randeree's leadership class. Randeree, associate dean at the College of Communication and Information, encouraged Deen to start recruiting people and create a registered student organization. Deen has recruited 30 of the 52 military women enrolled at Florida State to be a part of WVIS.
"Zaymeen has a passion for service — especially for veterans — and a strong desire to succeed at everything she starts," Randeree said. "She works hard and definitely knows how to get results. Her work ethic infects others around her and her positive attitude keeps them focused."
In addition to providing support for military women, the group will promote STEM to local K-12 schools and through groups like Girls Who Code and Girls on the Run.
WVIS also has reached out to FSU alumni who are military women to invite them to be guest speakers and mentors for the group. Deen also is working on making the FSU organization the first university chapter of Women in Defense, a professional group in the national security field.
"A lot of my heart has gone into trying to build this group," Deen said.
It is not just her work on Women Veterans in STEM that has gotten attention on campus. Deen, along with IT classmate Carolyn Reoyo, developed the app "Resources for Veterans" — a project that incorporates a Google Maps feature and allows veterans to locate hospitals, clinics and other vital resources. They presented it at FSU's DIGITECH showcase March 30 and won the Contribution Award.
"What started as a discussion in a class turned into an registered student organization for women who serve and a win at Digitech for a new Veterans App," Randeree said. "Zaymeen is a leader who is a role model for our other students."
For more information visit the Women Veterans in STEM's Facebook page or contact zd10c@my.fsu.edu.