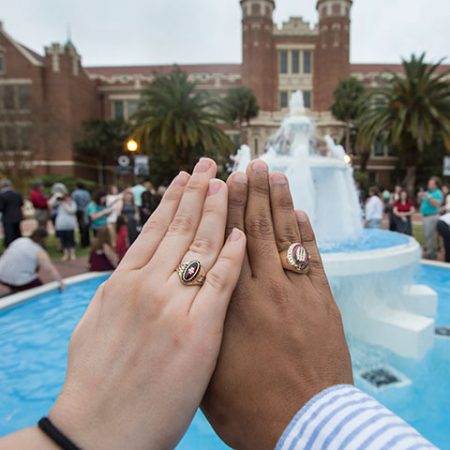 Graduating students participated in a longstanding tradition at Florida State University as they marked their passage toward becoming FSU alumni in the annual ring ceremony Thursday, March 24, at Ruby Diamond Concert Hall.
President John Thrasher, Vice President for Student Affairs Mary Coburn and distinguished student leaders spoke to the graduating students about this being a time to reflect on their FSU experience while focusing on their future goals.
"This tradition marks an important milestone as you move from college student to college graduate," Thrasher said. "It presents you with a unique opportunity to reflect on your time here at Florida State University and consider the many opportunities ahead of you."
During the ceremony, students were presented with their rings, put them on their fingers and stated the ring pledge.
"I pledge to uphold the Seminole Creed; demonstrate strength, skill, and character; and live the values of this institution, now and through all of my future endeavors. I am a True Seminole."
Two-time FSU alumnus Sara Saxner, a recent graduate who is a management consultant for the Greater Tallahassee Chamber of Commerce, presented the keynote address.
Following the formal ceremony, attendees gathered at the Westcott Fountain. The fountain has three levels, each level symbolizing a different core value of Florida State University — Vires, Artes and Mores.
At exactly 6:51 p.m. the graduating students dipped their rings in the water for a moment of reflection. The time of 6:51 p.m. is specifically selected because in military time 6:51 p.m. is read as 1851, the founding date of Florida State University.