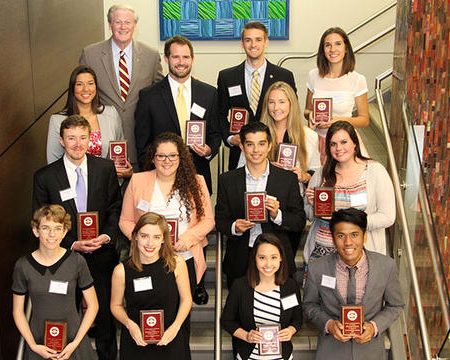 From providing medical to rural villages in Haiti to caring for Alzheimer's patients in Tallahassee, Florida State University students have been hard at work serving others.
President John Thrasher recognized students representing 14 colleges and schools for their tremendous commitment to service at a luncheon Wednesday as part of the annual Humanitarian of the Year program.
"I get overwhelmed at the goodness that's in your hearts," Thrasher told the students.
Each college or school at Florida State can nominate a student for the President's Undergraduate Humanitarian of the Year Award. Through the program, the students will receive $200 to be donated to the charity of their choice.
Of the students honored Wednesday, one who best exemplifies commitment to service will receive the President's Undergraduate Humanitarian of the Year Award at Leadership Awards Night on April 5.
The winner will receive an additional $1,000 for his or her charity. For most, the money will go to nonprofits they've worked with or founded.
For some, their experiences in service have been life changing. Shane Morris, a student in in the College of Criminology & Criminal Justice and once aspiring lawyer, has served as a volunteer emergency medical technician and spent two spring breaks providing health care to children in rural Haiti.
"It's a very rewarding experience," Morris said. "It really opens your eyes, and it's a very different perspective. You take a lot of things for granted here in the U.S."
Now, Morris has committed to pursuing medical school. He would like to become an emergency room physician to continue to provide healthcare in rural areas and internationally.
"I love to just go over there and help people that really need it," he said.
Mary Coburn, vice president for Student Affairs, told the students she was in awe of the volume of their work and other students with whom they've worked in partnership.
"Just think about all the good that has rippled out from this room," she said.
The honored students often expressed surprise and gratitude that they were chosen to represent their peers.
James Bryant Durham III, who suffered a traumatic brain injury in a serious motorcycle accident in 2011, has worked since then to raise awareness of what he said is an invisible injury and to bring together caregivers and survivors. He founded nonprofit TBI One Love to further work toward "ending the silence."
"I'm honored to be here, not only with all the other honorees and their guests and the staff, but I'm thankful to be here everyday," Durham said.
Coburn and Thrasher both emphasized that the work the students have done will echo beyond their time on campus, making them ambassadors for the university and citizens who care about making their communities better.
That's true of Katelyn Moloney, who hopes to influence the next generations of students to continue to affect change. The aspiring English teacher said her goal is to help shape future students to have a humanistic mindset and want to help people.
"I've taken my experiences with Alzheimer's Project and definitely become more patient and realized how important it is to be kind to people," she said, "and I just hope to model that in my classroom."
Thrasher told the honorees that not only is the work they're doing impressive, but even more that — they're not waiting until they have a job or are making money or taking care of other parts of their lives before working for others.
"There's something in your heart that motivated you to want to give back something already in your lives," he said, "and the fact that you're doing that so early in your lives is an amazing thing."
James Bryant Durham III, College of Applied Studies
Durham is a December graduate from Southlake, Texas. A survivor of severe traumatic brain injury, he has spent much time helping recovery patients and spreading awareness about traumatic brain injury through speaking engagements. He has also founded the nonprofit TBI One Love.
Marisa Chanin, College of Arts & Sciences
Chanin is a junior from Kissimmee, Fla. Her service with the Women in Math, Science, and Engineering Program at FSU opened opportunities for involvement on campus and in the Tallahassee community, including serving as executive director for the 2015 FSU Light the Night walk.
Jason McIntosh, College of Business
McIntosh is a senior from Pompano Beach, Fla., who co-founded DivvyUp, a startup company that provides clean socks to shelters in Tallahassee, Tampa and Fort Lauderdale. McIntosh hopes DivvyUp, initially a class project, will be the leading U.S. one-for-one company.
Brendan Rempert, College of Communication & Information
Rempert is a junior from Bradenton, Fla., who serves through many campus outlets. His service with SaveFirst, FocusFirst, Global Scholars and Florida State Alternative Breaks has taught him to be critically conscious about local communities and to prioritize their articulated needs.
Shane Morris, College of Criminology & Criminal Justice
Morris is a senior from Flemington, N.J. His service is centered predominantly in the medical field, both as the executive director of the FSU Medical Response Unit and annual trips to Haiti. He is grateful for the opportunity to serve communities he deeply loves.
Katelyn Moloney, College of Education
Moloney is a junior from Orlando, Fla., who serves with The Alzheimer's Project via AmeriCorps. The organization partners with families and provides care and services to people with Alzheimer's. As an emergent educator, Moloney aims to cultivate humanitarianism among her students.
Raine Sagramsingh, College of Engineering
Sagramsingh, a junior from Bradenton, Fla., focuses his service on homelessness. This work includes caring for directly at the Kearney Center and ensuring needs are met via the Point-in-Time count. She also serves with Impact America, an organization focused on helping low-income families.
Morgan Zoldak, College of Fine Arts
Zoldak, a sophomore from Jacksonville, Fla., has served abroad through Global Peace Exchange. She traveled to Ghana to work with local communities and foster educational opportunities for children. She continues to work with Compassionate Journeys as a coordinator for next year's trip.
Brooke Griggs, College of Human Sciences
Griggs is a junior from West Palm Beach, Fla. She has contributed countless service to Advance Natural medicine, administering intravenous treatments and taking patient vitals. She also supports Pi Beta Phi's efforts toward lifelong reading and literacy.
Geri Ingall, College of Motion Picture Arts
Ingall is a senior from Homosassa, Fla. She has traveled across the country collecting narratives from survivors of eugenics — the legal sterilization of humans — during the 20th century. Her documentary film, "Eugenics U.S.A.," is currently under review at film festivals.
Michael Rivera, College of Music
Rivera is a senior from Dixon, Ill. He serves with 2-1-1 Big Bend providing crisis intervention support. Rivera has also been English tutor to Spanish-speaking migrant workers and an intern with Arts in Medicine, connecting passions for medicine and music.
Deirdre Milio, College of Nursing
Milio is a senior from Jacksonville, Fla. As a nursing student, she is passionate about equitable healthcare for underserved communities and has served with the Big Bend Homeless Coalition. She also represents FSU as president of the Student Nurses' Association.
Ljubica Nikolić, College of Social Sciences & Public Policy
Nikolić is a junior from Sarasota, Fla., who served through Global Peace Exchange in Ghana, where, local women expressed a need for additional income. In partnership, she founded Compassionate Women, which sells wares handcrafted by Tafi Atome women.
Maci Morse, College of Social Work
Morse is a senior from Jacksonville, Fla., who has served in the areas of senior citizen care at Westminster Oaks and hunger and homelessness through Food Recovery Network. As an intern with Play Big Therapy & Learning Center, she assists with play therapy with children and adolescent males.