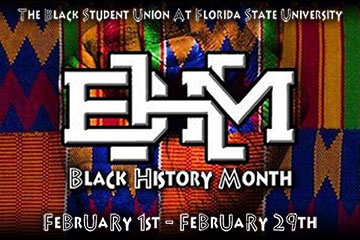 Florida State University's Black Student Union and the entire university community will come together to celebrate Black History Month during the month of February with the theme "#BlackatFSU: The Road to Resilience."
The theme highlights two major aspects of today's black culture: the impact of social media in the black community and understanding how resilience leads to personal development and success.
The month-long celebration begins at 7 p.m. Monday, Feb. 1, with an opening ceremony at the Oglesby Union Ballroom. The event will focus on the meaning behind this year's theme and will feature art, entertainment and refreshments.
The month's events include:
"Community Service" – 10:30 a.m. Saturday, Feb. 6, Union Amphitheater near Subway: Students will come together to beautify the Tallahassee through street clean-ups.
"Motown Get Down" – 7 p.m., Wednesday, Feb. 10, Moore Auditorium: Students will be taken in a time machine back to the golden age of Motown with student performances showcasing their lip-syncing talents.
"Roots: A Discussion on Black Hair" – 7 p.m., Tuesday, Feb. 16, The Globe, Room 2500: The Black Student Union will discuss black hair in America, unpack stereotypes, converse on micro-aggressions and dive into a deeper understanding of the issues in America and around the world.
"The Cerebral Check-In" – 7 p.m., Tuesday, Feb. 22, Globe Auditorium: A health and athletics initiative to discuss mental health in the black community, provide resources for all students regarding the challenges of college and create an open space for dialogue about mental health in America.
For more information and a complete list of Black History Month events and local community service projects, visit http://sga.fsu.edu/bhm/ or follow the Black Student Union on Instagram and Twitter @fsu_bsu.