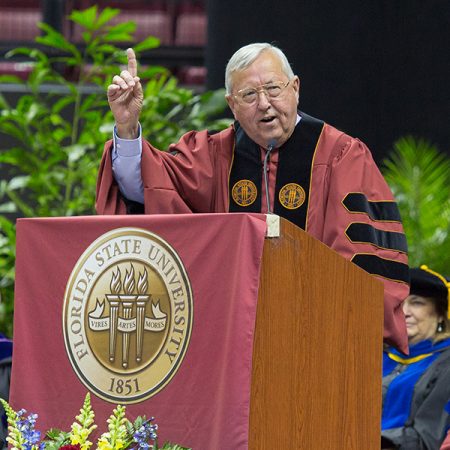 Gene Deckerhoff, the "Voice of the Seminoles," told graduates they could accomplish anything if they have enthusiasm and commitment as he shared life lessons from a 37-year career as Florida State University's football play-by-play announcer.
Deckerhoff delivered a lively address full of his FSU memories during the second of two fall 2015 commencement ceremonies, held Dec. 11 and 12, at the Donald L. Tucker Civic Center.
President John Thrasher presided over both ceremonies as Florida State awarded degrees to more than 2,600 graduating students.
Deckerhoff said while he never played football and didn't attend Florida State University, he learned almost everything about football and how to be a Florida State Seminole from FSU alumni and 1950s football players Vic Prinzi and Burt Reynolds — and legendary football coach Bobby Bowden.
He passed on to the graduates what he remembered from watching Bowden motivate his players over the years. Bowden always stressed that enthusiasm and commitment were the key to success.
"Coach Bowden would say, 'Boy, you've got to have that spirit in you or you're not going to succeed,'" Deckerhoff said. "Without commitment, it's tough to accomplish anything. There are all kinds of commitments. 'It's an easy word to say, but are you really committed to succeed?' Bobby would say."
Deckerhoff recalled the first time he made his famous radio call "Touchdown, Florida State!" in a 1979 game against Southern Miss, and drew applause with reenactments of memorable calls from the 1993, 1999 and 2013 national championship seasons.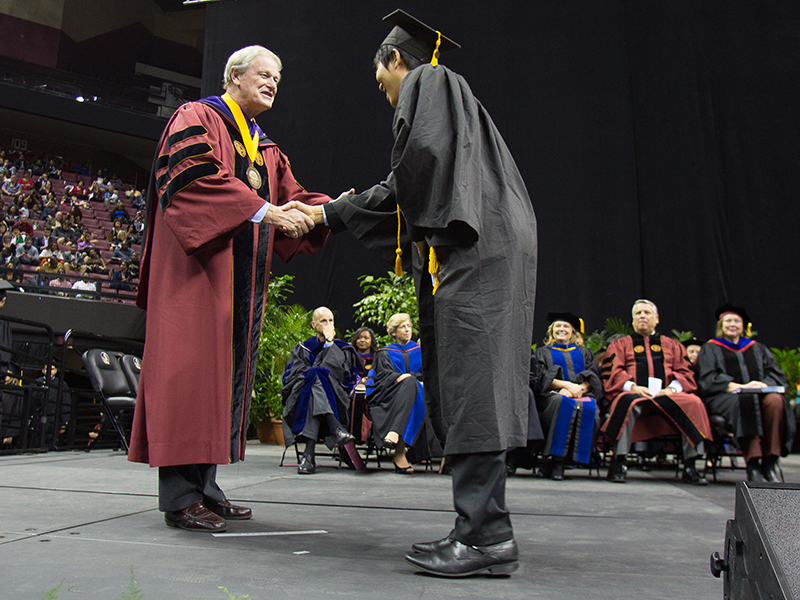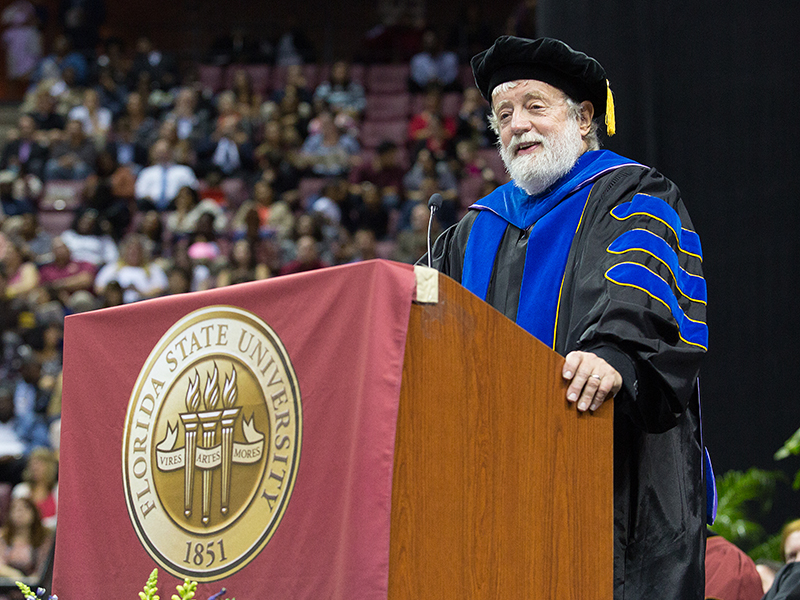 The broadcasting legend said that he is now pursuing his graduate degree in football with one of the best coaches in the nation, Jimbo Fisher.
"I'm going to have a Ph.D. before it's all over, y'all," he said.
Deckerhoff congratulated graduates for fighting the good fight and finishing the race, and sent them off with a special version of his signature radio call.
"It has been an honor for me to stand here today and deliver this commencement address," Deckerhoff said. "Over the past 37 years, in 456 football broadcasts, I have shouted, hollered, said, 'Touchdown, Florida State! Touchdown, FSU!' 1,119 times. Today, I salute all of you who are graduating with number 1,920: 'Touchdown, Florida State! Touchdown, FSU!'"
Max Gunzburger, Florida State's 2015-2016 Robert O. Lawton Distinguished Professor — the highest honor the given by the faculty to one of its own — addressed the graduates during Friday evening's ceremony.
"It's a real huge pleasure for me to congratulate everyone of you for being here for the achievement that it represents," Gunzburger said. "I hope you take a lot of pride in treasuring what you have accomplished."
Gunzburger encouraged the graduates to be "look at all I've done" people instead of "what could have been" people.
Though Gunzburger is a world-renowned computational scientist and mathematician, he joked with the students that if he were graduating, he would rather have Gene Deckerhoff as his commencement speaker.
In explaining what he does for a living, Gunzburger discussed why computers are useful. For example, pharmaceutical companies use them to examine new molecular combinations and only go to the lab to synthesize and test the most promising ones.
In addition, computers have made possible a variety of technologies such as CT and MRI scans and the sequencing of the genome of organisms. They also gave the world modern conveniences such as the ATM machine, smart phones and social media.
"Despite the efforts of many smart people, computers are still dumb," he said. "They're great at number crunching, but to do something useful, they have to be given very explicit and detailed instructions about what they should do."
Computational scientists such as Gunzburger determine those instructions, known as algorithms.
"What you may not know is that algorithmic advances — those instructions that we give computers — actually have contributed more to speed up the effectiveness of computers than hardware," he said.
About 2,646 students graduated this fall. Of that number, 2,066 received bachelor's degrees, 455 received master's degrees and 104 received doctorates.
Archived webcasts of the commencement ceremonies can be viewed here.