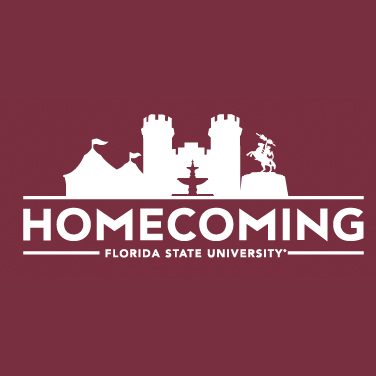 Florida State University will embrace the good old days with the theme "Garnet and Golden Age" during Homecoming, which will take place Sunday, Nov. 8, through Saturday, Nov. 14.
With live performances, a street parade and FSU's largest pep rally, the events will get the school spirit flowing leading up to the Homecoming football game against North Carolina State University.
Thursday, Nov. 12
•Warchant, featuring country music group Zac Brown Band and opening act Drake White, will take place at 7 p.m. at the Donald L. Tucker Civic Center, 505 W. Pensacola St. Doors open at 6 p.m. Tickets for the event are on sale now, and students receive a discount with their valid gold FSU ID For ticket purchases, click here.
2014 Homecoming Parade
Friday, Nov. 13
•The Homecoming Parade, organized by the Student Alumni Association and featuring more than 60 student groups, will begin at 2 p.m. on West Madison Street at the Donald L. Tucker Civic Center. The parade will head north along Martin Luther King Jr. Boulevard, turn west along College Avenue and south onto Copeland Street. FSU men's basketball head coach Leonard Hamilton and FSU women's basketball head coach Sue Semrau will be this year's grand marshals.
Joining Osceola and Renegade to lead this year's Homecoming Parade is Moses Jumper Jr.,associate justice of the Seminole Tribe of Florida's Court System and renowned Tribal historian,and his band of Seminole Warrior Riders.
A live parade feed will be available at alumni.fsu.edu/parade for those unable to attend.
•Pow Wow, the annual pep rally, will take place the night before the Homecoming game at 8 p.m. in the Donald L. Tucker Civic Center. Doors open at 7 p.m. Stand-up comedian Amy Schumer will take the stage with special guests Mark Normand, Rachel Feinstein and Kyle Dunnigan. In addition, the show will announce the Homecoming chief and princess. The event is free for students with a valid gold FSU ID at the door. Tickets for the general public are sold out.
Saturday, Nov. 14
•The FSU Alumni Association's Homecoming Awards Breakfast will start at 9 a.m. in the Alumni Center Grand Ballroom. Doors open at 8:30 a.m. Awards to be given include the FSU Alumni Association's Bernard F. Sliger Award, the FSU Alumni Association and Omicron Delta Kappa's Grad Made Good Awards, and the Garnet & Gold Key's Ross Oglesby Award. Tickets start at $15 and can be purchased online at alumni.fsu.edu/awardsbreakfast.
•The Florida State Seminoles will take on the North Carolina State University Wolfpack at Doak S. Campbell Stadium. Kickoff time is 12:30 p.m.
At Saturday's Homecoming Awards Breakfast, the FSU Alumni Association will recognize the accomplishments of notable alumni and faculty who have secured their place in the history of Florida State University by pushing boundaries and redefining standards within their respective fields.
The awards to be presented at the Homecoming Awards Breakfast include the FSU Alumni Association's Bernard F. Sliger Award, the FSU Alumni Association and Omicron Delta Kappa's Grads Made Good Awards, the Garnet and Gold Key's Ross Oglesby Award and the Friends of the Florida State University Libraries Alumni Award for Distinguished Writing.
Betty Lou Joanos (B.S. '57, Ph.D. '85) has been selected as this year's recipient for the Bernard F. Sliger Award, which honors a member of the university community whose service has dramatically furthered the university's mission. Joanos has been a leader in the Florida State family for more than 20 years, most notably serving as associate director of the FSU Alumni Association from 1991 to 2004. She has volunteered her efforts to the FSU Alumni Association's board of directors, FSU Association of Retired Faculty and the Southern Scholarship Foundation. Also a dedicated FSU fan, Joanos and her husband, Jim, were inducted into the FSU Hall of Fame this year in recognition of their support of Seminole athletics.
The Grads Made Good Awards, chosen by the FSU Alumni Association and the Circle of Omicron Delta Kappa, will be presented to the following alumni for their outstanding success in their chosen fields:
Dale Burton (Ph.D. '81), senior vice president of research and technology and chief technology officer of Northrop Grumman Aerospace Systems, contributed greatly to our nation's security during Operation Desert Storm by leading the development, testing and fielding of the U.S. Air Force's Joint Surveillance Target Attack Radar System (Joint STARS), the world's most advanced airborne ground surveillance. As technical engineer for Joint STARS, Burton flew during all 37 combat missions, and was later honored with an Air Medal from the Chief of Staff of the Air Force for his service. In 2007, he was elected by his peers to the highly prestigious National Academy of Engineering in recognition of his innovation and leadership in the field of engineering.
As president of Sparkling Brands & Strategic Marketing for Coca-Cola,Wendy Clark (B.A. '91) has led groundbreaking campaigns for Coke in both national and international markets, including the 2014 FIFA World Cup sponsorship, the company's largest marketing campaign that spanned more than 175 countries. Prior to her position at Coca-Cola, Clark served as senior vice president of advertising for AT&T, where she directed the most ambitious rebranding and advertising campaign in the company's history. In 2007, she was inducted into the American Advertising Federation's Advertising Hall of Achievement and was cited in AdAge magazine as "one of the most important women in marketing."
With a prolific career that includes nine books and dozens of scholarly articles, Rodney Hero (B.S. '75) has proven himself a major player in the field of political science through his award-winning research on racial and ethnic minority concerns in American politics. He is the first Latino American to serve as president of the American Political Science Association, the top leadership position in the discipline, and has placed special focus during his term on touring historically Hispanic and Black institutions of higher learning in an effort to encourage minority students to pursue graduate studies. Currently the Haas Endowed Chair and professor of political science at the University of California, Berkeley, Hero has also served on the faculty of the University of Notre Dame, the University of Colorado at Boulder and the University of Colorado at Colorado Springs.
J. Marshall Shepherd (B.S. '91, M.S. '93, Ph.D. '99) is a leading international expert in weather, climate and atmospheric sciences. In addition to hosting a talk show on The Weather Channel and providing his expertise to news organizations and political officials, Shepherd serves as a professor of geography and director of the atmospheric sciences program at the University of Georgia. The first African-American to earn his doctorate from FSU's meteorology program, Shepherd has also served as the 2013 president of the American Meteorological Society and was honored by President George W. Bush in 2004 with the Presidential Early Career Award for his research on hydroclimatic processes.
The student-run Garnet and Gold Key leadership honor society will present the Ross Oglesby Award to a faculty or staff member with 10 or more years of exemplary service to students and the university. The identity of the recipient is kept secret (even from the recipient) until it is officially announced at the Awards Breakfast.
The Friends of the Florida State University Libraries Alumni Award for Distinguished Writing is presented to a living and renowned graduate in recognition of a distinguished and influential body of published work. This year's honor goes to Matthew Lopez (B.F.A. '93), an alumnus of FSU's College of Motion Picture Arts and the Hollywood screenwriter behind "Race to Witch Mountain" and "Bedtime Stories."
As part of the Homecoming tradition, the event will also formally recognize this year's Homecoming Parade grand marshals Leonard Hamilton, thehead coach fortheFlorida State Seminoles basketballteam, and Sue Semrau, head coach fortheSeminoles women's basketballteam.
Tickets for the Homecoming Awards Breakfast start at $15 and can be purchased online at alumni.fsu.edu/awardsbreakfast or by contacting Whitney Powers at (850) 644-7434 or wpowers@fsu.edu by Friday, Nov. 6.
For more information about the FSU Alumni Association and the Homecoming Awards Breakfast, please visit alumni.fsu.edu.