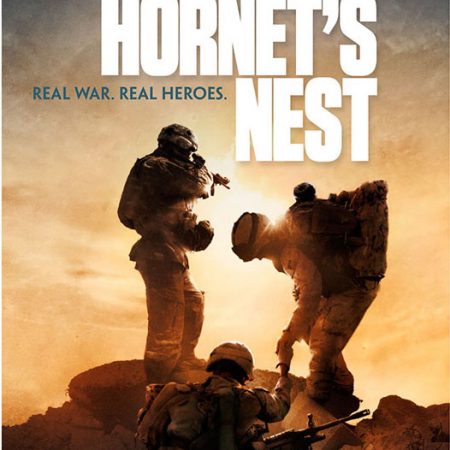 Florida State University is marking the fifth anniversary of its Student Veteran Film Festival with "The Hornet's Nest," a groundbreaking and immersive documentary that uses unprecedented combat footage to tell the story of an elite group of U.S. troops sent on a dangerous mission deep inside one of Afghanistan's most hostile valleys.
The film will be screened at 6:30 p.m. Monday, Nov. 9, at Ruby Diamond Concert Hall, 222 S. Copeland St. Following the screening, audience members will be able to participate in a question-and-answer session with the film's directors, David Salzberg and Christian Tureaud.
Audience members are invited to attend a reception at 5 p.m. at Westcott Plaza outside Ruby Diamond Concert Hall preceding the screening. Doors to Ruby Diamond open at 6 p.m.
"To be able to present such a powerful documentary on a milestone anniversary is a testament to how far the Student Veteran Film Festival has come," said Daniel Foxworth, president of the FSU Collegiate Veterans Association.
Participation by Salzberg and Tureaud — both veterans of the film industry —maintains the festival's tradition of audience interaction with the director, or in this case the co-directors, of the marquee film.
"We set out to make a film that would show every American what our heroes are going through everyday in Afghanistan," Salzberg said. "We want people to really understand that when they thank U.S troops for their service that they really will know why they are thanking them."
The filmmakers worked with Peabody and Emmy Award-winning journalist Mike Boettcher and his son, Carlos, who were provided unprecedented access in August 2008 when they were first embedded with U.S. forces in Afghanistan. The war is now the longest in U.S. history.
Tureaud and Salzberg also will receive the "FSU Student Veteran Torchlight Award for Outstanding Achievement in Filmmaking" following the screening of their film. The award, which comes with a $25,000 honorarium, is presented annually to a filmmaker who illuminates issues affecting veterans.
"This festival demonstrates Florida State's ongoing commitment to supporting and understanding veterans and their experiences," said President John Thrasher. "The student veterans and staff who have organized this wonderful event for the past five years should be applauded for bringing films to FSU that further the dialogue on campus."
The film festival heightens awareness of veterans' issues among the campus and local community and is generating growing respect within the film industry nationally. Each of the festival's first four films has been nominated for numerous awards, including Academy Awards.
The previous marquee films were Hell and Back Again" (2011); "The Invisible War" (2012); "Which Way is the Front Line from Here? The Life and Time of Tim Hetherington" (2013); and "Last Days in Vietnam" (2014).
Paul Cohen, executive director of the College of Motion Picture Arts' Torchlight Program, secured the rights to this year's film.
"The Student Veteran Film Festival has distinguished itself as a prognosticator of the finest cinematic storytelling each year centered around veterans issues, attracting national film industry attention," Cohen said. "The SVFF has established a recognizable commitment and dedication to the FSU student veterans. It is a privilege for the Torchlight Program to again assist with this year's program."
Tickets are free for FSU students with ID. Tickets for non-students are $20 and may be purchased online at vetfilmfest.fsu.edu/tickets/.
In addition to the Nov. 9 screening of "The Hornet's Nest," the festival also includes two encore screenings of previous marquee films at the FSU Student Life Cinema.
"Hell and Back Again" will be screened at 6:45 p.m., Monday, Nov. 2, and "Which Way is the Front Line from Here? The Life and Time of Tim Hetherington" at 6:45 p.m. Tuesday, Nov. 3. Admission is free for FSU students with ID and Tallahassee Film Society members. General admission is $5.
The Student Veteran Film Festival is produced by the FSU Collegiate Veterans Association, Veterans Student Union, Student Veterans Center, Interfraternity Council, Panhellenic Association, Student Government Association and the College of Motion Picture Arts.