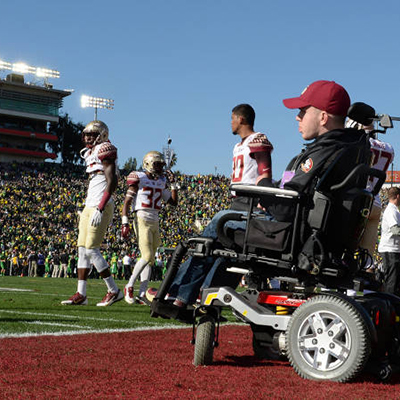 Florida State student Payton Poulin has a special bond with the Seminole football team. The longtime Seminoles fan suffers from schizencephaly, similar to cerebral palsy, but has fought to live a normal life. With a goal of attending FSU, he chose schoolwork over physical therapy while in high school. After admission to FSU, he was invited to attend a practice by head coach Jimbo Fisher and Poulin instantly connected with the team. He has not missed a practice since.
Watch Poulin's inspirational story at 1 p.m. this Saturday, Aug. 22, on Fox WTLH in Tallahassee. The piece will also air national as part of Raycom Sports' multi-Emmy Award-winning summer television series, "Havoline Football Saturdays."
A complete list of local affiliates and airtimes across the nation can be found at www.FootballSaturdays.com.