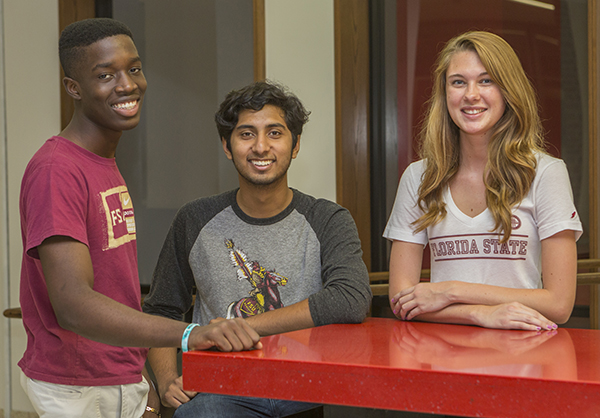 Classes for the 2015-2016 academic year begin Monday, Aug. 24, for about 42,000 Florida State University students, including graduate students and an academically accomplished freshman class of about 6,200.
Of those freshmen who were accepted into the university for the fall, the average high school grade point average was 4.0, with an average SAT score of 1856 and an average ACT composite score of 28.
"We're excited to welcome another impressive freshman class to Florida State University," said President John Thrasher. "These talented young scholars have exceptional potential. They are prepared to succeed, and we encourage them to take advantage of the many opportunities Florida State has to offer as they pursue their academic goals."
Along with the academic quality of the freshman class, FSU has seen an increase in retention and graduation rates. Last fall, 92.2 percent of students who began their freshman year in 2013 returned for their sophomore year. The six-year graduation rate for students who entered FSU as freshmen in 2008 is 79.1 percent, the second highest in Florida's State University System.
Twenty-six of this year's most academically gifted freshmen are part of the university's second class of Presidential Scholars. This merit-based scholarship program, established last year, is for freshmen who have been accepted into the university's Honors Program. It provides a $4,800 annual scholarship for four years, and out-of-state tuition is waived for non-Floridians.
FSU also has increased to 100 the number of freshmen who participate in its Undergraduate Research Opportunities Program (UROP), where undergraduates work directly with faculty on research initiatives.
All Florida State students — freshmen included — receive the university's Liberal Studies for the 21st Century curriculum that teaches essential skills and touches on areas that potential employers have identified as crucial for professional and personal success. In addition, "Think FSU" — the university's Quality Enhancement Plan — focuses on teaching and learning critical thinking in the majors for juniors and seniors.
"Florida State launched these initiatives last year to enrich our students' pursuit of knowledge in classes, labs and internships and to serve them intellectually throughout their lives and careers," said Sally McRorie, interim provost and executive vice president for Academic Affairs.
This year's incoming freshmen join a diverse student body hailing from every county in Florida, all 50 states, the District of Columbia and more than 134 nations. After Florida, the states with the most new accepted freshmen are Georgia, Virginia and New York. Biological science, business and engineering are the most popular declared majors.
For some of this year's freshmen, attending Florida State is a real family affair. Twenty-five percent of them have either a family member who has graduated from or is currently attending the university.
For others — 28 percent — they are the first in their families to go to college. Florida State makes a special effort to support these students through such programs as the Center for Academic Retention and Enhancement (CARE). This summer, CARE added about 100 spots to increase its enrollment to 400. The year-round program, which includes a seven-week Summer Bridge Program, provides traditionally underrepresented students with enhanced academic support.
In line with national trends, women continue to outnumber men on the FSU campus, and 59.5 percent of the new accepted students are female and 40.5 percent are male. Emily and Michael are the most popular female and male names in Florida State's Class of 2019.
Florida State's total enrollment includes nearly 8,000 students pursuing a graduate or professional degree. This fall, 8,640 students applied to FSU for graduate school, a 4.1 percent increase over applications for fall 2014.
Nancy Marcus, dean of the Graduate School, characterized graduate education as central to the mission and reputation of FSU as a major research university.
"We are fortunate to have outstanding faculty and facilities that attract graduate students from all over the world to pursue their advanced studies, conduct research, create and innovate," Marcus said. "Our campus and local community is richer because of their presence."