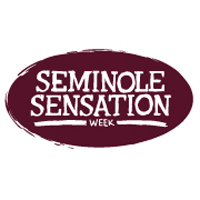 As Florida State University prepares for the start of the fall semester Monday, Aug. 24, students are encouraged to participate in Seminole Sensation Week from Wednesday, Aug. 19, to Saturday, Aug. 29 — 10 days filled with dozens of fun activities designed to show them the many ways to get involved on campus and meet other students who share common interests.
"Seminole Sensation Week has expanded this year and now has 10 days of fun, friends, food and games," said Lane Washington, graduate assistant in the Student Activities Center. "Students will have more late night options and more opportunities to learn about the Florida State and the Tallahassee community. We are excited for students to get involved and find out why Florida State is a great place to call home."
Some highlights of this year's Seminole Sensation Week include:
Comedian Nate Bargatze
Outdoor concert by Vince Staples
Motivational speaker Curtis Zimmerman
Performance by hypnotist Kevin Hurley
ThinkFast Game Show with cash prizes
Human foosball, bungee trampolines and hourly foursquare tournaments
Bowling at Crenshaw Lanes and movies at the Askew Student Life Center will be offered throughout the week, as well as "speed friending" and karaoke.
Several events throughout the week will feature free food for students, including Throwback Food from Seminole Dining, A Taste of Seminole Dining, Taste of Tallahassee and the Student Government Association's Welcome Back Barbecue.
The university will offer a Healthy Noles Cooking Class and Bike Safety Class, along with the Involvement Fair, Part-time Job Fair and the Student Activities Center and Student Government Association Open House to help students adapt to campus and college life.
A major highlight of the week takes place Sunday, Aug. 23, with the New Student Convocation and President's Welcome. U.S. Rep. Gwen Graham will be the keynote speaker at the convocation that runs from 1:30 to 2:30 p.m., immediately followed by the President's Welcome, a reception featuring Seminole spirit and entertainment. Both events will take place at the Donald L. Tucker Civic Center at Florida State University, 505 W. Pensacola St.
Seminole Sensation Week culminates at 6 p.m. Saturday, Aug. 29, with Experience Tallahassee at Cascades Park, 1001 S. Gadsen St. Tours of Tallahassee will be provided followed by a welcome party at the park for students.All events are free with a valid, gold FSU ID. For a complete schedule, click here.