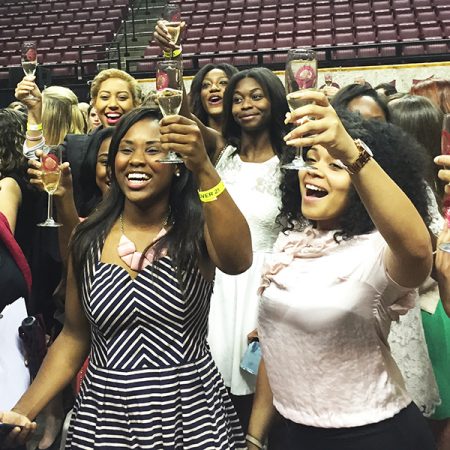 Hundreds of Florida State University seniors joined President John Thrasher in raising a glass to celebrate the last four years and the upcoming spring commencement ceremonies at the President's Senior Toast April 20.
As part of Senior Sendoff Week, members of the Class of 2015 enjoyed complimentary champagne, appetizers and music from a disc jockey while mingling among friends.
"I want to congratulate you on your incredible success," President Thrasher said to the seniors. "Wherever your path leads you, I hope you will always remember you are a Florida State Seminole."
The FSU Alumni Association, FSU Student Alumni Association and the Tallahassee Seminole Club had booths set up for those interested in staying connected with Florida State after graduation.
Scott Atwell, president of the Alumni Association, spoke to the graduating seniors about how receiving their diploma from Florida State is a privilege and that it is their obligation to do their part in making sure their degree increases in value.
During the event, representatives from Line Dance 2015, a philanthropic Greek community event hosted by five fraternities at Florida State, presented a $10,000 check to each of the following organizations: the Student Disability Resource Center, the College of Medicine and the Marching Chiefs.
The graduating students listened to performances by the Acabelles who sang the Alma Mater and an a cappella version of Bruno Mars' "Uptown Funk." The National Pan-Hellenic Council also put on a show performing the Unity Step.
The seniors experienced a moment of nostalgia as they searched for their signature on the Class of 2015 banner that was on stage. Those that didn't sign the banner four years ago at freshman orientation took the opportunity to do so before graduation.
Laura Older, a theater major, signed the banner in 2011, but her friend, a transfer student, didn't get a chance to sign it until the Senior Toast.
"My friend found my name and I was so excited," Older said. "She signed it and our names are together which is really cool to have something to remember. No matter what we did separately at the university, all of our names are right there together."